World football's governing body overwhelmingly selected Canada, Mexico and the United States as 2026 World Cup hosts, the first such major decision in eight years.
In a first, the process unfolded transparently. There was nothing new, however, about the promises of big profits holding sway over many voters.
The Fédération Internationale de Football Association, known as FIFA, voted on June 13 in Moscow, host to the 2018 World Cup from June 14 to July 15. The quadrennial tournament features 32 qualified teams and 64 matches; in 2026 that will rise to 48 teams and 80 matches.
Voters at the 68th FIFA Congress, webcast live on FIFA.com from Moscow, met for business ahead of the tournament. They were asked to decide between the Moroccan bid and the North American joint entry, called the United bid, from the United States, Mexico and Canada.
FIFA President Gianni Infantino announced results of the voting: the North American bid got 134 votes, or 67%, compared to Morocco's 65 votes, or 33%. For the first time, a World Cup vote was made public; the tally flashed on a screen in the congress hall. It revealed, among other things, that Russia and some African nations unexpectedly backed the United bid.
The 2026 winner was determined by a simple majority from 200 votes among affiliated national football federations. One federation, Iran, declined to choose either bid, according to the official vote tally FIFA posted online. The four federations bidding for 2026, plus Guam, Puerto Rico and the U.S. Virgin Islands, were barred from voting; Cuba, Slovenia and Spain abstained.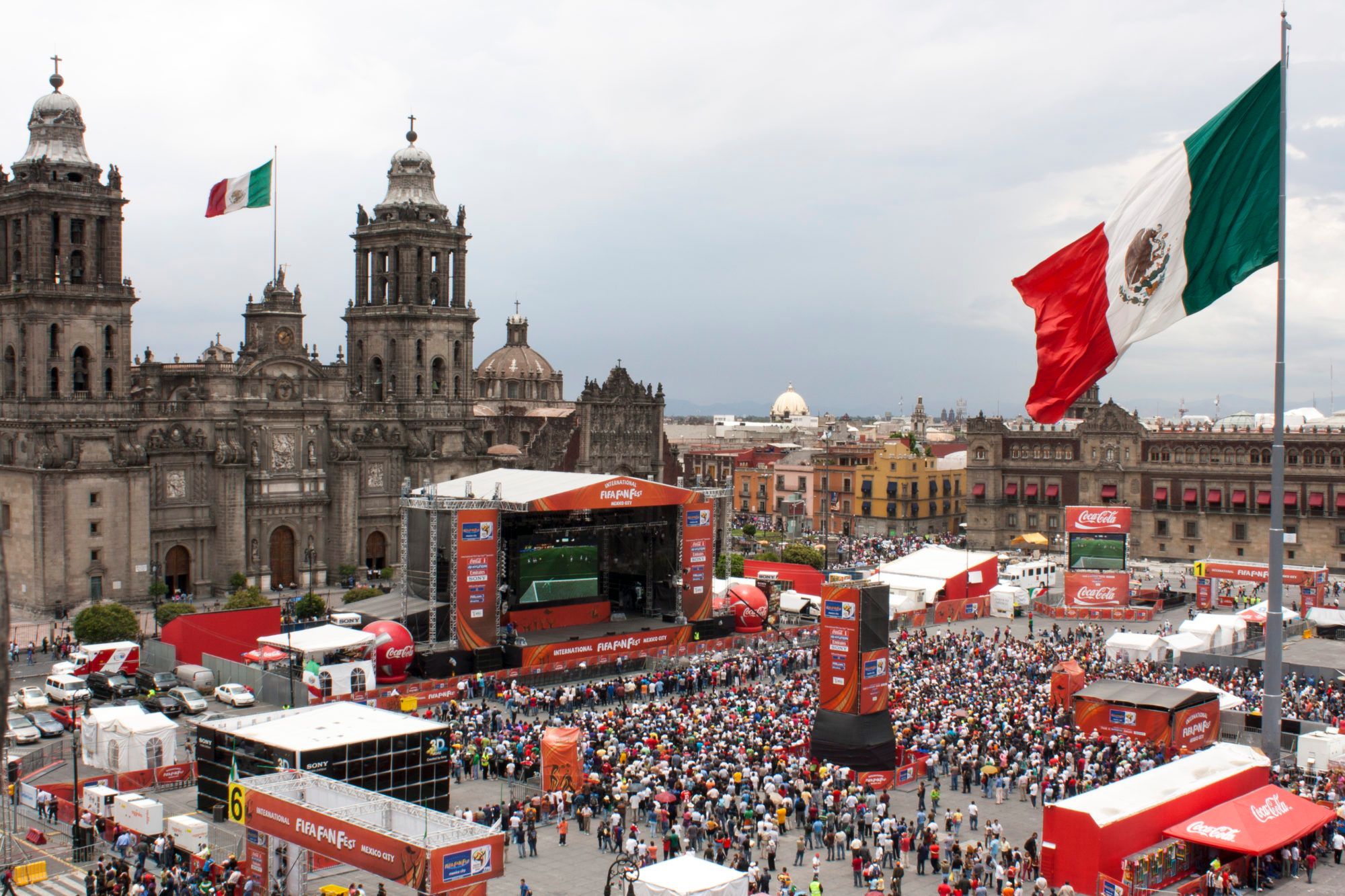 FIFA Fan Fest Mexico (Arete/Fido)
Pledges of lasting reform
Infantino pledged to deliver on his promise of transparency for FIFA. The much-publicized bribery and corruption scandal that erupted in 2015 from the U.S. Department of Justice's sprawling investigation of international football corruption pushed FIFA to the limit, Infantino told the congress before the vote about becoming president in 2016 in the wake of the scandal.
"FIFA was clinically dead as an organization," recalled Infantino, a Swiss-Italian law graduate who previously was general secretary of the Union of European Football Associations, or UEFA. "Two years later, FIFA is alive and well, full of joy and passion and with a vision for its future."
Never before has a World Cup been hosted by three nations. Most of the tournaments — 60 in all — will be played in the United States, which last hosted a World Cup in 1994. Ten each will be played in Canada, which has never hosted a World Cup, and in Mexico, which hosted World Cups in 1970 and in 1986. The 2026 final match will be played at New Jersey's MetLife Stadium.
It was the most momentous vote since 2010, when the Zürich-based international organization decided to send the 2018 World Cup to Russia and the 2022 tournament to Qatar. That decision was accompanied by widespread accusations of bribery and vote trading, which led to the massive, international criminal investigation and a wide range of anti-corruption reforms.
"For our country, FIFA World Cup is of great significance," Russia's President Vladimir Putin told the gathering, in Russian, on June 13. "This is the crème de la crème of global football."
Profits and front-runner status
The United bid had been favored from the start. A FIFA technical evaluation report released earlier this month determined that both bids were qualified for serious consideration, but it rated the United bid higher in nearly every category. The report pointed to several "high-risk" components of Morocco's bid that were focused on its hotels, stadiums and transportation.
"The Morocco 2026 bid and the United 2026 bid represent almost two opposite ends of the spectrum when it comes to the nature of their bids," the report summed up. "The Morocco 2026 bid is well presented and strong in terms of government commitment, but would need to newly build most of its tournament-related and wider infrastructure. The United 2026 bid, on the other hand, has promising levels of infrastructure already in place and fully operational."
The United bid proposed using 16 stadiums that already are built and would need only minor improvements before the tournament is scheduled to begin eight years from now. By contrast, Morocco said it would have to build all 14 stadiums it proposed using, at a cost of US$16 billion.
FIFA World Cup, football's flagship tournament, is "a hub of sporting innovation" for sports-related technology and engagement and the United 2026 bid "has a clear lead," the report said.
But the bottom line may have turned out to be, well, the bottom line: profit.
"Whilst both bids present strong commercial proposals which exceed the baseline for the upcoming edition of the tournament," the report said, "the United 2026 bid has a strong advantage based on forecast revenues of US$14.3 billion, which are significantly higher than the US$7.2 billion forecast of the Morocco 2026 bid."
That would translate into a record US$11 billion profit for FIFA, U.S. Soccer Federation's president Carlos Cordeiro told FIFA's Congress. Such a profit would more double that of any tournament before partly because of added teams and matches in 2026. The revenue projections are based on projections for 5.8 million tickets sold and more than US$5 billion in television rights fees.
Moulay Hafid Elalamy, president of Morocco's bid committee, told FIFA's Congress his nation always met its financial commitments and that its projected US$5 billion profit for FIFA would make the 2026 World Cup "twice as profitable, actually, as the profits that have been achieved in Brazil." The 2014 World Cup in Brazil generated US$4.8 billion in revenue and turned a US$2.6 billion profit for FIFA from television rights fees, sponsorships and ticket sales.
Comments