WASHINGTON (AN) — The gambit to allow Iran's economic opening to the West in exchange for curbs on its nuclear ambitions now depends on its European, Russian and Chinese trading partners, as the U.S. reneges on the 2015 nuclear deal and reimposes sanctions.
With U.S. President Donald Trump's decision to withdraw from the Iran nuclear deal and to reintroduce U.S. sanctions on the Mideast regional power this month, the United States has ratcheted up the pressure on Iran's struggling economy and ruling regime while further inflamingtransatlantic tensions.
The remaining signatories — Britain, China, France, Germany, Russia and the European Union — are standing by the deal, called the Joint Comprehensive Plan of Action, or JCPOA, which lifted crippling economic sanctions on Iran and imposed enforceable limits on its nuclear program.
By doing so, they say they are helping to boost global security and to prop up Iran's small marketplace and broader political stability in the region, despite the pressure from the immense American market.
There is historic precedent for the scenario unfolding now: the dangerously conflict-ridden tensions between those who prefer to rely on the heavy-handed use of economic sanctions to force an outcome versus those who favor international coordination, negotiation and the rule of law among nations.
"As we have always said, the nuclear deal is not a bilateral agreement and it is not in the hands of any single country to terminate it unilaterally," said Federica Mogherini, the E.U.'s foreign minister. "The nuclear deal with Iran is crucial for the security of the region, of Europe and of the entire world."
Economic sanctions date to at least 432 BC, when Greek statesman and general Pericles, responding to several abductions of women, imposed the provocative Megarian Decree, banning Megarians from the use of harbors and markets in the Athenian Empire. That strained relations between Athens and Sparta and preceded by one year the start of the Peloponnesian War, which reconfigured the Greek world.
Threat of sanctions
Previous U.S. administrations turned to sanctions in the 1970s to push for human rights or in the 1980s to advance nuclear nonproliferation. Trump is also heavily relying on sanctions to try to direct the actions of others in nations such as Colombia, Congo, Libya, Lebanon, North Korea and Pakistan.
Out of 20o sets of sanctions since the early 20th century, however, there were few more than a dozen examples where they were essential to reaching a goal, according to a 2009 study called "Economic Sanctions Reconsidered" published by the Peter G. Peterson Institute for International Economics.
The League of Nations used the threat of sanctions to force Yugoslavia to back down from a land grab in Albania in 1921, and it used them to force Greece to withdraw from Bulgaria's border in 1925. U.S. threats of sanctions forced the Dutch to agree to Indonesian independence in 1949. Greece used an aid blockage to force Albania to ease up on five Greek prisoners in 1994.
The Trump administration also has been trying to persuade North Korea to fulfill its renewed vow of denuclearization, which will require the involvement of two international organizations — the International Atomic Energy Agency and the Preparatory Commission for the Comprehensive Nuclear-Test-Ban Treaty Organization — that have the ability to do the needed monitoring and verification.
But in the cases of North Korea and Iran, U.S. efforts to "blunt nuclear weapons proliferation have been overshadowed by concerns of key allies about regional stability, energy security, commercial relations, and other competing goals," the four authors of the 2009 study wrote.
The U.N. Security Council, the world body's most powerful arm, can impose sanctions that do not involve use of armed force. Since 1966, it established 30 sanctions regimes, according to U.N. records.
Types of sanctions range from economic and trade measures to arms embargoes, travel bans and financial or commodity restrictions. They can "support peaceful transitions, deter non-constitutional changes, constrain terrorism, protect human rights and promote nonproliferation," the U.N. says.
But the sanctions "do not operate, succeed or fail in a vacuum," it says. "The measures are most effective at maintaining or restoring international peace and security when applied as part of a comprehensive strategy encompassing peacekeeping, peace building and peacemaking."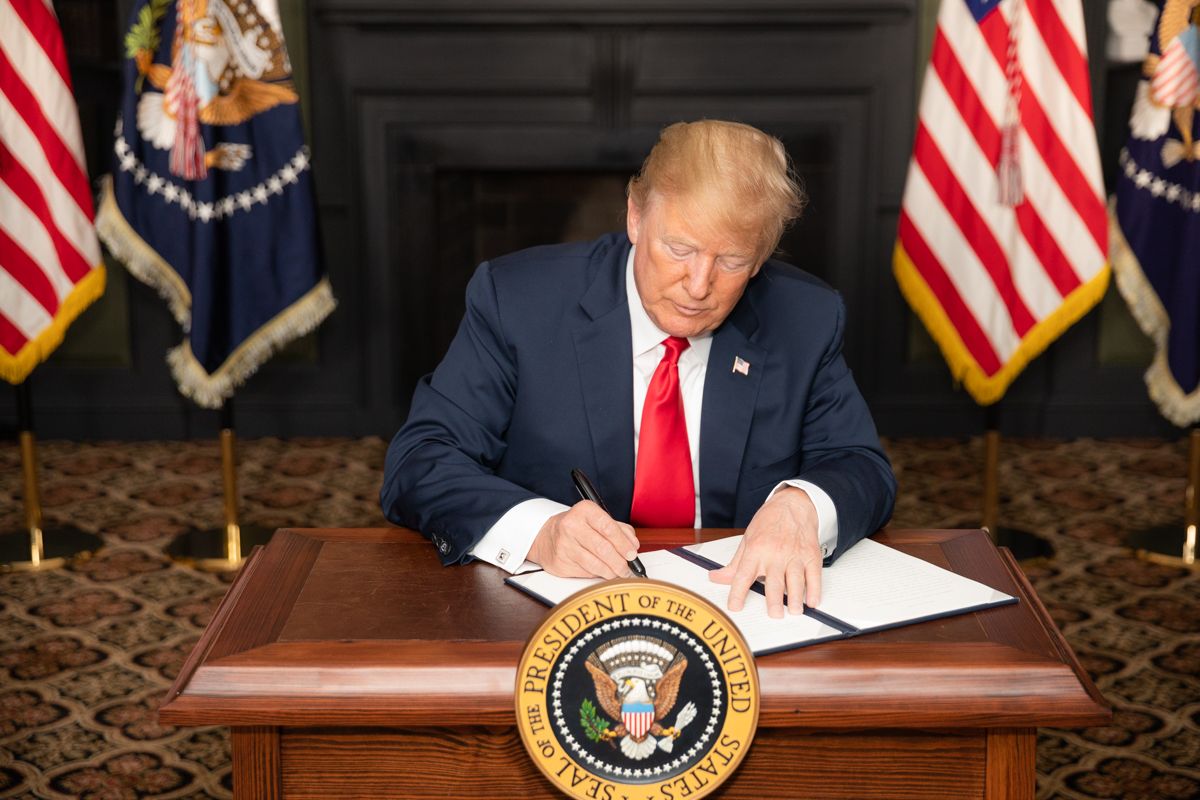 U.S. President Donald Trump orders reimposed Iran sanctions (AN/Shealah Craighead)
Propping up the deal
The Security Council unanimously endorsed the JCPOA in July 2015 with the support of its fifth permanent member, the United States.
Now, the European Union has enacted a "blocking statute" to nullify U.S. legal action against European firms doing business with Iran. It is essentially a law that prevents European companies from complying with any sanctions the U.S. reimposes on Iran.
"Preserving the nuclear deal with Iran is a matter of respecting international agreements and a matter of international security," said four foreign ministers — Britain's Jeremy Hunt, the E.U.'s Mogherini, France's Jean-Yves Le Drian and Germany's Heiko Maas — in a joint E.U. statement.
The Trump administration appears to want maximum pressure applied to Iran that could lead to regime change. Trump's national security adviser John Bolton has called for the overthrow of Iran's government.  Trump attorney Rudolph Giuliani has been paid for speeches to the Mujahideen-e Khalq, or MEK, a controversial dissident group the U.S. State Department called a terrorist group until 2012.
Justifying the reimposition of sanctions, U.S. Secretary of State Mike Pompeo said Iran's ruling regime "must use Iran's resources to help its citizens, not support terror and enrich the leadership."
Trump, in a statement posted by the White House, said the renewed sanctions, including those aimed at Iran's automotive sector and its trade in gold and precious metals, will be fully enforced "and we will work closely with nations conducting business with Iran to ensure complete compliance."
"I am pleased that many international firms have already announced their intent to leave the Iranian market, and several countries have indicated that they will reduce or end imports of Iranian crude oil," said Trump.
All other sanctions against Iran will be reimposed as of November, he said, including measures against Iran's oil and gas industry and transactions by foreign financial institutions with Iran's central bank.
"We urge all nations to take such steps to make clear that the Iranian regime faces a choice: either change its threatening, destabilizing behavior and reintegrate with the global economy, or continue down a path of economic isolation," Trump said.
The Trump administration also may seek to have the Belgium-based financial network that facilitates cross-border payments, the Society for Worldwide Interbank Financial Telecommunication, or SWIFT, cut off Iran's banking system, as was done before the nuclear deal.
Then-U.S. Secretary of State John Kerry negotiates with Iran's Foreign Minister Javad Zarif (AN/U.S. Mission to IOs in Vienna)
However, Europeans working to sustain the Iran deal and open the country to foreign investment will likely fight such a move.
Court action
Iran lodged a complaint with the International Court of Justice seeking to enjoin the reinstated U.S. sanctions, according to a statement from the court.
Iran contends Trump's decision violates the U.S.-Iran Treaty of Amity that took effect in 1957 after it was signed between the two countries during the Eisenhower administration, long before the 1979 Islamic Revolution. The ICJ, based at The Hague, Netherlands, is the top U.N. court for settling international disputes.
"Iran is committed to the rule of law in the face of U.S. contempt for diplomacy and legal obligations. It's imperative to counter its habit of violating international law," Iran's Foreign Minister Javad Zarif said.
Akbar Komijani, deputy governor of Iran's central bank, said the Iranian economy faced international constraints from unfair sanctions before the nuclear deal brought a rational economic climate. Iran's economy began to benefit from the deal even before it was officially signed, he said in a statement.
Iran's government and central bank "were able to observe the effects of economic policies of the previous four years on the country's economic growth," he said. "JCPOA resulted, among other things, in increase in economic growth of about 12.5%. In addition to the growth of the oil and gas sector, growth of other sectors of the economy has also been positive."
Trita Parsi, head of the National Iranian American Council, which promotes ties and understanding between the two countries, harshly criticized the Trump administration's actions.
"You cannot stand with Iranian people and at the same time destroy all of their life savings and any chance they have to put food on the table," he said. "By imposing sanctions aimed at destroying the Iranian economy, Trump is declaring economic war on the people of Iran."
A working plan
The International Atomic Energy Agency has repeatedly said the JCPOA is working. Previously, the IAEA, an anti-proliferation arm of the United Nations, laid out 12 areas or "possible military dimensions" for investigation, so it could monitor and verify Iran's nuclear program.
A review of these investigations indicate Iran turned over documents, replied to written questions, provided samples for analysis and complied with other measures under the nuclear deal. Though it pursued a nuclear weapons program in the past, Iran apparently did not divert nuclear material from its civilian nuclear program as part of its weaponization efforts, IAEA documents show.
"As far as nuclear activities are concerned, Iran accepted many restrictions," said IAEA's Director General Yukiya Amano.
"For example, its stockpile of low enriched uranium hexafluoride must not exceed 300 kilos and the number of centrifuges used for producing low enriched uranium must not go above 5,060," he said. "The agency verifies and monitors that Iran is abiding by these restrictions."
Comments