WASHINGTON (AN) — Millions of children worldwide skipped their classes on Friday to send a resoundingly clear but simple message: They are leading the way to take on the global climate crisis, because government leaders are acting like children.
"We want to do something while there is still time. Adults are not paying attention. They are always on their phones," said 10-year-old Eva Steinman, who was marching with her father, Jon, and tens of thousands of other protesters in downtown Washington.
The crowds of animated kids and teens in the U.S. capital, enough to fill a large stadium, far outnumbered adults in a mix of excitement to be taking a day off from school along with sincere anger and deep-seated fear over the existential threat of rising global average temperatures.
The student-led climate protests quickly spread to more than 150 countries around the world, raising pressure on governments to commit to significant and immediate actions to slow global warming at a three-day summit at the United Nations headquarters in New York that starts on Saturday.
In capitals and other major cities, the youth-led day of demonstrations urged world leaders to listen to the best science available, ensure climate justice and equity and prevent global temperatures from rising more than 1.5 degrees Celsius above pre-industrial levels.
Organizers said more than 4 million people turned out for the strikes in at least 4,500 places worldwide. In Germany alone, some 1.4 million participants — including 270,000 in Berlin — massed across 575 German cities. Many adults came in support of the youth.
Like many others, Leo Schleifer, a 12-year-old middle schooler in Washington, said he was inspired by Greta Thunberg, the Swedish teen and environmental activist who crossed the Atlantic in a zero-emissions sailboat to attend the U.N. Climate Action Summit and provide testimony to the U.S. Congress.
"What you have is a generation that dropped a bombshell on us, and we have to clean it up," Schleifer said. "It's mostly because of them."
Massive turnouts
Protesters in Australia's capital, Canberra, and largest city, Sydney, led off the day of rallies with a call for their nation — the biggest exporter of coal and liquid natural gas — to drastically cut its carbon pollution.
Massive crowds were reported across Asia, Africa, Europe and the Americas for the second "Global Climate Strike" this year, after a demonstration on Friday, March 15 drew an estimated 1.5 million students out of their classrooms in 2,083 cities across 125 countries around the world.
More than 300,000 Australian school students and workers took to the streets this second time around for the world's largest climate strike ever, organizers with Australia's School Strike 4 Climate campaign reported.
The turnout in more than 100 Australian communities, more than double the numbers from the protests in March, far exceeded student organizers' expectations. "Public venues overflowed in major cities, and the streets were flooded with young and old across the nation, toppling records and showing the deep concern and strong desire for government action to address the climate crisis," the campaign said.
Similar protests were being staged in cities across the globe including 800 demonstrations in the United States, where Thunberg, who inspired the demonstrations, was joining U.N. officials for the climate summit. New York City's 1.1 million school students were excused from class to participate in the global climate strike.
"Incredible pictures as Australia's gathering for the climate strike," Thunberg said on Twitter as the day began. "Australia is setting the standard! It's bedtime in New York ... so please share as many pictures as you can as the strikes move across Asia to Europe and Africa!"
Her August 2018 protests in front of Swedish parliament sparked the Fridays for Future global movement, in which students skip classes to attend demonstrations. "We are temporarily sacrificing our educations to save our futures from dangerous climate change," School Strike 4 Climate says.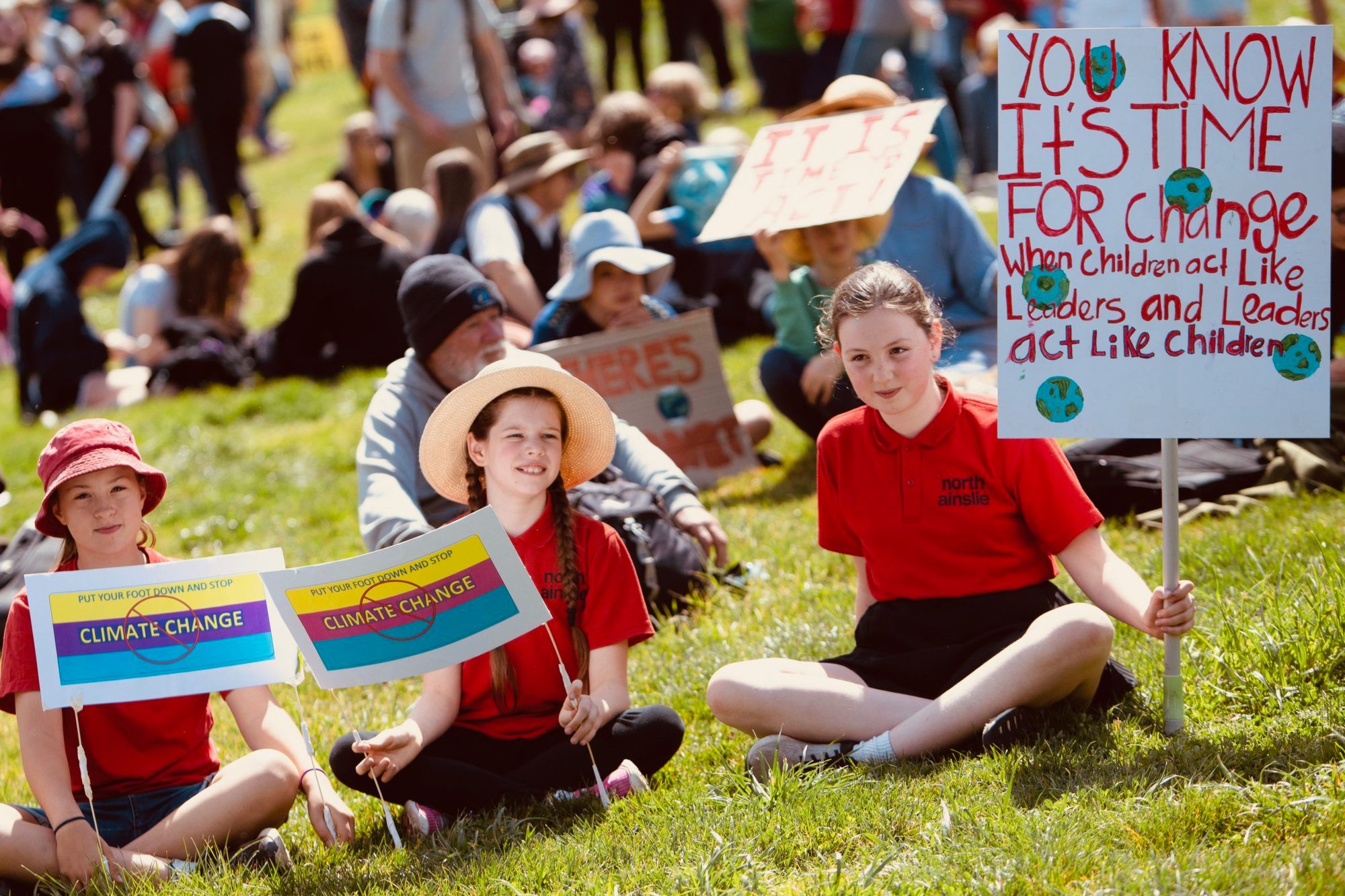 Climate protesters on Friday in Australia's capital Canberra (AN/Jason McQueen)
Fulfilling the Paris deal
The demand for climate action puts pressure on governments to fulfill the 2015 Paris Agreement. In December, almost 200 nations adopted a rulebook for accomplishing the Paris deal's goal of preventing average global temperatures from rising more than 2 degrees C. above pre-industrial levels, or 1.5 degrees C. if possible.
Since the world has already warmed by 1 degree C. from pre-industrial levels, the most favorable scenarios under the Paris deal mean deciding between whether to allow warming to continue by a half-degree or 1 degree more.
But the United Nations' Intergovernmental Panel on Climate Change, or IPCC, concluded in a major report that a half-degree less warming would cause fewer deaths and illnesses and 0.1 meters less sea rise, and it would halve the number of people who lacked fresh water.
Substantially fewer heatwaves and droughts would result, it said, and the world's coral reefs might survive. Limiting global average temperature rise to 1.5 degrees C. also would avert 150 million premature deaths in the 21st century.
The report said the planet is on track to cross the threshold of 1.5 degrees C. above pre-industrial levels by as early as 2030, bringing the risk of catastrophic climate change marked by floods, extreme drought, wildfires and food shortages for hundreds of millions of people.
Rafi Shur, another 12-year-old Washington student who joined his classmates for the demonstrations, said his family decided to install solar panels and take other measures to help the environment.
"Everyone has to do something," he said. Shur's mother, Naomi Edelson, said more than half of her son's class was in attendance, with the full support of the school.
"The kids totally get it," she said. "They have a right to be very mad."
---
Heilprin reported from Bern, Switzerland.
Comments