UNITED NATIONS (AN) — Nikki Haley will resign her post as U.S. envoy to the United Nations at the end of 2018, U.S. President Donald Trump announced.
No reason was given why Haley, a rarity in Trump's Cabinet for having avoided getting fired or departing under a cloud of controversy, would be stepping down. A former South Carolina governor with little previous international experience, Haley was appointed to the U.N. post in November 2016. She coordinated Trump's first time as chair of a U.N. Security Council session in September.
Haley wrote a Washington Post op-ed article acknowledging policy disagreements with Trump. "I proudly serve in this administration, and I enthusiastically support most of its decisions and the direction it is taking the country," Haley wrote. "But I don't agree with the president on everything."
Nevertheless, she ruled herself out as contender against Trump for the Republican nomination in 2020.
In September, Haley presided over what the Security Council billed as its first-ever meeting devoted to corruption, peace, and security, with a special focus on Venezuela's dangerous instability and humanitarian crisis.
The United Nations convened the meeting during its monthly rotating presidency of the U.N.'s most powerful body, partly as a means of weighing international options on Venezuela's political and economic crisis. Haley said it was an issue that has for too long gone unaddressed.
"For all the time we spend here discussing conflict, we hardly ever talk about how corruption fuels the instability, violence, and criminal activity that put countries on our agenda," Haley said in a statement.
"We pour billions and billions of dollars into trying to fix these problems," she said. "We deploy blue helmets, we set up massive assistance missions. We send experts to all corners of the globe. But we fail to recognize the issue that is staring us in the face — corruption."
In June, Haley was outspoken about the Trump administration's announcement that it would pull the United States out of the U.N. Human Rights Council, the world's top international organization for taking on suspected human rights abuses and violations.
The administration claimed the Geneva-based council lacks credibility and is biased against Israel while allowing nations such as China, Cuba and Venezuela to become members.
"We do support the rights of all people to have freedoms bestowed on them by their Creator. That is why we're withdrawing from the U.N. Human Rights Council, an organization that is not worthy of its name," Haley told reporters.
"I want to make it crystal clear that this step is not a retreat from human rights commitments," she said. "On the contrary, we take this step because our commitment does not allow us to remain a part of a hypocritical and self-serving organization that makes a mockery of human rights."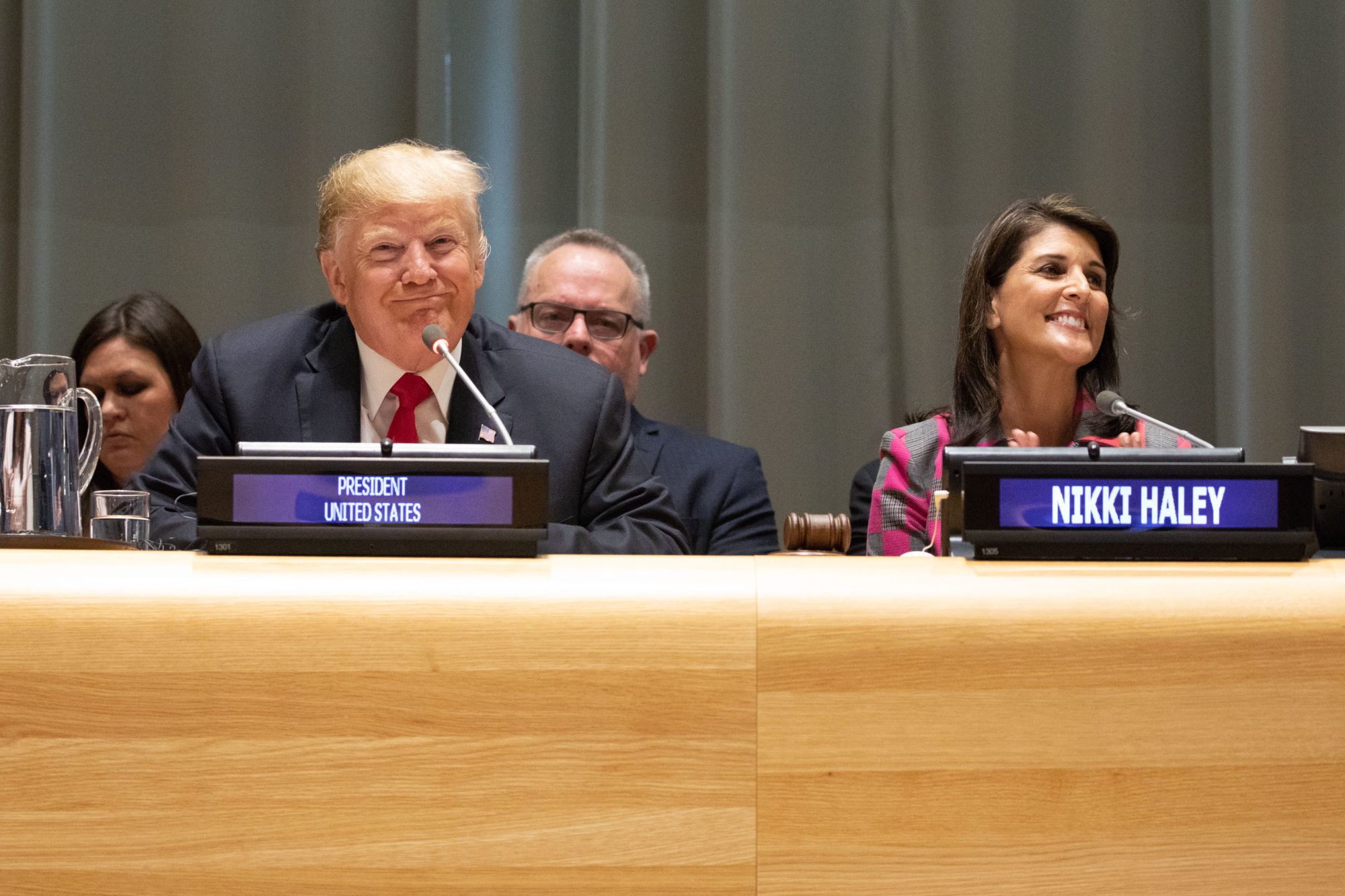 U.S. President Donald Trump and U.S. Ambassador to the U.N. Nikki Haley at the United Nations (ARÊTE/Shealah Craighead)
'A lucky girl'
Haley has faithfully implemented Trump's "America First" policies and defended his hard-line positions against Iran and North Korea. But as Trump withdrew from international organizations and treaties, Haley became a bridge for other diplomats seeking to understand U.S. isolationism.
She got along well with U.N. Secretary-General António Guterres and helped push some of their joint reform agenda through the world body's bureaucracy.
Before taking the U.N. post, Haley was critical of Trump as a candidate and turned down his offer to become secretary of state, saying she lacked foreign policy experience.
Trump nonetheless made her a member of his Cabinet. He said Haley told him about six months ago that she would want to "take a break" after her first two years as U.N. ambassador.
"It has been an honor of a lifetime," she told Trump. "You know, I said I am such a lucky girl to have been able to lead the state that raised me and to serve a country I love so very much. It has really been a blessing and I want to thank you for that."
Haley reportedly has heavy debts to clear, so she may try to convert her international experience to lucrative private sector work. The Post and Courier of Charleston, S.C., reported Haley had debts of about US$525,000 to US$1.1 million in 2017, much of it from a mortgage, line of credit and credit cards. She earned about US$180,000 a year as the U.S. ambassador to the U.N. Her husband earned far less.
Speculation about who Trump might name as the new U.N. envoy initially revolved around his daughter, Ivanka, or son-in-law, Jared Kushner, both of whom advise him in the White House.
"How good would Ivanka be?" Trump told reporters, adding there was no one "more competent in the world" than his daughter.  "I think Ivanka would be incredible but it doesn't mean [I would name her]," he said. But, he acknowledged, "I would be accused of nepotism."
His daughter later ruled herself out for the job. "It is an honor to serve in the White House alongside so many great colleagues and I know that the President will nominate a formidable replacement for Ambassador Haley," she tweeted. "That replacement will not be me."
Trump later told reporters aboard Air Force One that he had five people on his short list for U.N. ambassador, including former White House adviser Dina Powell, a friend of Haley's.
Days earlier, Haley tweeted a photo of herself out boating with Powell in South Carolina. Trump said Richard Grenell, the U.S. ambassador to Germany, was not on the short list but might consider him.
Comments