GENEVA (AN) — One of every 110 people worldwide has been forced to leave home because of conflict, war, violence, human rights abuses or persecution.
In places like Congo, South Sudan and Myanmar, 68.5 million people globally suffered from forced displacement in 2017, the highest number ever recorded.
That is an increase of 2.9 million people more than in 2016, according to the Office of the United Nations High Commissioner for Refugees, or UNHCR. In a world of 7.6 billion people, that means 44,500 people a day — one person every two seconds — are displaced.
It was the fifth year in a row that the total number, which is now roughly equal to the population of Thailand, reached a new high in UNCHR's annual report, Global Trends: Forced Displacement in 2017. Developing countries are by far the worst affected.
"We are at a watershed, where success in managing forced displacement globally requires a new and far more comprehensive approach so that countries and communities aren't left dealing with this alone," Filippo Grandi, who heads UNHCR, said in a statement.
Children suffer most
About 40 million people, or 58%, were displaced inside their own countries, which represented a slight decrease from the 40.3 million in 2016. But the figures also show 58% of all refugees live in urban areas, not in camps or rural areas.
And most of those who have been displaced around the world are young: 53% are children, including many unaccompanied or separated from families.
The number of refugees — people who fled their country and need international protection from harm or persecution — accounted for 25.4 million, or 37%, of the total. That was an increase of 2.9 million refugees from 2016.
Just over a fifth of all refugees are Palestinians under the care of the U.N. Relief and Works Agency for Palestine Refugees in the Near East, or UNRWA.
Two-thirds of the others — all of them under UNHCR's care — come from just five countries: Syria, Afghanistan, South Sudan, Myanmar and Somalia.
UNHCR emphasized that resolving even one of those conflicts "has potential to significantly influence the wider global displacement picture."
The number of asylum seekers — people who have applied for refugee status and are awaiting the result — rose to 3.1 million, an increase of 300,000, or about 10%.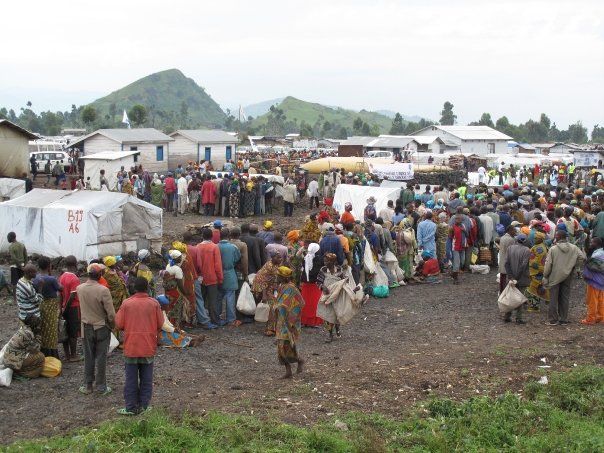 Crowds of people hoping for more than half-rations at Congo's Kibati camp (AN/John Heilprin)
A growing burden on neighbors
The rising numbers of people worldwide forced to flee wars, violence and conflicts and to seek safety somewhere else has raised broad concerns among international organizations that insufficient resources can destabilize the security of neighbors and regions.
Due to a drop in the number of resettlement places on offer, the number of resettled refugees was down by more than 40%, at around 100,000 people.
The number of countries hosting large numbers was also comparatively few, UNHCR reported. Turkey remained the world's leading refugee hosting country, with a population of 3.5 million refugees, mainly Syrians.
Lebanon, with more than 1 million Syrian refugees, or about a quarter of the country's population, hosts the largest number of refugees relative to its population.
An estimated 10 million people around the world are stateless: they were denied nationality and, with it, access to education, health care, employment, freedom to move and other basic items.
In response, UNHCR and the international community are working on a Global Compact on Refugees to spread responsibility. Proponents hope the U.N. General Assembly adopts it this year, as a follow-up on the 2016 New York Declaration for Refugees and Migrants.
Grandi said he had reason to hope it will be approved. "Today, on the eve of World Refugee Day, my message to member states is please support this," he said. "No one becomes a refugee by choice; but the rest of us can have a choice about how we help."
Comments