UNITED NATIONS (AN) — Ahead of his last U.N. visit, U.S. President Donald Trump dusted off a favorite self-aggrandizing tale about the time he "offered to rebuild" the world body's headquarters and save it a ton of money. There's just one problem: he declined the opportunity, a U.N. official said.
It would not be surprising for him to reprise the tale ahead of his next speech at the United Nations General Assembly's high-level debate that is scheduled for September 22 to 25. Despite the COVID-19 pandemic, Trump may try to make a live appearance from the U.N.'s headquarters in New York.
U.S. Ambassador to the U.N. Kelly Craft said in July that Trump would be "the only world leader to be speaking in person." She emphasized that his participation was pegged to the United Nations' 75th anniversary since it began operating on October 24, 1945, "so it makes it even more special."  Other world leaders and heads of state are expected to speak by video conference or in recorded speeches.
As president of the U.N.'s host nation, Trump could monopolize the world's biggest diplomatic stage this fall despite his repeated broadsides against the world body and, in particular, his withdrawal from a series of U.N. agencies and treaties along with his threat to drastically cut its spending. The United States contributes the largest share, 22%, towards the U.N. budget.
It would not be the first time that the wealthy businessman and television personality-turned-politician burnished his global brand at the U.N.'s expense.
A transcript released by the White House on September 19, 2019 — five days before his annual remarks to the U.N. General Assembly in Manhattan's Midtown, almost directly across First Avenue from the opaquely black-and-gold Trump World Tower — pulled back the curtain on a revealing but less-than-truthful exchange between Trump and reporters during his "press gaggle" aboard Air Force One.
An Associated Press reporter asked Trump, who was preparing to give a deliberately antagonistic speech on the world stage that would promote his nationalism ahead of the U.N.'s distinct brand of globalism, whether he would feel nostalgic about his real estate days when he returned to the U.N.'s East Side headquarters.
His answer was an amalgamation of his modus operandi as a luxury real estate developer, TV personality and politician: just keep peddling the propaganda, despite ample evidence to the contrary.
"I offered — I offered to rebuild it, as a real estate developer.  I was a very good real estate developer.  I offered to rebuild it at a tiny fraction of what they were going to build it for," he told reporters, according to the White House transcript posted online. "And I said, 'It will end up being much more than that.' They didn't even know what New York steam was versus a boiler.  They knew nothing."
Trump's fictitious tale about his intentions towards the U.N. complex became an Associated Press story published on September 23, 2019 about his "real estate deal that got away." The story asserts that "the president reminisced to reporters aboard Air Force One how he wanted the contract to rebuild the facility in the early 2000s."
Other versions told of how "the president reminisced with reporters on Air Force One this past week about his efforts to win the project" and that Trump had "appealed to the [U.S. Senate committee] panel to let him manage the project. He would even waive his fee, he said. In the end, he didn't get the project, but his words were music to senators concerned about costs."
It's a tale he has told before. In February 2008, Trump told this reporter, then a U.N. correspondent for The Associated Press based at the U.N.'s headquarters in New York, that he could do a quicker and cheaper job of finishing the over-budget and behind-schedule renovations to U.N. headquarters. He said the United Nations should have let him do the job.
He eagerly offered up the story, without prompting, at Madonna's star-studded dinner that served to raise money for Raising Malawi — an advocacy group founded by Madonna in 2006 and administered by Kabbalah Center International in Los Angeles — and to promote a new Gucci store in New York. Organizers said the proceeds would be collected by Gucci Foundation, a registered charity, and split among Raising Malawi, operating under the Kabbalah Center, and the U.S. Fund for UNICEF.
As the stars mingled, Trump eagerly shook this reporter's hand, and, surprised to learn that an AP journalist had been allowed inside the exclusive, extravagant dinner, lost no time seizing the opportunity. He was riding high on the airing of the seventh installment of his reality game show, The Celebrity Apprentice — daughter Ivanka and son Donald Trump, Jr. also were among the show's judges — but that night he seemed unlike his belligerent TV personality. He immediately offered up a story about how he could have renovated U.N. headquarters for much cheaper than it was being done.
"It's a total disgrace. First of all, it's going to take seven and a half years to renovate; it should take 18 months," Trump said in the brief in-person interview beside his family's table at the gala fundraising dinner. "It shouldn't cost more than US$750 million. What's happening to all that money?"
At that time, construction delays had pushed back the start of the US$1.9 billion project until 2009. The overhaul of the 39-story Secretariat Building and the adjoining General Assembly Hall, both completed in 1952, was expected to run US$219 million over budget. It wound up costing US$2.3 billion, more than US$400 million over budget.
The next day, this reporter debunked his tale for a February 7, 2008 wire story that is, ironically, preserved online by his favorite media, Fox News.
Vivian Van de Perre, then the U.N.'s chief of administration and communication for its capital master plan, confirmed that Trump had been encouraged to bid on doing the renovations —but he declined to make an offer.
"We wish he had put in a bid for US$750 million," she said.
If Trump were still inclined, she added, he still had time to put in a bid to become a subcontractor to construction manager Skanska USA, which won the bid for the US$1 billion first stage.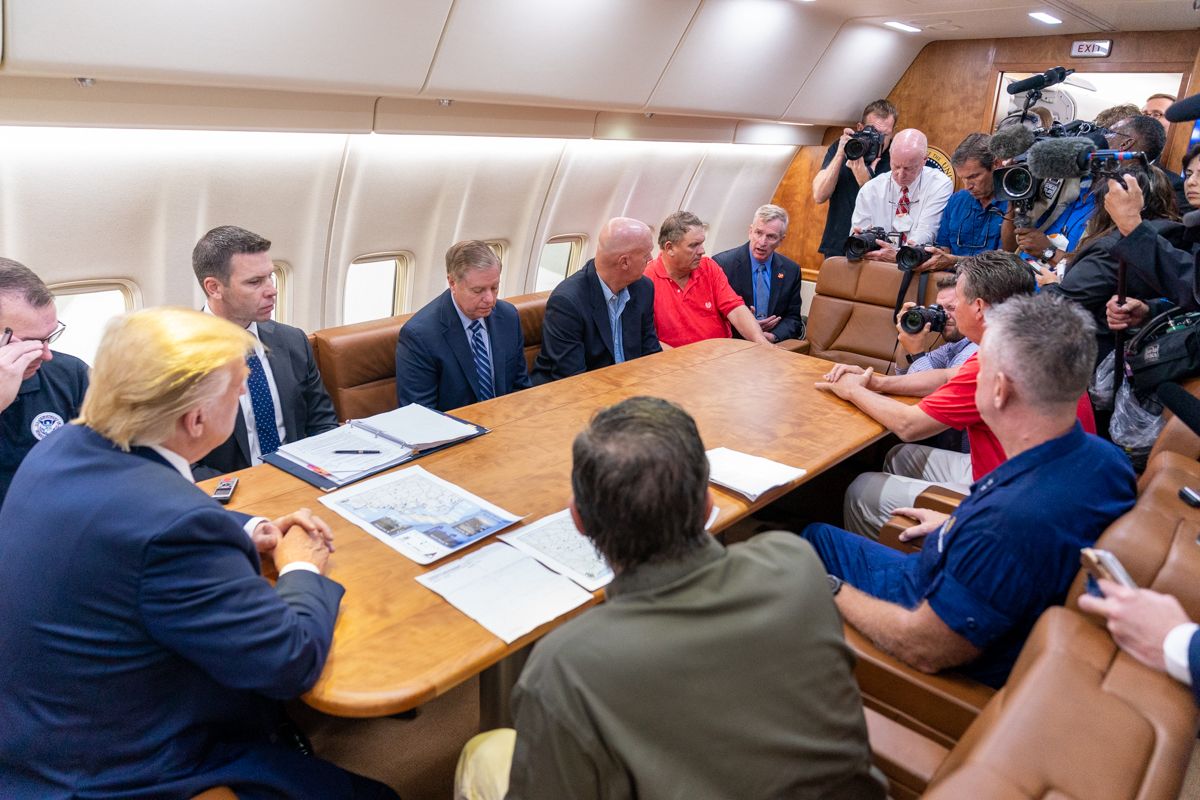 'We could have done it'
Madonna's lavish benefit dinner, with scores of Gucci-clad models and one-of-a-kind US$1,000 handbags given away in end-of-dinner booty bags, was held in huge, white tents controversially erected on the north lawn of the U.N. complex in New York. Trump and his wife, Melania, and his children and their partners sat at a minimum US$10,000-per-plate table adjacent to this reporter.
Just two reporters, including this one, were allowed into the dinner. Several hundred Hollywood and New York A-listers and titans of industry attended, after a series of increasingly restrictive receptions. First came the red-carpet reception for the TV cameras and photographers shouting their demands.
A half-hour later came a cocktail lounge where photographers clicked away at the likes of Tom Cruise, Katie Holmes, Demi Moore, Ashton Kutcher, Gwen Stefani, Gavin Rossdale, Drew Barrymore, Justin Long, Gwyneth Paltrow, Chris Rock, Alex Rodriguez, Jennifer Lopez, Jerry Seinfeld and Barry Diller.
Finally came the inner sanctum: rows of dinner tables assembled facing a stage for Madonna's entertainment-and-auction for Raising Malawi.
Gucci, which subsidized Madonna's dinner, pegged the event to the opening of its Manhattan flagship store on Fifth Avenue and put its logo and UNICEF's behind a walkway where celebrities were photographed. The U.N. children's agency relied on US$1 billion in private sector donations for its US$3.5 billion global budget, but the U.N. had never before granted permission to a company to erect tents on the north lawn of the U.N. for such a lavish event with a commercial tie-in.
The red-carpet reception also drew stars such as Amy Adams, Brooke Shields, Salma Hayek, Djimon Hounsou, Dita Von Teese and UNICEF Ambassadors Téa Leoni and Lucy Liu, followed by a cocktail party with the likes of Trump and Diller.
Many celebrities paid upwards of US$10,000 each to dine on grappa-cured salmon, wild striped bass, tart of goat cheese, foraged mushrooms, truffled mashed potatoes and sticky toffee pudding with crème frâiche. At their tables, the ultra well-heeled attendees were handed pieces of paper to sign their names agreeing to more charitable donations. This reporter sat next to a banker and an heiress who unhesitatingly pledged tens of thousands of dollars more while Madonna replayed videos of Malawi and children from the southern African country. Rihanna, Timbaland and Alicia Keys performed.
Then-U.N. Secretary-General Ban Ki-moon, who regularly sought help from celebrities to focus attention on world problems, left New York for Chicago hours before the event got under way, in a subtle signal to the reporters who covered him that he did not want to be spotted near the officially forbidden displays of business logos and other commercial uses of the world body's headquarters.
Alicia Bárcena Ibarra, Ban's undersecretary general for administration and management, conceded her office "should have investigated more fully" before it approved UNICEF's request to hold the event. Bárcena Ibarra said she did not believe it was correct for Gucci to publicize the event in conjunction with a new store opening. Ban nonetheless told reporters he was confident there were no problems.
"I understand that the main purpose of this event will raise funds for a humanitarian purpose, and I am sure that the proceeds will go to the purpose of this event," he said.
Tom Cruise, who spoke briefly to this reporter on his way out, bid US$100,000 for a sports package that included the privilege of hanging out at Yankee Stadium with A-Rod and a private hour of playing soccer with David Beckham, but lost out to a bidder who ponied up US$350,000.
"It was an extraordinary evening. The whole evening was quite moving," Cruise finally answered, smiling, after first trying to turn this reporter's question into some kind of test. "What did you think of it?" he asked in a somewhat aggressive tone. This reporter declined to offer an opinion on the event, instead sharing with Cruise some brief remarks about the importance of journalistic objectivity.
A trip to Paris with a tour of a vineyard and lunch with Francois-Henri Pinault and Hayek went for US$120,000. The priciest auction item was a US$600,000 winning bid to tour with Madonna and take a dance class with her and Gwyneth Paltrow. Von Teese appeared to clinch the winning bid. It appeared to this reporter, seated just behind the Trumps, that they did not bid on any of the items.
It was not the first time Trump tried to insert himself into the debate on U.N. renovations. In 2005, he told a Senate subcommittee he was the only person standing between an honest deal to rebuild the aging U.N. headquarters and a huge waste of public money. He offered to manage the project for free.
At the time, congressional leaders were concerned because they were looking at a US$1.2 billion U.S. loan for the renovations. The loan never happened. Then last year, with the press aboard Air Force One, Trump maintained he had put in a US$500 million bid on the renovations.
"And it came out — it came out costing billions of dollars. And I offered to do it for US$500 million and it would have been a much better job," he told reporters. "And they wouldn't have had to empty the building, as I said. We could have done it with people in place. It would have been a great job."
Comments