GENEVA (AN) — The U.S.-China trade war is costing each country major export losses that are most likely to benefit European Union members and 22 other countries, the U.N. Conference on Trade and Development reported.
Along with the E.U., the beneficiaries of tit for tat tariff hikes between the United States and China will most likely be Mexico, Japan, Canada, South Korea, India, Australia and Brazil.
Next likely are Taiwan, Vietnam, Singapore, Thailand, Indonesia, Malaysia, Turkey and Philippines. Finally comes Chile, Saudi Arabia, South Africa, Argentina, Pakistan, Peru and Iran — an irony due to U.S. President Donald Trump's ire for the Islamic Republic.
UNCTAD said European businesses, owing to their competitiveness and capacity, probably would capture US$70 billion in trade from the breakdown between the two biggest national economies: US$50 billion in Chinese exports and US$20 billion in U.S. exports.
Pamela Coke-Hamilton, head of UNCTAD's international trade division, said such tariffs do limit trade from a targeted country, but are less effective at protecting domestic firms.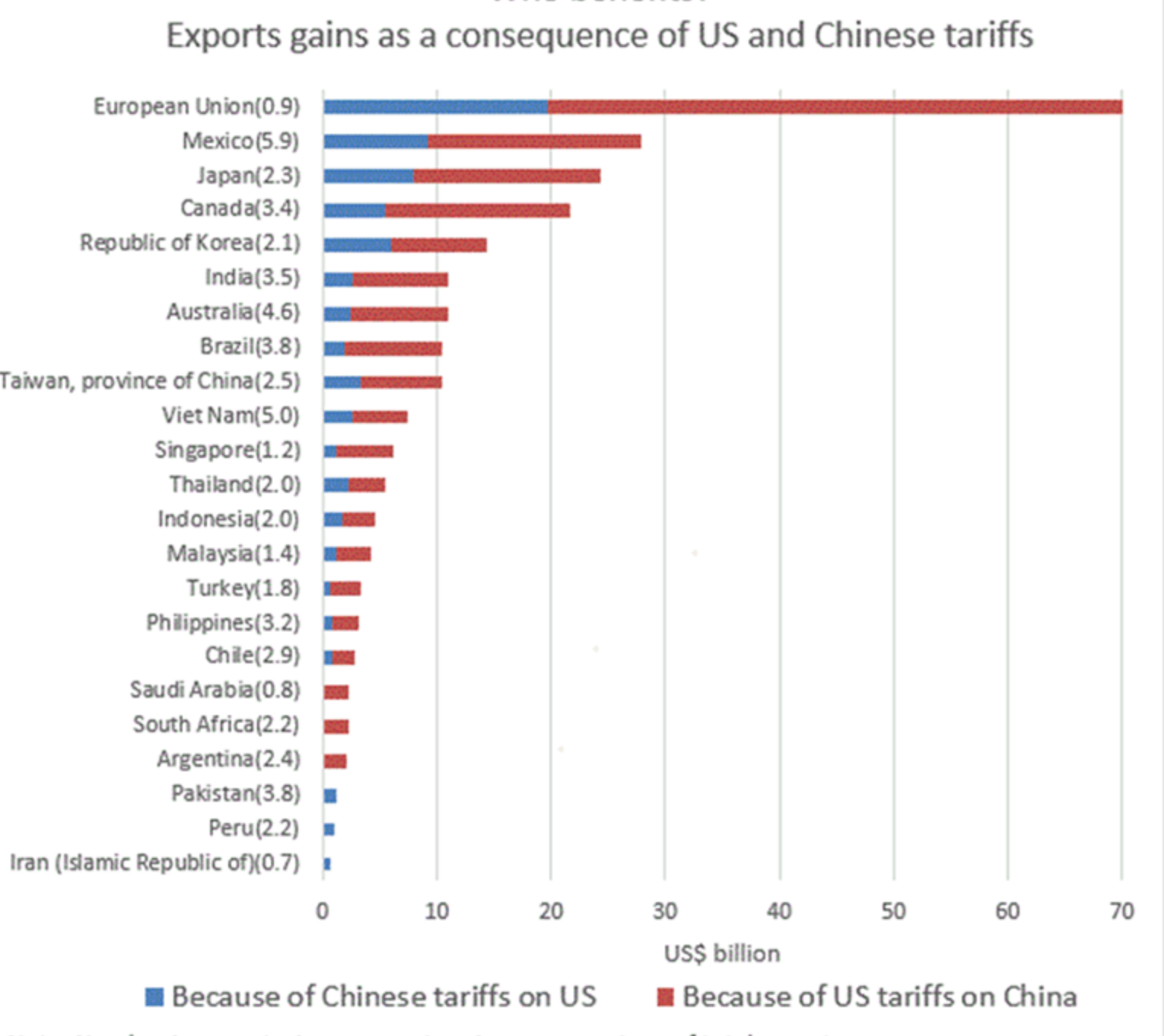 (AN/UNCTAD)
"The effect of U.S.-China tariffs would be mainly distortionary," she said in a statement. "U.S.-China bilateral trade will decline and be replaced by trade originating in other countries."
Downsides for domestic trade and poverty
The trade wars sparked last year by Trump's tariffs against many of America's most important trading partners also have been undermining the anti-poverty work of international organizations, according to UNCTAD and the World Trade Organization.
The United States imposed tariffs on billions of dollars of products from China, the European Union, Canada, Mexico and other major trading partners. They retaliated.
Imposing tariffs is supposed to make domestic products cheaper than imported ones, and encourage consumers to buy them.
Yet only 6% of US$250 billion in Chinese exports subject to U.S. tariffs will benefit American firms, according to UNCTAD's estimates. Conversely, only about 5% of US$85 billion in U.S. exports subject to China's tariffs will benefit Chinese firms, it said.
The report also said the trade wars will further harm the pace of economic growth globally, which the International Monetary Fund said is expected to slow to 3.5% due to rising trade tensions and U.S. interest rates.
IMF's forecast is down from the 3.7% growth rate from last year that had been expected to continue in 2019. That was partly based on an unchanged outlook for U.S. growth of 2.5% this year but expectations for just 1.6% growth in the EU's 19 member nations that use euros, down from the previous forecast of 1.8%.
UNCTAD said it also is concerned about "the risk that trade tensions could spiral into currency wars, making dollar-denominated debt more difficult to service."
Comments