GENEVA (AN) — The United Nations and Israel plunged into an intense debate over use of deadly force against protesters in Palestinian territory, after a U.N. commission said Israeli security forces had "no justification" to use live ammunition against thousands of people.
A U.N. independent commission of inquiry found Israeli forces committed human rights abuses against Palestinian protesters in Gaza last year that may amount to war crimes. Israel said it only acted in self-defense against the Hamas militant group's terror threat.
Israel's foreign ministry spokesman, Emmanuel Nahshon, accused the U.N. Human Rights Council, which commissioned the investigation, of being complicit in terror by "denying Israel's right of self defense."
The panel found Israeli soldiers used live ammunition against thousands of unarmed protesters, killing at least 189 Palestinians during several protests known as the "Great March of Return" near the separation fence between Israel and Gaza. Some 6,016 Palestinians were injured in protests from March to December 2018, the three-member panel said in a 252-page report.
"The Israeli Security Forces committed violations of international human rights and humanitarian law," said U.N. commission member Kaari Betty Murungi, a Kenyan lawyer. "Some of those violations may constitute war crimes or crimes against humanity, and must be immediately investigated by Israel."
The report was likely to be used later in the week as the basis of a Human Rights Council resolution backed by Muslim nations condemning Israel's actions in Gaza and calling for greater accountability.
The panel's chairman, Argentinian human rights official Santiago Canton, said it found "there was no justification for Israel's security forces killing and injuring persons who pose no imminent threat of death or serious injury to those around them, including journalists, health workers and children."
He said the panel's examination of Israel's use of live fire against the Palestinian protesters "found that application of lethal force was in the majority of cases authorized unlawfully. This inevitably led to arbitrary deprivation of life."
The third panel member, Sara Hossain, a lawyer from Bangladesh, said the Israeli snipers used high velocity bullets and long-range sniper rifles equipped with sophisticated optical aiming devices.
"They saw the target magnified in their sight and they knew the consequences of shooting, but still pulled the trigger, not once or twice but more than 6,000 times," Hossain said.
"The snipers killed 32 children, three clearly marked paramedics, and two clearly marked journalists," she said. "They shot at unarmed protesters, children and disabled persons, and at health workers and journalists performing their duties, knowing who they were."
Israel has been investigating criminal charges in the killing of 11 Palestinians, but claimed that the protests by the separation fence hid the "terror activities" of Palestinian armed groups.
Last year, Palestinians requested a full investigation by the International Criminal Court, an independent tribunal that is not part of the United Nations system, into Israeli settlement policies and alleged crimes. The ICC was created to step in only when nations are unwilling or unable to dispense justice themselves.
The Palestinian foreign minister provided a referral document to the court calling for a full investigation into Israeli settlement policies in the West Bank and East Jerusalem. A Palestinian statement asserted there was "sufficient compelling evidence of the ongoing commission of grave crimes to warrant an immediate investigation."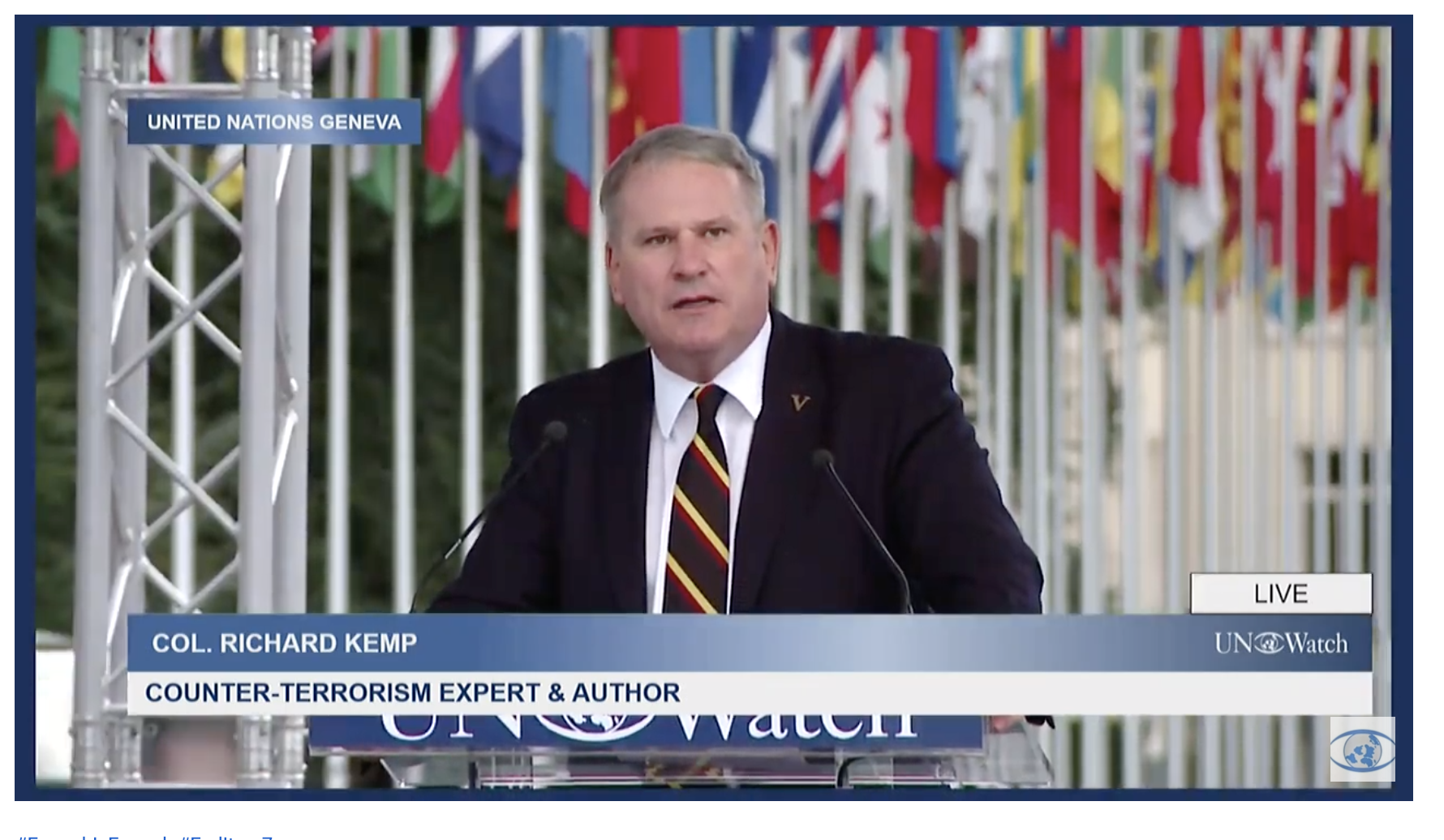 British Col. Richard Kemp at a rally in Geneva (ARÊTE/UN Watch)
Strong reaction
The U.N. findings produced an immediate outcry from Israel and its supporters, who rallied outside the U.N.'s European headquarters in Geneva, where the 47-nation council is based.
Richard Grenell, the U.S. ambassador to Germany, told the rally the panel's report "speaks to the fundamental flaws of the Human Rights Council that it singles out Israel on a permanent basis."
Last June, U.S. President Donald Trump's administration announced it was withdrawing the United States from the council because of what administration officials called a longstanding bias against Israel.
"Only Israel is singled out. Why?" Einat Wilf, an author and former Israeli politician, told a rally sponsored by U.N. Watch, an advocacy organization in Geneva. "The war is over. Israel shall stand."
U.N. Watch webcast the gathering of several hundred people live with a headline that called it a "rally for equal rights at the United Nations and a protest against anti-Israel bias."
Col. Richard Kemp, a retired British Army officer and former commander of British Forces in Afghanistan, told the rally the U.N. report is filled with lies, prejudice and distortion and "is not worth the paper it is printed on."
He said Gaza's ruling Hamas group has the only army in the world "that tries to entice others to kill its own people," all so that others will condemn Israel.
"That's their plan, that's their objective," he said. "The U.N. Human Rights council has failed Israel. It's also failed the Palestinian people."
He charged that the council has played into the hands of Hamas and, by failing to condemn the group, become "an instrument" of Hamas extremism. "They are friends of Hamas, they are instruments of terrorism," he said.
Comments