When an underwater cable became severed in the South Pacific last month, Tonga lost all internet access for nearly two weeks, in an incident that illustrates some of the risks that a U.N. expert group is examining.
Data worth an estimated US$10 trillion in economic activity — twice the GDP of Japan, the world's third biggest economy — moves through underwater cables every day, according to the U.N. Office on Drugs and Crime, or UNODC.
During Tonga's blackout, a small satellite service provided slow and limited internet access. Businesses could not take orders online. Relatives abroad were unable to send money transfers. The cause of the cut cable, which connects the Polynesian nation to Fiji, was publicly unknown.
It is these types of risks that an expert group with UNODC examined at a meeting in Sri Lanka at the end of January. Sri Lanka's government plans to host more such talks in March. "The bulk of these cables, on which we are so critically reliant, are merely the size of a garden hose and are just lying, unguarded, on the sea floor," UNODC said in a statement.
"Given the dependence of states on such cables for everything from personnel management to communication to fiscal matters to military and security operations," the United Nations agency said, "it is also a surprise to many that almost all of the global network of submarine cables is privately owned and maintained."
Tonga's cable, built with aid from the Asian Development Bank and World Bank, may seem old-school in an era of satellites and WiFi. But it was only put into use in 2013. Cables crisscrossing the ocean depths are cheaper and faster with data than satellites. Experts worry they can easily break, however, or be easily located — and sabotaged.
Such worries are not new. The International Cable Protection Committee, or ICPC, recently marked six decades of working to protect submarine cables worldwide. But the risks with the cables are taking on added importance in the 21st century's digital-dependent economy.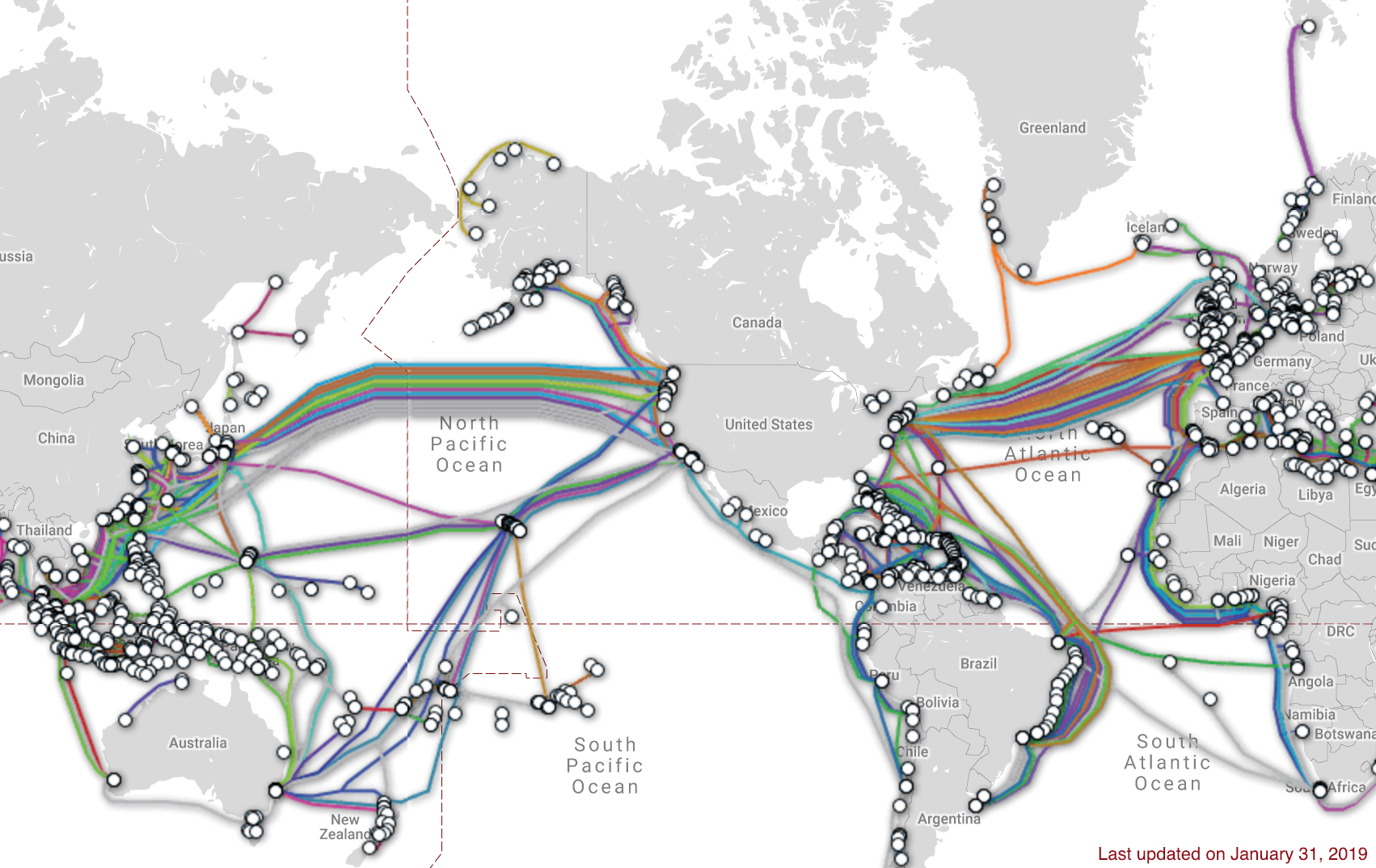 TeleGeography's regularly updated global submarine cable map (AN/TeleGeography)Cost of competition
For those wondering why satellites have not replaced all of the underwater cables, ICPC said the reason is due to new fiber optic technology, which it said is "as high tech" as satellite systems.
"Fiber optic cables transmit voice and data traffic with higher reliability and security at a cheaper rate than satellite," it said in a statement.
ICPC said the submarine cable industry has addressed the impact of natural disasters, human activities and technical failures for decades and "managed it very well" despite known human and natural hazards.
"There are certain areas of the globe where cables are known to be at a higher risk due to the movement of tectonic plates," it said. "However, the cost of providing 100% security can be prohibitive due to the unpredictable nature of these relatively rare events and the fact that the cable owners are obliged to operate in competition with each other."
Dozens of nations are obliged to protect cables under the framework of international treaties such as the Convention for the Protection of Submarine Cables — which took effect as far back as 1888 — and the 1982 U.N. Convention on the Law of the Sea.
The significance of electronic commerce is behind the drive for renewed talks between the European Union and 47 nations under the framework of the World Trade Organization. Plans to rejuvenate WTO's stalled negotiations on e-commerce emerged on the last day of the World Economic Forum's annual meeting at Davos last month.
Despite the exponential growth of domestic and cross-border electronic commerce in the past two decades — much of it carried through underwater cables — WTO has no specific multilateral rules regulating these electronic transactions.
Business and consumers instead rely on what the E.U. describes as a patchwork of rules from bilateral or regional trade agreements.
Comments