VIENNA (AN) — Ever since the Soviet Union launched the world's first artificial satellite Sputnik I in 1957, United Nations officials and diplomats have adopted a more celestial approach towards their original Earth-bound mission of trying to prevent more wars.
Sputnik triggered the infamous space race between the Russians and Americans, catapulting the space industry and technological advances in both nations. The space race ended in a handshake in 1975 between U.S. astronaut Tom Stafford and Russian cosmonaut Aleksey Leonov during a joint docking mission of the Apollo-Soyuz Test Project, the first time two nations collaborated with separate spacecraft.
Now, the competition has shifted more towards the realm of private aerospace companies backed by billionaires intrigued by the commercial and technological possibilities of space exploration, such as Jeff Bezos's Blue Origin, Elon Musk's SpaceX and Richard Branson's Virgin Galactic.
Against this backdrop the United Nations was holding the first global space summit of the 21st century at Vienna from June 18 to 21. Hundreds were expected at the summit, called UNISPACE, which marks a half-century of occasional U.N. global space conferences held in the Austrian capital where the U.N.'s Committee on the Peaceful Uses of Outer Space, or COPUOS, and its secretariat, the U.N. Office for Outer Space Affairs, or UNOOSA, are based.
COPUOS was established in 1959 and has since expanded to include 84 of the 193 U.N. member nations. Nations such as Britain, Canada, China, France, Germany, India, Japan and Luxembourg have all become active in space in recent years. The U.N. committee and office were created to promote international cooperation for the peaceful uses of outer space.
"In the 60 years since the space age began with the launch of Sputnik-1, the first artificial satellite, humankind has achieved remarkable progress in the exploration and use of outer space," UNOOSA's Director Simonetta Di Pippo wrote in an op-ed article in The Asian Age online.
Such accomplishments "would not have been possible without international cooperation," Di Pippo said, but "a lot has changed since the first UNISPACE conference was held in 1968. Today, space is big business. Last year the global space sector was estimated to be worth US$330 billion. Access to space is also growing rapidly."
More than 70 U.N. member nations now have space agencies and there are an "ever-increasing number" of private space companies, she added. "In 2017, a year in which the world placed over 450 new satellites — a record number — in orbit, commercial entities conducted just under half of all launches."
Keeping the peace
It has been almost two decades since the last U.N. Conference on the Exploration and Peaceful Uses of Outer Space was convened in 1999.
Only two U.N. global space conferences were held before that, in 1982 and 1968. This year's UNISPACE+50 summit showcases some of the benefits of international cooperation towards common goals in space, such as more knowledge about the universe and many new technologies that are now commonplace. These include GPS-coordinated gadgets, infrared thermometers, scratch-resistant lenses and memory foam.
Space technology is now used to navigate while driving cars and to call friends and families around the world. It is used to track endangered species like rhinoceroses to protect them from poachers and to provide imagery and data to farmers to help them monitor crops, improve their yield or avoid food shortages. Some problems also have emerged, such as space debris and the possibility of a space arms race.
More than half a million pieces of debris, or "space junk," have been tracked orbiting Earth, all of them at least the size of a marble but about 4% larger than a softball, according to U.S. space agency NASA. Traveling at speeds of up to 28,000 kmh, the debris can damage a satellite or a spacecraft — including the International Space Station, space shuttles and other spacecraft with people aboard.
Millions more pieces of debris are so small they can't be tracked. Space debris also occurs naturally, such as when a meteoroid orbits about the sun. "The greatest risk to space missions comes from non-trackable debris," Nicholas Johnson, NASA's chief scientist for orbital debris, said in a statement.
For decades, the U.N. General Assembly has been concerned with the possibility of a space arms race. The prospect of hypersonic rockets or satellite-launched super weapons developed by China, Russia or the United States led to years of talks over a proposed Prevention of an Arms Race in Space Treaty, or PAROS.
Proponents believe PAROS is needed to build on agreements dating to the 1960s and 1970s meant to prevent the weaponization of space.
There are five U.N. treaties on outer space; the 1967 Outer Space Treaty; 1968 Rescue Agreement; 1972 Liability Convention; 1976 Launch Registration Convention; and 1984 Moon Agreement. Outside the United Nations, there also are the 1963 Partial Test Ban Treaty and 1971 Intelsat Agreement.
All of these ban putting weapons of mass destruction — but not other types of weapons — in space.
The U.N.'s Conference on Disarmament set up an ad hoc committee in 1985 to examine legal protections for satellites, nuclear-powered systems in space and other issues relevant to establishing a PAROS Treaty, which would both expand on and reaffirm the Outer Space Treaty.
But the United States has opposed allowing the U.N. ad hoc committee to negotiate such issues, instead preferring to hold its own bilateral talks with Russia or China, according to a background paper on the proposed PAROS Treaty from the Washington-based Nuclear Threat Initiative.
The General Assembly approved a Russian-drafted resolution in 2014 banning an arms race in space. Russia declared in 2016 it will not be the first to deploy any type of weapon in space.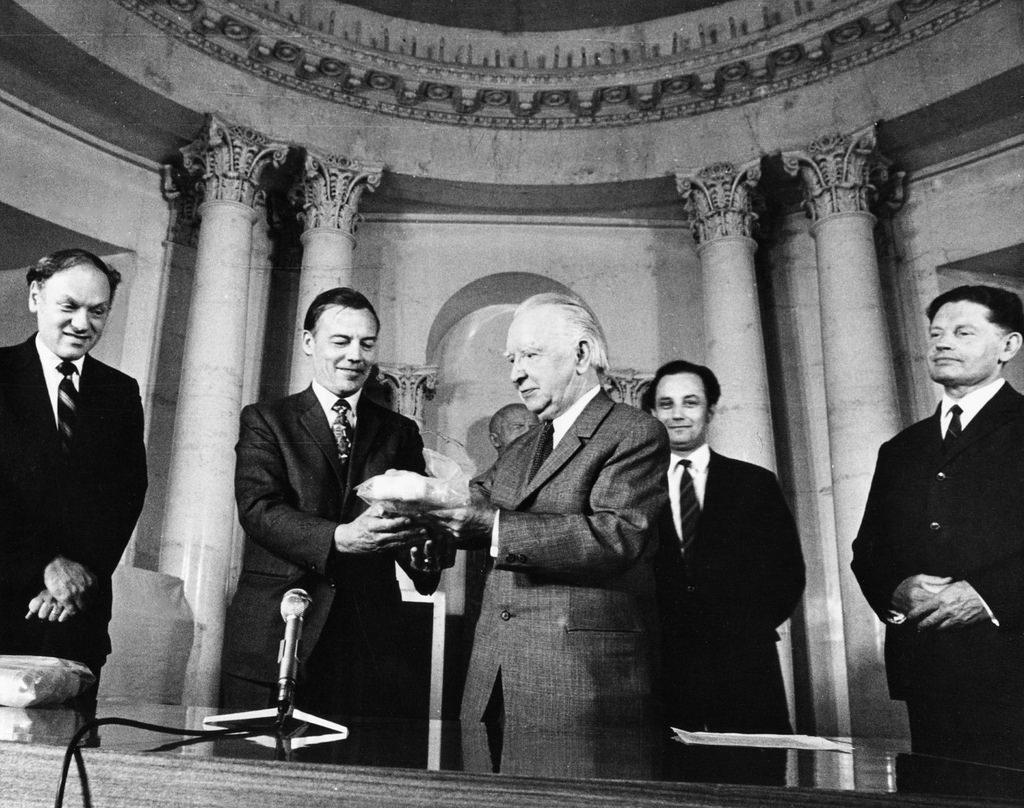 Americans and Russians exchange lunar samples (Arete/NASA)
Station with a view
The first piece of the International Space Station, or ISS, launched in 1998. The first crew arrived there in November 2000. Since then, people have lived in space every day and the international crew members of the orbiting spacecraft and lab conduct research that could not get done on Earth.
NASA and Russian space agency Roscosmos are preparing to replace ISS with another manned presence above Earth. Construction was scheduled to begin in 2022 and expected to be completed by 2024.
The most recent budget plan of U.S. President Donald Trump's administration renamed the Obama administration's "Deep Space Gateway" platform — meant to be a stopover on the way to Mars — as the Lunar Orbital Platform-Gateway. The Trump administration now wants it ready for use by 2023.
"If we can build a space station, if we can get to the Moon, then we can find solutions to Earth's environmental problems," U.N. Champion for Space Scott Kelly, the retired U.S. astronaut who spent 342 days in space and commanded the ISS, told the U.N. Environment Assembly in Nairobi last year.
After UNISPACE+50 is held, COPUOS was scheduled to meet in Vienna for a regular session in late June. At a meeting of its legal subcommittee at Vienna in April, some of the 69 nations that attended said it was important to craft a "Space2030" agenda to be part of the U.N.'s 17 Sustainable Development Goals for 2030.
Some delegations said a legal framework is needed to ensure that people's activities in outer space are sustainable for future generations, according to the subcommittee's 43-page report.
Though the five U.N. treaties on outer space create an outline of "international space law," the subcommittee said nations were worried that "the lack of a definition or delimitation of outer space created legal uncertainty at both the national and international levels concerning the applicability of air law and space law."
Comments