UNITED NATIONS (AN) — Amid growing calls on the U.N. secretary-general to order an independent investigation into Jamal Khashoggi's killing, a review by Arete News found just eight previous instances of a secretary-general issuing such an order since 1963. The last was in 2010, in the wake of Sri Lanka's civil war.
One week after Sri Lanka's 26-year civil war ended, the U.N. secretary-general and a handful of reporters flew halfway around the world to inspect the sandy coastal strip where separatist Tamil Tigers made a last stand.
It was a wasteland of scorched earth and craters in a war zone that came under heavy shelling from separatist rebels and the government. Burnt-out trucks and cars were left overturned near bunkers and battered camp tents. From inside a Sri Lanka Air Force helicopter, reporters gaped in astonishment down at a ghastly moonscape-by-the-sea.
The tour of the island nation's devastation after a war that cost 100,000 or more civilian lives extended to a barbed-wire-enclosed camp holding hundreds of thousands of displaced and hungry ethnic Tamils fearful of the Sinhalese majority. It was not until a year later, in 2010, that Ban Ki-moon, then the U.N. chief, ordered an investigation of alleged atrocities that would provide evidence of suspected war crimes by government forces and rebels.
That investigation was the last one ordered by a U.N. secretary-general, Arete News found in a review of U.N.-launched independent investigations since 1963.
Since Ban's tenure, from 2007 to 2016, his successor António Guterres has yet to order an investigation. That could change with growing calls for a U.N.-led probe into the killing of Saudi dissident journalist and Washington Post contributor Jamal Khashoggi.
In the past 55 years, there have been 76 U.N.-ordered investigations, the review found. Just eight were called by a secretary-general.
Guterres, who took over as U.N. chief in 2017, is only the ninth to hold that job since the U.N.'s founding in 1945. Forty-three of the investigations, or 57%, occurred in the past 10 years.
The U.N. Human Rights Council in Geneva has ordered the most overall investigations — 36 — since its creation by a U.N. General Assembly vote in 2006. The Office of the U.N. High Commissioner for Human Rights, or OHCHR, also in Geneva, is responsible for the next most: 12.
Despite its status as the most powerful arm of the United Nations, the U.N. Security Council, based at the world body's New York headquarters, has ordered just nine investigations between 1979 and 2013. The eight inquiries ordered by a secretary-general occurred between 1993 and 2010.
The Human Rights Council's predecessor, the Geneva-based Commission on Human Rights, called for six investigations between 1975 and 2000. The U.N. General Assembly in New York was responsible for launching five in the span of more than half a century between 1963 and 2016.
International commissions of inquiry and fact-finding missions have in recent years become a key tool in the United Nations' response to violations of international human rights and humanitarian laws, including international crimes, according to OHCHR.
They have been "established with mounting frequency" in recent years by the Security Council, General Assembly, Human Rights Council, secretary-general and human rights chief, OHCHR said in a 2015 report that noted some regional organizations also have set up their own investigations.
"Commissions of inquiry and fact-finding missions have proved to be valuable in countering impunity by promoting accountability for such violations," it said. "They gather and verify information, create an historical record of events, and provide a basis for further investigations. They also recommend measures to redress violations, provide justice and reparation to victims, and hold perpetrators to account."
The work is supported by principles laid out among international agreements, many from General Assembly resolutions or U.N. reports. There also are specific rules from treaties like the 1949 Geneva Conventions, which applies to investigations for prisoners of war, or the 1997 Chemical Weapons Convention, which covers alleged chemical weapons use and production.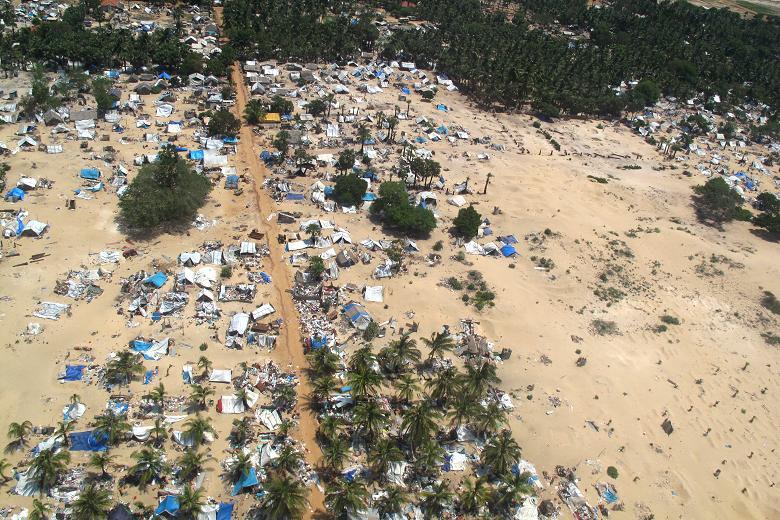 Scorched and deserted landscape of Sri Lanka's last battlefield seen in a fly-over at the end of the civil war in May 2009 (AN/John Heilprin)
Investigating Khashoggi's death
Khashoggi's case is the latest example of a "new and very worrying practice" of nations abducting individuals beyond their own borders, said Bernard Duhaime, chair of the U.N. Working Group on Enforced Disappearances.
"While in most cases the victims reappear in detention after a short period, in other cases they remain disappeared — as in the recent shocking case of Saudi journalist Jamal Khashoggi," he said in a statement.
More than 100 prominent artists, writers and activists called on Guterres to order a probe into the October 2 killing of Khashoggi inside the Saudi consulate at Istanbul, Turkey. Among the well-known writers and figures who signed onto a letter to Guterres were Paul Auster, Alec Baldwin, Ian McEwan, Joyce Carol Oates, J.K. Rowling, Patrick Stewart, Meryl Streep and Bob Woodward.
"The violent murder of a prominent journalist and commentator on foreign soil is a grave violation of human rights and a disturbing escalation of the crackdown on dissent in Saudi Arabia, whose government in recent years has jailed numerous writers, journalists, human rights advocates and lawyers in a sweeping assault on free expression and association," they said in the letter to Guterres that was published by the American chapter of PEN International, which promotes writers.
"The murder of a journalist inside a diplomatic facility would constitute nothing less than an act of state terror intended to intimidate journalists, dissidents and exiled critics the world over," they said.
Since Khashoggi's disappearance, Turkish officials have maintained that they have evidence he was dismembered and his body dissolved in acid by an elite Saudi hit squad. Other international organizations that promote human rights and press freedoms have called for a United Nations-led independent investigation into Khashoggi's disappearance and probable murder.
"U.N. involvement is the best guarantee against a Saudi whitewash or attempts by other governments to sweep the issue under the carpet to preserve lucrative business ties with Riyadh," said Robert Mahoney, deputy executive director of the Committee to Protect Journalists.
A U.N.-led independent investigation should be used to determine Saudi Arabia's role in Khashoggi's death and the identities of everyone who ordered, planned and carried it out, said the Committee to Protect Journalists, Human Rights Watch, Amnesty International, and Reporters Without Borders.
The organizations said Guterres should appoint a senior criminal investigator with extensive experience in international investigations to head the team, and that its work should begin at once and provide a public report.
U.N. human rights chief Michele Bachelet has also said that a U.N.-led independent investigation might be needed if Turkey and Saudi Arabia fail to reveal what they know.
Arete News: U.N. ordered 76 independent probes since 1963
Mandated by Human Rights Council (36)
2018 — Myanmar; Palestinian territory 2017 — Yemen; Congo; Myanmar 2016 — Burundi; South Sudan 2015 — South Sudan, Burundi; South Sudan; Cameroon, Chad, Niger, Nigeria; Libya; Syria 2014 — Iraq; Gaza; Eritrea; Sri Lanka; Syria 2013 — Central African Republic; Syria, North Korea, Mali 2012 — Syria; Syria; Palestinian territory 2011 — Syria; Syria; Ivory Coast; Libya 2010 — Israel, Palestinian territory; Gaza 2009 — Honduras; Gaza 2006 — Sudan (Darfur); Gaza; Lebanon
Mandated by High Commissioner for Human Rights (12)
2017 — Myanmar 2009 — Nepal 2008 — Kenya 2006 — Afghanistan, Western Sahara 2005 — Togo; Uzbekistan 2004 — Ivory Coast; Sudan (Darfur) 2002 — Colombia; Ivory Coast 1998 — Afghanistan
Mandated by Security Council (9)
2013 — Central African Republic 2004 — Sudan (Darfur); Ivory Coast 1995 — Burundi 1994 — Rwanda 1993 — Burundi, Liberia 1992 — Former Yugoslavia 1979 — Arab territories
Mandated by Secretary-General (8) 2010 — Sri Lanka 2009 — Guinea 2008 — Congo 2006 — Timor-Leste 2000 — Ivory Coast; Togo 1997 — Congo 1993 — Georgia
Mandated by Commission on Human Rights (6) 2000 — Palestinian territory 1999 — Timor-Leste 1997 — Congo; Guatemala 1988 — Cuba 1975 — Chile
Mandated by General Assembly (5) 2016 — Syria 1999 — Afghanistan 1998 — Cambodia 1973 — Mozambique 1963 — Vietnam
Source: U.N. Library and Archives at Geneva
Comments