GENEVA (AN) — A U.N. special investigator argued that human rights should be added to the agenda of the planned U.S.-North Korea nuclear summit on June 12.
Tomas Ojea Quintana, an Argentinean lawyer who serves as the United Nations' special rapporteur for the human rights situation in North Korea, told reporters in Geneva he believes "human rights and security and peace are interlinked" and should all be part of the discussion at a planned summit in Singapore between U.S. President Donald Trump and North Korean leader Kim Jong Un.
Previous attempts to negotiate with North Korea failed because human rights were left out of the talks, he said, citing two disarmament agreements with North Korea, in 1994 and 2003, that were "well intentioned" but did not succeed.
The stakes could not be higher, he said, because 10 million North Koreans urgently need help but the U.N.'s appeal for US$12 million in humanitarian aid for them remains only one-third funded.
"So I decided to hold this press conference because, unfortunately, nobody invited me to Singapore," Quintana said in remarks broadcast on U.N. Web TV. "I am not of the opinion that human rights dialogue will undermine the opening and the talks on the denuclearization at all. I don't think there's a dilemma here."
On the contrary, he said, linking human rights with denuclearization "will show that they want a normal state that understands that the United Nations has been established under the U.N. Charter to pursue development, to contribute to improvement of human rights and to pursue peace in the world."
Quintana, who has yet to be invited to North Korea to carry out his U.N. investigative mandate, called for North Korea to make "a concrete gesture" by releasing some of the estimated 80,000 to 120,000 political prisoners it is believed to be holding under arbitrary arrest in a notorious gulag.
Kim also is suspected of executing his uncle by firing squad and ordering the public assassination of his half-brother with a nerve agent.
Expectations for summit
The summit focuses on denuclearizing North Korea in exchange for international sanctions relief and a potential peace treaty with South Korea that would formally end the Korean War. The 1953 Korean War Armistice Agreement resulted in a cease-fire between military forces that the Neutral Nations Supervisory Commission monitors along the 38th parallel.
Trump has told reporters that North Korea's human rights record "could" be raised in Singapore, and there was the possibility it could even be raised "in great detail." There has been no further clarification, and so the issue of North Korea's abysmal human rights record has basically been sidelined. Experts disagree on whether to expand the agenda.
There would be much to discuss, partly owing to the work of the U.N. Human Rights Council, based in Geneva, which established a commission of inquiry on human rights in North Korea in 2013.
After a series of dramatic hearings to gather testimony, the commission chaired by Australian retired judge Michael Donald Kirby issued a bombshell 386-page report in 2014. It cited evidence of summary executions, torture, prison gulags, show trials, and forced loyalty through starvation and hunger that "may amount to crimes against humanity."
Japan's Prime Minister Shinzo Abe called on Trump to include discussion of North Korea's admission it kidnapped 13 Japanese in the 1970s and 1980s to train as spies, and sent five of them back to Japan.
A peace treaty and nuclear disarmament on the Korean Peninsula would expand one of North Korea's key conduits to the world: its sizable but little-known involvement with international organizations. Though it is a tightly controlled and secretive nation, North Korea belongs to at least 50 international organizations and maintains embassies in some 47 countries.
A "strategic framework" agreement already exists between North Korea and the United Nations. It was signed in 2016 to outline how they will interact and cooperate for five years until 2021 — essentially an operational agreement — but it also covers policy and information sharing. Its stated aim is "to support and reinforce national efforts to improve the well-being of the people, especially the most vulnerable."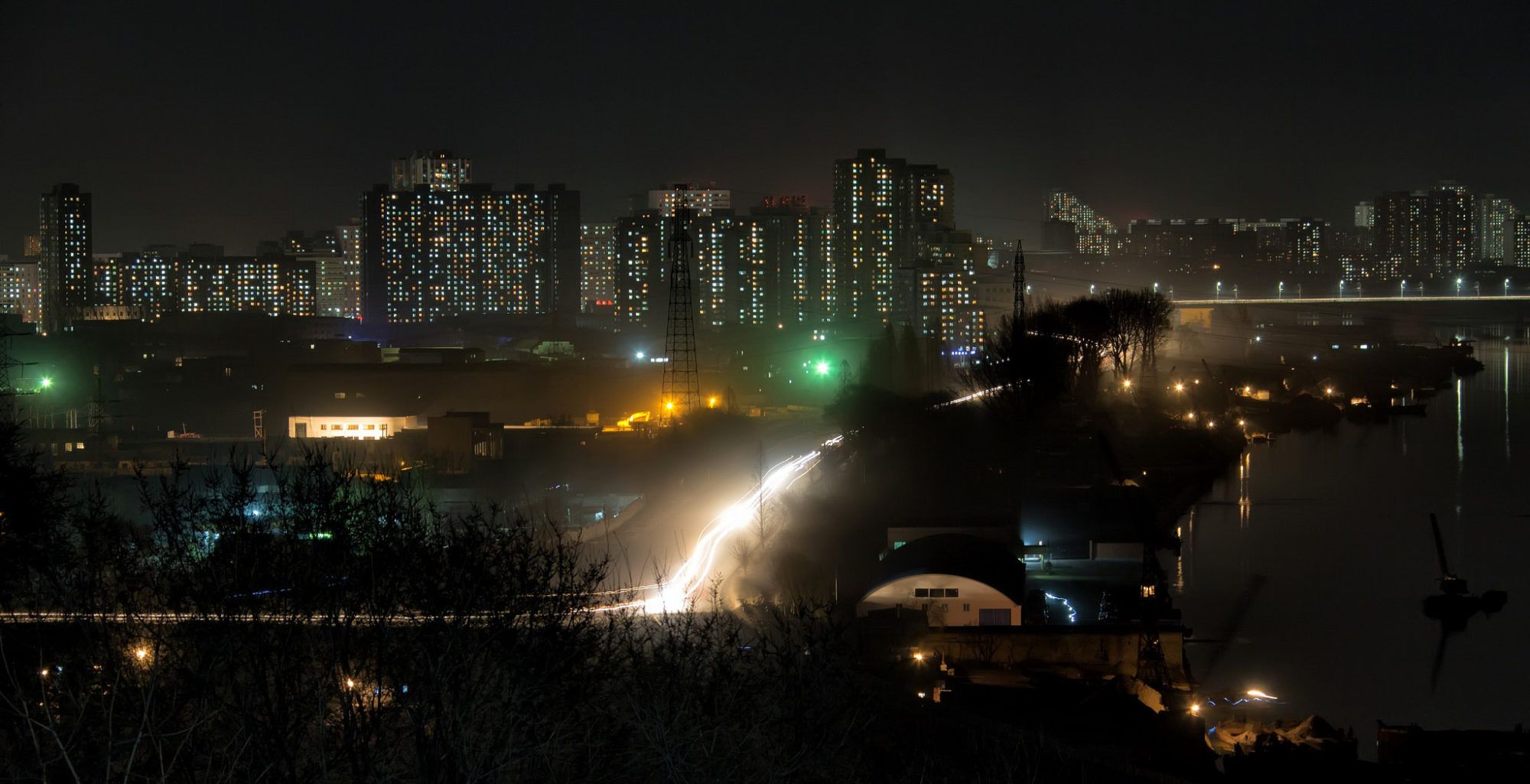 Ryanggang hotel balcony view of Pyongyang at night (AN/William Proby)
A responsibility to be open for scrutiny
Each U.N. member nation is required to have its human rights record examined periodically by the Human Rights Council.
North Korea's top delegate recently asserted before the Inter-Parliamentary Union that his nation has an "international mission and responsibility" to carry out. At the United Nations, however, North Korean envoys defending having nuclear weapons, criticized international sanctions imposed on their country and rejected evidence of human rights abuses.
Some political experts raised concerns that calling attention to North Korea's human rights record could derail the June 12 summit. South Korea's President Moon Jae-in apparently took that approach in his meetings with Kim.
But it would not be unusual for a U.S. foreign policy to be conditional on human rights.
Some international organizations, such as Human Rights Watch, support the approach taken by Quintana, one of several dozen special rapporteurs, or investigators, the 47-nation Human Rights Council appoints to examine particular areas of concern.
"As the Kim-Trump summit in Singapore approaches, the world should demand improvements instead of ignoring the dire human rights situation facing 25 million people in North Korea," Brad Adams, Human Rights Watch's Asia director, said in a statement.
"Promoting human rights in North Korea should be a fundamental aspect of the Singapore summit or any other diplomatic interaction," he said.
Victor Cha, former U.S. President George W. Bush's top Koreas expert, called for more focus on human rights at the nuclear summit, according to his June 5 testimony before a subcommittee of the U.S. Senate Foreign Relations Committee.
"We must require North Korea to address human rights abuses," Cha told the Senate panel's videotaped hearing. "As a recent report by the George W. Bush Institute notes, a critical element of any comprehensive political settlement with North Korea must include their agreement to end the regime's systematic violations of human rights."
U.S. diplomat Joseph Yun, an expert on North Korea and senior adviser to the United States Institute of Peace, differed. He told the hearing the U.S.-North Korea summit should focus on denuclearization.
"I really believe it would be a mistake to overload the agenda," he said. "Initially, security guarantees mean you're not going to interfere in domestic happenings, domestic politics."
Comments