European and Asian leaders attending the world's foremost security conference in Munich criticized U.S. President Donald Trump's enmity for international organizations and multilateral solutions, saying his isolationism put the world at more risk of conflicts and war.
At a gathering that underscored the breakdown in transatlantic relations under the Trump administration, Germany's Foreign Minister Heiko Maas said Americans and Europeans must work together in the face of China's growing power. He said Trump's trade wars with China were costing American and European jobs.
"For me, it's a classic case of lose-lose," Maas told delegates at the Munich Security Conference. He emphasized the U.S. withdrawal from the 2015 Iranian nuclear deal, known as the Joint Comprehensive Plan of Action, or JCPOA, brought the region closer to "open confrontation."
Japan's Foreign Minister Tarō Kōno said that "if the U.S. can't be the policeman alone anymore, Japan, Europe and other like-minded countries need to increase the burden sharing." However, dozens of members of U.S. Congress, including Republicans and Democrats, attended the conference in part to demonstrate that they, unlike Trump, support NATO and transatlantic ties.
Ivanka Trump, the president's daughter who has the title of senior White House adviser, and her husband, Jared Kushner, another senior Trump adviser, went to Munich, where she met with leaders and discussed her chosen cause of women's economic empowerment.
She shared images of herself on Instagram and Twitter, holding what she called an "intimate discussion" about her "new whole-of-government approach" to benefit women in the workplace. "When women are empowered, the chance of armed conflict decreases dramatically & stability prevails," she tweeted about a meeting with Germany's Defense Minister Ursula von der Leyen.
At a meeting of defense ministers, Von der Leyen criticized the Trump administration's stance that European NATO members must quickly increase their defense spending. She said NATO stands not just for military strength, but also for fairness and democracy in collective decisions.
"Yes, NATO is about cash and contributions, but it is also about decency and dependability," she said.
NATO in the crosshairs
Trump called the North Atlantic Treaty Organization, or NATO, "obsolete" during the 2016 U.S. presidential campaign. He hammered the United States' traditional allies at a NATO summit last year, seeking to pressure them to significantly increase their defense spending.
He suggested NATO allies should spend as much as 4% of their GDP on defense, which would double the current target of 2% by 2024. He claimed Germany was compromised by its reliance on Russian energy, due to a huge undersea pipeline project on the northeastern Baltic coast that would double the amount of gas that Russia could directly deliver to Germany.
But NATO leaders, ignoring Trump's suggestion to raise spending to 4% of GDP, issued a formal 79-point declaration reaffirmed their "unwavering commitment" to their 2% pledge set in 2014. In Munich, Von der Leyen acknowledged Germany should increase defense spending, but noted it was then-U.S. President Barack Obama who called for a 2% pledge.
Iran's Foreign Minister Javad Zarif told NBC News he no longer trusted Trump to honor any deal between the two nations even if the JCPOA were renegotiated. "Why should we negotiate?" he asked. "Why should we trust President Trump that he would abide by his own signature?"
Britain, France and Germany tried to rescue the deal. U.S. Vice President Mike Pence, however, said those three nations were trying to undermine U.S. economic sanctions that were suspended under the JCPOA. The Trump administration reinstated sanctions when it reneged on the deal.
"The time has come for our European partners to withdraw from the Iran nuclear deal," Pence said, "and join with us as we bring the economic and diplomatic pressure necessary to give the Iranian people, the region and the world, the peace, security and freedom they deserve."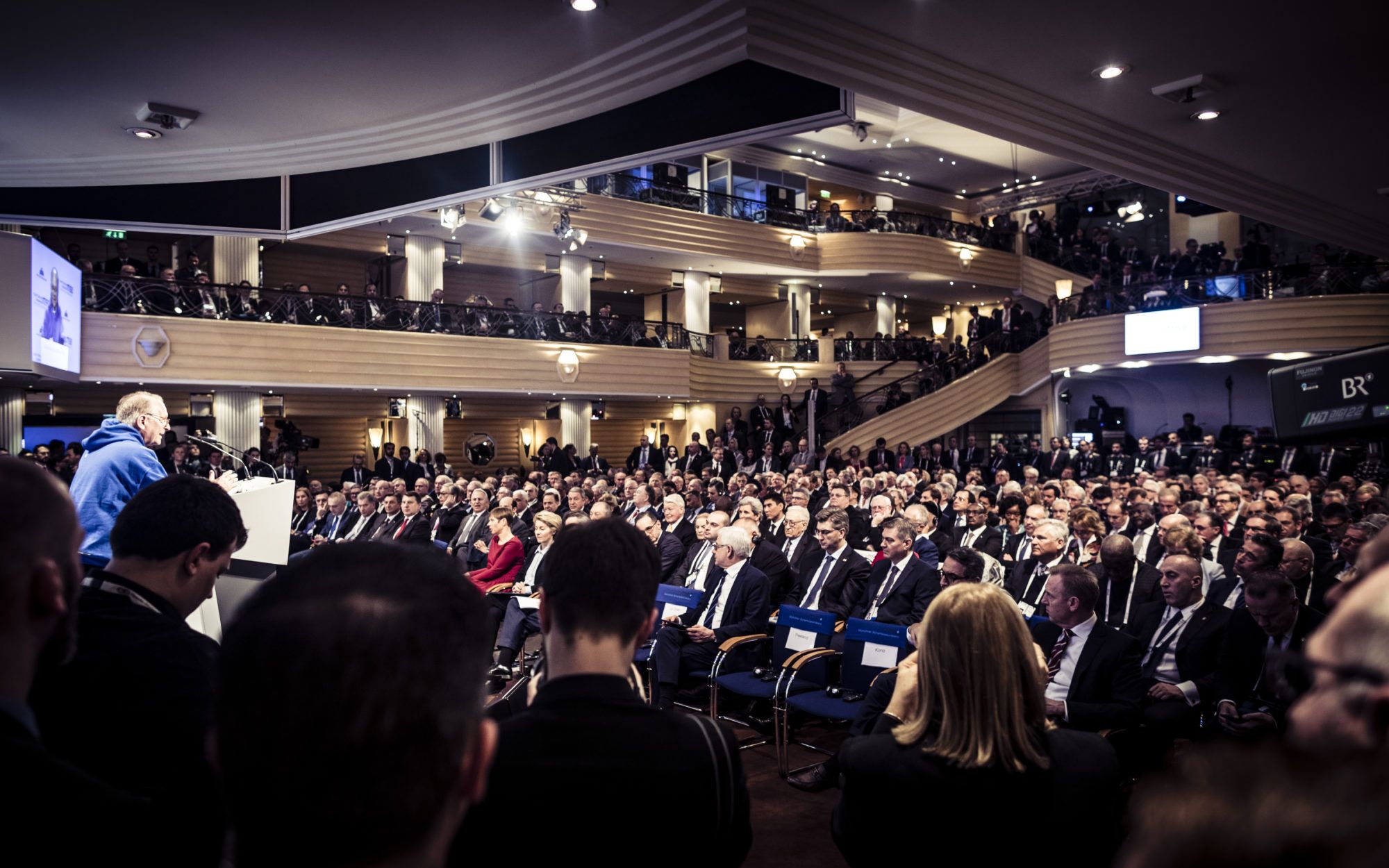 Opening remarks from German diplomat and conference chair Wolfgang Ischinger
(ARÊTE/Munich Security Conference)
A Cold War solution
The conference, which began in 1963 at the height of the Cold War to tackle military challenges, has traditionally been a pillar of strength for multilateralism and international organizations such as the United Nations, the U.N. Security Council and NATO.
But the conference chair, German diplomat Wolfgang Ischinger, a former ambassador to the U.S., cautioned traditional power structures were dangerously vanishing before everyone's eyes.His message invoked concerns that America under Trump illustrated a broader problem: an increasing skepticism in the United States towards engagement in the world that is undermining an entire spectrum of transatlantic relations, international alliances and organizations. "The whole liberal world order appears to be falling apart — nothing is as it once was," he said in an op-ed article to set the tone for the conference.
"When Vladimir Putin annexed Crimea and started the bloody conflict in Eastern Ukraine in 2014, many considered him to be the major cause of global destabilization," he said. "Nobody could have known that just a few years later the U.S. president, of all people, would seriously challenge the current international order."
Ischinger noted that Trump "questions free trade just like he questions the Western set of values or NATO. This has massive consequences — not just for us Europeans." But Trump, Ischinger said, "is more of a symptom of change than its cause."
"The global security situation is more dangerous today than at any time since the collapse of the Soviet Union. We are experiencing an epochal shift; an era is ending, and the rough outlines of a new political age are only beginning to emerge," he said. "No matter where you look, there are countless conflicts and crises — crises that greatly affect us Europeans."
A new U.S.-Russia arms race?
One of the major topics at the conference was the revived threat of a new U.S.-Russia arms race. Trump announced at the start of the month that he was suspending a 1987 nuclear arms control treaty with Russia that has led to the destruction of almost 2,700 missiles and their launchers.
The Trump administration said the United States was suspending the Intermediate Range Nuclear Forces Treaty — which bars development of nuclear-capable cruise missiles — as of February 2, setting off a six-month withdrawal period. He blamed the move on Russia.
Despite the treaty, Russia has been "covertly developing and fielding a prohibited missile system that poses a direct threat to our allies and troops abroad," the White House said in a statement.
NATO Secretary General Jens Stoltenberg seemed to agree, warning that "a treaty that is only respected by one side will not keep us safe," and it was up to Russia to patch things up in the next six months."But now, the whole nuclear arms control regime is under assault," he told the conference. "Russia has deployed several battalions of its new SSC-8 missile system, in breach of the treaty. These missiles are mobile. Easy to hide. And nuclear-capable. They can reach European cities, like Munich, with little warning."
Comments