The European Union on Wednesday moved to clinch a major business investment deal with China that has been seven years in the making, despite concerns from the United States and human rights organizations.
The two sides said they agreed in principle on how to ease market access for European and Chinese businesses. The agreement, which calls on Beijing to be more transparent about the subsidies it gives to firms and to end forced technology transfers, represents a diplomatic victory particularly for China and Germany, the main proponents of negotiations since 2014. It also is a setback for incoming U.S. President Joe Biden's administration, which hoped Europe would delay it further.
After a videoconference on Wednesday between China's President Xi Jinping, European Council President Charles Michel and European Commission President Ursula von der Leyen, the two sides "concluded in principle the negotiations" for a comprehensive agreement on investment, E.U. officials said. Xi held virtual talks with German Chancellor Angela Merkel and French President Emmanuel Macron.
"This agreement is of major economic significance and also binds the parties into a values-based investment relationship grounded in sustainable development principles," according to the E.U. statement, adding that the deal "will help rebalance the trade and investment relationship" between Europe and China.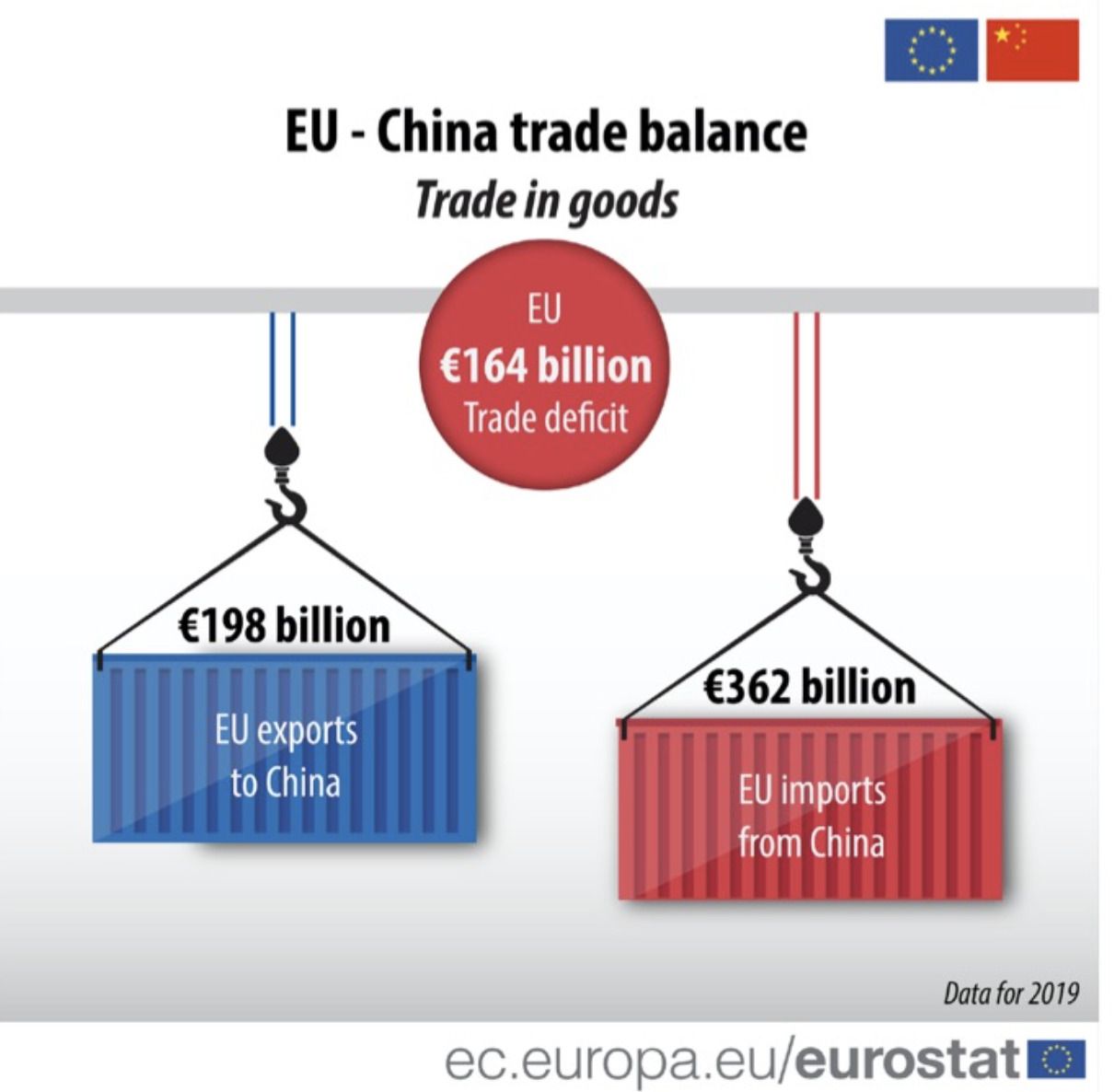 'A source of great concern'
The E.U. exported just slightly more than half of the €362 billion that it imported from China last year, according to the E.U.'s statistical office, creating a €164 billion trade imbalance for Europe.
Among the key products and services for which E.U. leaders sought improved market access were agriculture and food products, digital and high tech services, and steel and aluminum making. The deal must be ratified by the European Parliament and could still be derailed by concerns about China's use of forced labor and other human rights abuses.
Reinhard Bütikofer, a German politician and member of the European Parliament, said E.U. leaders know the trade deal's language on forced labor "is not worth the ink. They are not stupid. But we, the people, haven't been able yet to turn it into a concern of high political relevance to them. We will work on that. And if we all do our best, E.P. might say NO."
Only a day earlier, the E.U. delegation to China issued a statement condemning Beijing's human rights crackdowns and called for the immediate release of a former lawyer, Zhang Zhan, who was sentenced to four years in prison after reporting on the initial outbreak of the coronavirus in Wuhan, China.
"The restrictions on freedom of expression, on access to information, and intimidation and surveillance of journalists, as well as detentions, trials and sentencing of human rights defenders, lawyers, and intellectuals in China, are growing and continue to be a source of great concern," the E.U.'s European External Action Service said.
"According to credible sources, Ms. Zhang has been subject to torture and ill-treatment during her detention and her health condition has seriously deteriorated. It is crucial that she receives adequate medical assistance," it said.
Addressing those human rights concerns, von der Leyen insisted that the E.U.'s business investment agreement with China "will uphold our interests and promotes our core values. It provides us a lever to eradicate forced labor."
The agreement won support from all 27 E.U. member nations, and von der Leyen and other officials maintain the benefits for Europe outweigh the concessions.
'A propaganda victory'
Xi called the agreement "balanced, high standard and mutually beneficial," China's official Xinhua News Agency reported.
"The agreement will provide greater market access, higher level of business environment, stronger institutional guarantees and brighter cooperation prospects for mutual investment," Xi said, adding it also will boost global economy's recovery from the coronavirus pandemic.
The news article said both Europe and China support multilateralism, and a strong E.U.-China relationship is conducive to solving global challenges.
Jorge Guajardo, a former Mexican ambassador to China who counsels clients on Latin American and Chinese affairs at Washington's McLarty Associates, said he believes it is wrong for the E.U. to hand China "a propaganda victory" in light of its treatment of Hong Kong and Xinjiang's Uyghurs. "No concession from China is worth it," he said. "China needed the legitimacy — E.U. failed in granting it."
U.S. officials, in both the Democratic and Republican parties, have said the agreement would undercut pressure on China to change its state-run economy. U.S. Senator Rick Scott, Republican of Florida, spread the blame around, saying any trade deal with China should be "off the table if they continue to violate human rights and use slave labor. The E.U. must not succumb to Beijing's pressures, and Germany should heed the voice of those in Europe who stand for human rights."
The United States and other Western nations, along with international organizations such as Human Rights Watch, have drawn widespread attention to China's crackdowns on pro-democracy protesters in Chinese-ruled Hong Kong and massive rights violations of ethnic Muslim Uyghurs in China's Xinjiang province.
In October, however, China was among 15 nations that won seats on the 47-nation United Nations Human Rights Council in Geneva despite stinging criticism from the U.S. government and human rights campaigners.
Human Rights Watch's China director, Sophie Richardson, noted "a significant loss of support for China at the council" this year with the nation getting 139 votes. At the 193-nation U.N. General Assembly in New York, China received 167 votes to win a council seat in 2009, then picked up 176 votes in 2013 and 180 votes in 2016.
"China's return to the Human Rights Council is no doubt problematic, but the council will make do," she said. "Throughout its short history, the council has persisted with abusive governments among its members. Membership has consequences, not least heightened scrutiny of their own human rights records."
Comments