The world is perilously close to blundering into a nuclear catastrophe, U.N. Secretary-General António Guterres warned at the opening of a high-level conference on Monday to review the 1970 Nuclear Nonproliferation Treaty, a cornerstone of global nonproliferation.
Nations have a sense of "false security" stockpiling 13,000 nuclear weapons when "humanity is just one misunderstanding, one miscalculation away from nuclear annihilation," he told the conference, which was originally scheduled for 2020 but was delayed due to the COVID-19 pandemic. It is slated to end on August 26.
Nine countries — Britain, China, France, India, Israel, North Korea, Pakistan, Russia and the United States — possess 12,705 nuclear warheads, according to the Federation of American Scientists. The United States and Russia have 5,428 and 5,977, respectively; the other nations each have between 20 to 350.
"We have been extraordinarily lucky so far. But luck is not a strategy. Nor is it a shield from geopolitical tensions boiling over into nuclear conflict," Guterres said. "That is why this review conference is so important."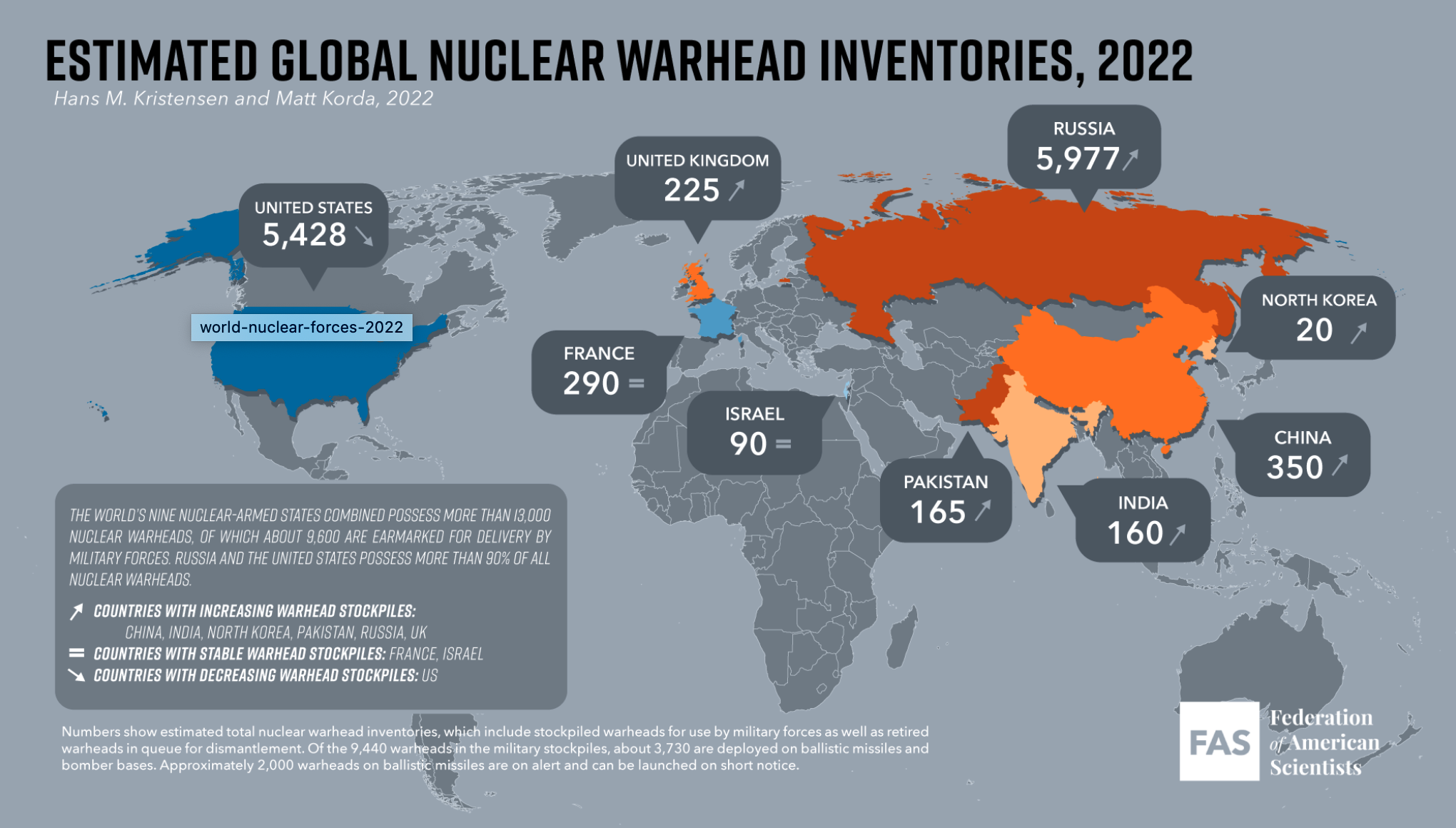 'New highs' in global tensions
Guterres told the conference, which is supposed to be held once every five years, the landmark treaty is needed more than ever to prevent the spread of nuclear weapons. The NPT requires signatory nations not to pursue nuclear weapons in exchange for a commitment by nuclear powers to progress towards nuclear disarmament. Nations that lack nuclear weapons are guaranteed access to peaceful nuclear technology for generating electricity.
"Geopolitical tensions are reaching new highs. Competition is trumping cooperation and collaboration. Distrust has replaced dialogue and disunity has replaced disarmament," he said, citing Russia's invasion of Ukraine and conflicts in Asia and the Middle East. "All this at a time when the risks of proliferation are growing and guardrails to prevent escalation are weakening."
Guterres said the conference provides an opportunity to strengthen the treaty and "make it fit for the worrying world around us" by hammering out measures that will help avoid disaster and put humanity on a new path towards a world free of nuclear weapons.
He proposed five areas for action, including a recommitment by all 191 treaty members to reaffirm the "77-year-old norm against the use of nuclear weapons" — a reference to the U.S. atomic bomb attacks on Japan at Hiroshima and Nagasaki in August 1945.
He also advised working "relentlessly" toward eliminating nuclear weapons; reducing tensions in Asia and the Middle East; promoting peaceful nuclear technology uses; and fulfilling all the treaty's commitments.
"Future generations are counting on your commitment to step back from the abyss," he said. "This is our moment to meet this basic test, and lift the cloud of nuclear annihilation, once and for all."
'A real possibility'
U.S. Secretary of State Antony Blinken said the number of nuclear weapons in the U.S. stockpile is almost 90% lower than it was at its height in 1967, and entire regions of the world – the South Pacific, Southeast Asia, Central Asia, and Africa – have joined Latin America and the Caribbean in declaring themselves nuclear weapons-free zones.
"And we saw countries use nuclear technology safely and peacefully to improve the lives of millions of people on Earth. So there is no question that the NPT has made the world safer. But there's also no doubt that it's under increasing strain," he said.
Blinken said North Korea is preparing to conduct its seventh nuclear test and Iran "remains on a path to nuclear esclation," and is "either unwilling or unable to accept a deal" to return to the 2015 agreement on curbing its nuclear ambitions – which former U.S. President Donald Trump's administration reneged on in 2018.
Returning to that deal "remains the best outcome for the United States, for Iran, for the world," Blinken said, reflecting U.S. President Joe Biden's reversal of Trump's stance.
Russia's full-scale invasion of Ukraine and Russian President Vladimir Putin's "reckless, dangerous nuclear saber-rattling" pose a grave threat to the world and are "directly relevant to what brings us together this month" for the NPT conference, Blinken said.
Japan's Prime Minister Fumio Kishida said the world's divisions have grown since the last NPT conference in 2015, and Russia's threat to use nuclear weapons in the Ukraine war has sparked "worldwide concern that yet another catastrophe by nuclear weapon use is a real possibility."
Putin, however, told the conference that nuclear wars should never begin, because they are unwinnable. "We believe that a nuclear war cannot be won and must never be fought," he said in a letter, "and we stand for equal and indivisible security for all members of the world community."
Comments