UNITED NATIONS (AN) — Governments lose trillions of dollars a year to corruption, money laundering and tax avoidance and trillions more are hidden away that could aid people living in poverty, a U.N. panel reported on Thursday.
The coronavirus pandemic is "exacerbating challenges" and the international community must rally together because "a legitimate, coherent ecosystem of instruments and institutions needs coordination," it said.
The losses include US$1.6 trillion, or, 2.7% of global GDP, to money laundering by criminals, including drug traffickers and organized crime, said the United Nations' High-Level Panel on International Financial Accountability, Transparency and Integrity for Achieving the 2030 Agenda, known as the FACTI panel, created by the U.N. General Assembly in March.
It told the General Assembly's annual summit of world leaders, held this month in a virtual format for the first time due to the pandemic, that US$7 trillion of private wealth is hidden in haven countries and 10% of world GDP may be held in offshore financial assets.
The panel's 95-page interim report said US$500-US$600 billion a year is lost to corporate tax avoidance from profit-shifting by multinational enterprises and US$20-US$40 billion a year is paid in bribes to public officials in developing and transitioning countries.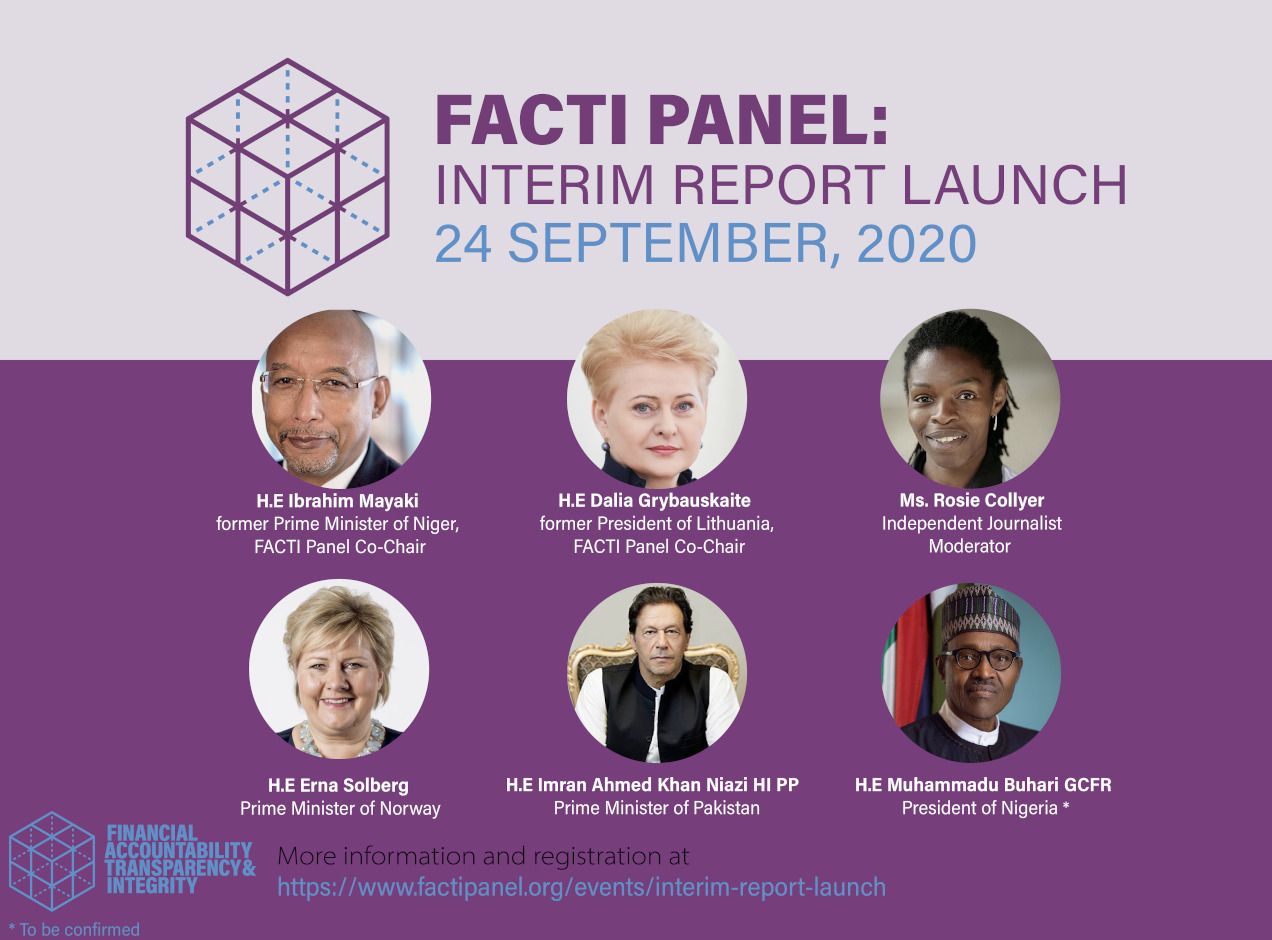 'We're all being robbed'
The 193-nation assembly asked the panel to review challenges and trends in global corruption and to recommend evidence-based solutions. It is co-chaired by Ibrahim Assane Mayaki, a former prime minister of Niger, and Dalia Grybauskaite, a former president of Lithuania.
Mayaki said the world's "weakness in tackling corruption and financial crime has been further exposed" by the pandemic, which is killing hundreds of thousands of people, devastating national economies and forcing hundreds of millions of others into starvation and poverty.
"Corruption and tax avoidance are rampant," Grybauskaite said. "Too many banks are in cahoots and too many governments are stuck in the past. We're all being robbed, especially the world's poor."
The panel said it hopes to help the world body achieve its 2030 Sustainable Development Goals for ending extreme poverty, preserving the environment and achieving gender equality, but the pandemic has all but eliminated any real hope of accomplishing that by the end of this decade.
Other panel members include: Annet Wanyana Oguttu, Benedicte Schilbred Fasmer, Bolaji Owasanoye, Heidemarie Wieczorek-Zeul, Irene Ovonji-Odida, José Antonio Ocampo, Karim Daher, Magdalena Sepúlveda, Manorma Soeknandan, Shahid Hafiz Kardar, Susan Rose-Ackerman, Tarisa Watanagase, Thomas Stelzer, Yu Yongding and Yury Fedotov.
Comments