GENEVA (AN) — The world is on the brink of recession, the United Nations Conference on Trade and Development said on Tuesday in projecting global growth slowing to 2.2% in 2023 with developing countries exposed to cascading crises of debt, health and climate from lagging financial support.
The Geneva-based U.N. agency said wealthy countries' moves to curb inflation through rapid interest rate increases and fiscal tightening are making it far more difficult for poorer countries to climb back from the economic hits of the COVID-19 pandemic and Russia's war in Ukraine.
Those monetary and fiscal policy moves risk pushing the world towards global recession and prolonged stagnation, UNCTAD warned in its Trade and Development Report 2022, which describes the damage as even worse than that caused by the 2008 global financial crisis and the more than 2-1/2 year pandemic.
"There's still time to step back from the edge of recession," UNCTAD Secretary-General Rebeca Grynspan said.
"We have the tools to calm inflation and support all vulnerable groups. This is a matter of policy choices and political will," she said. "But the current course of action is hurting the most vulnerable, especially in developing countries, and risks tipping the world into a global recession."
'Excessive money tightening'
UNCTAD said the global economy's expected growth is 2.5% in 2022, and a further drop in 2023 will leave real GDP still below its pre-pandemic trend.
That would make for a cumulative shortfall of more than US$17 trillion, it said, or almost 20% of the world's income.
UNCTAD faulted central banks' "excessive money tightening" for raising the likelihood of stagnation and economic stability for many developing nations already saddled by huge public and private debts.
In the United States alone, the report said, this year's interest rate hikes will cut an estimated US$360 billion from developing nations' future income.'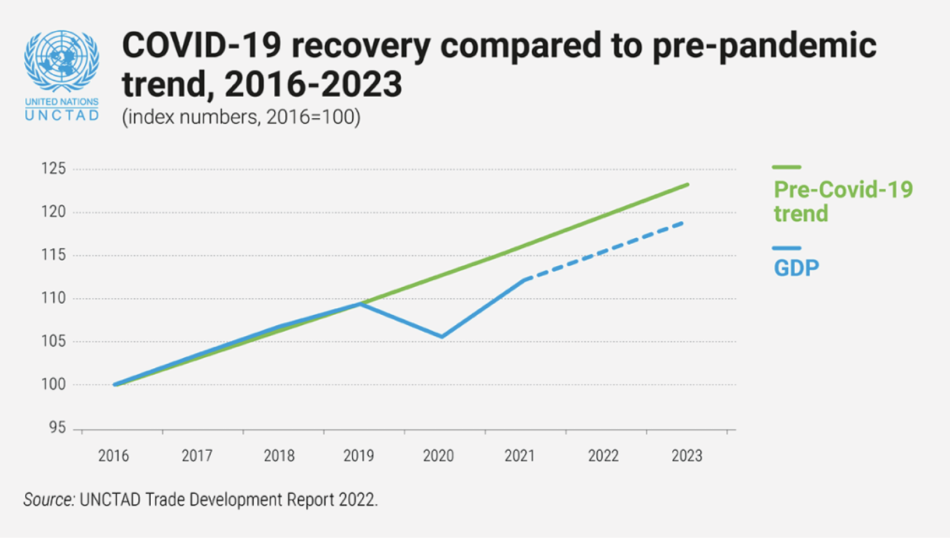 Slipping into recession
The currencies of 90 developing nations have weakened against the strong dollar this year, a third of them by more than 10%, the U.N. agency said. In the last quarter of 2021, net capital flows to developing nations turned negative.
The International Monetary Fund has also projected some nations slipping into recession next year as it downwardly revised its global growth forecast.
Some 46 developing nations are severely exposed to multiple economic shocks and another 48 seriously exposed, heightening the threat of a global debt crisis, UNCTAD said, but increased international cooperation could help pivot the global economy in the right direction.
Comments