WASHINGTON (AN) — U.S. President Joe Biden's administration restored some stability to nonproliferation efforts by extending the last remaining major U.S.-Russia nuclear treaty for another five years on Wednesday, two days ahead of its expiration date.
America's top diplomat, Antony Blinken, said the formal renewal of the decade-old New START Treaty that was set to expire on February 5 will ensure there are "verifiable limits" on Russian intercontinental and submarine-launched ballistic missiles and heavy bombers until February 5, 2026. The treaty was extended without any changes made to it.
"Especially during times of tension, verifiable limits on Russia's intercontinental-range nuclear weapons are vitally important," Blinken, the new U.S. secretary of state, said. "Extending the New START Treaty makes the United States, U.S. allies and partners, and the world safer. An unconstrained nuclear competition would endanger us all."
Trump also allowed the Intermediate-Range Nuclear Forces Treaty to expire in 2019. It had been signed by former President Ronald Reagan and Soviet leader Mikhail Gorbachev to ban the use of all U.S. and Soviet land-based ballistic and cruise missiles that could strike targets between 500 and 5,500 kilometers away.
Last October, Russian President Vladimir Putin offered to extend New START without making any changes. Former President Donald Trump's administration called that a "non-starter," however, because it did not apply to China or inclulde all of Russia's arms. Former President Barack Obama and former Russian President Dmitry Medvedev signed the treaty in 2010 to limit each nation to no more than 1,550 deployed nuclear warheads.
Blinken said the United States will now seek an arms control agreement with Russia that applies to all of its nuclear weapons, and will also "pursue arms control to reduce the dangers from China's modern and growing nuclear arsenal."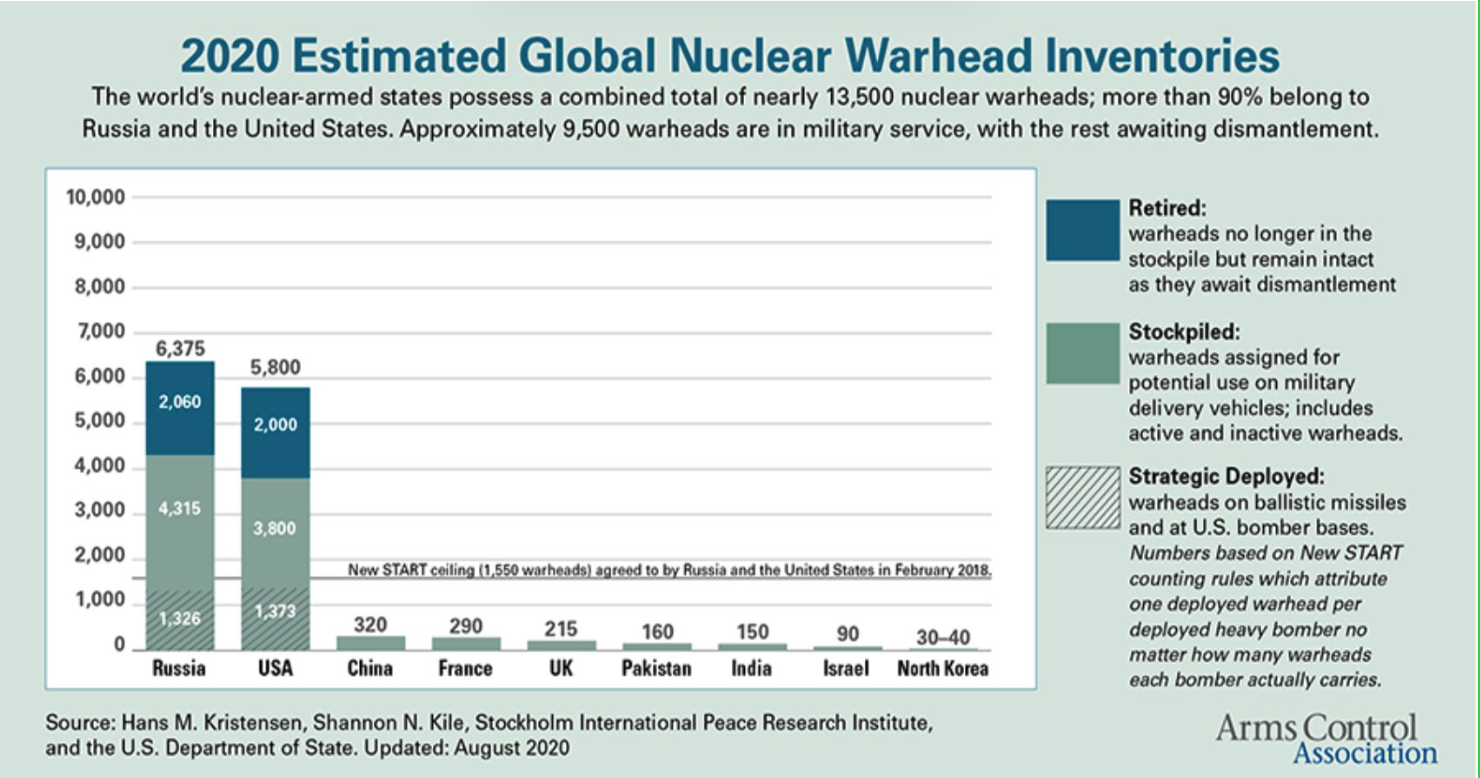 "Special responsibilities"
The United and Russia possess 90% of the world's nearly 13,500 nuclear warheads, including 9,500 in military service and 4,000 set to be dismantled, according to figures compiled by the Washington-based Arms Control Association.
Blinken called the New START Treaty's renewal a "first step" by the United States in making good on Biden's pledge to keep Americans safe from nuclear threats by restoring U.S. leadership on arms control and nonproliferation.
"The New START Treaty's verification regime enables us to monitor Russian compliance with the treaty and provides us with greater insight into Russia's nuclear posture, including through data exchanges and onsite inspections that allow U.S. inspectors to have eyes on Russian nuclear forces and facilities," Blinked said, adding that U.S. officials believe Russia has complied with the treaty's obligations each year since it entered into force in 2011. New START replaced the START treaty that was in effect from 2004 to 2009.
The Biden administration's extension came less than a week after Putin signed a bill extending the treaty, without any amendments or additions, once Russia's parliament endorsed it unanimously.
"In effect, this core mechanism for maintaining strategic stability is preserved and its further functioning assured on a strictly reciprocal basis, limiting the two countries' nuclear arsenals," Russia's foreign ministry said. "Considering the special responsibilities that Russia and the U.S. carry as the world's largest nuclear nations, the decision taken is important as it guarantees a necessary level of predictability and transparency in this area, while strictly maintaining a balance of interests."
Comments