The world got a chilling update on just how close we are to midnight, the symbolic hour of apocalypse, from the Bulletin of the Atomic Scientists.
We're now 90 seconds from midnight, the organization announced Tuesday in the first change to the iconic Doomsday Clock in three years. This serves as the first update since Russia's war in Ukraine, which has stoked fears of another potential showdown over nuclear arms between Russia and the West.
The organization is the self-appointed keeper of time for what it describes as a powerful means of communicating existential threats over the past 75 years.
"We are living in a time of unprecedented danger, and the Doomsday Clock time reflects that reality. Ninety seconds to midnight is the closest the clock has ever been set to midnight, and it's a decision our experts do not take lightly," said Rachel Bronson, the organization's president and CEO.
"The U.S. government, its NATO allies and Ukraine have a multitude of channels for dialogue; we urge leaders to explore all of them to their fullest ability to turn back the clock," she said.
Since 2020, the clock had been 100 seconds away from midnight. Until Tuesday, that was the closest it had been since it was first conceived in 1947 due to the level of risk from existential threats like nuclear war and climate change.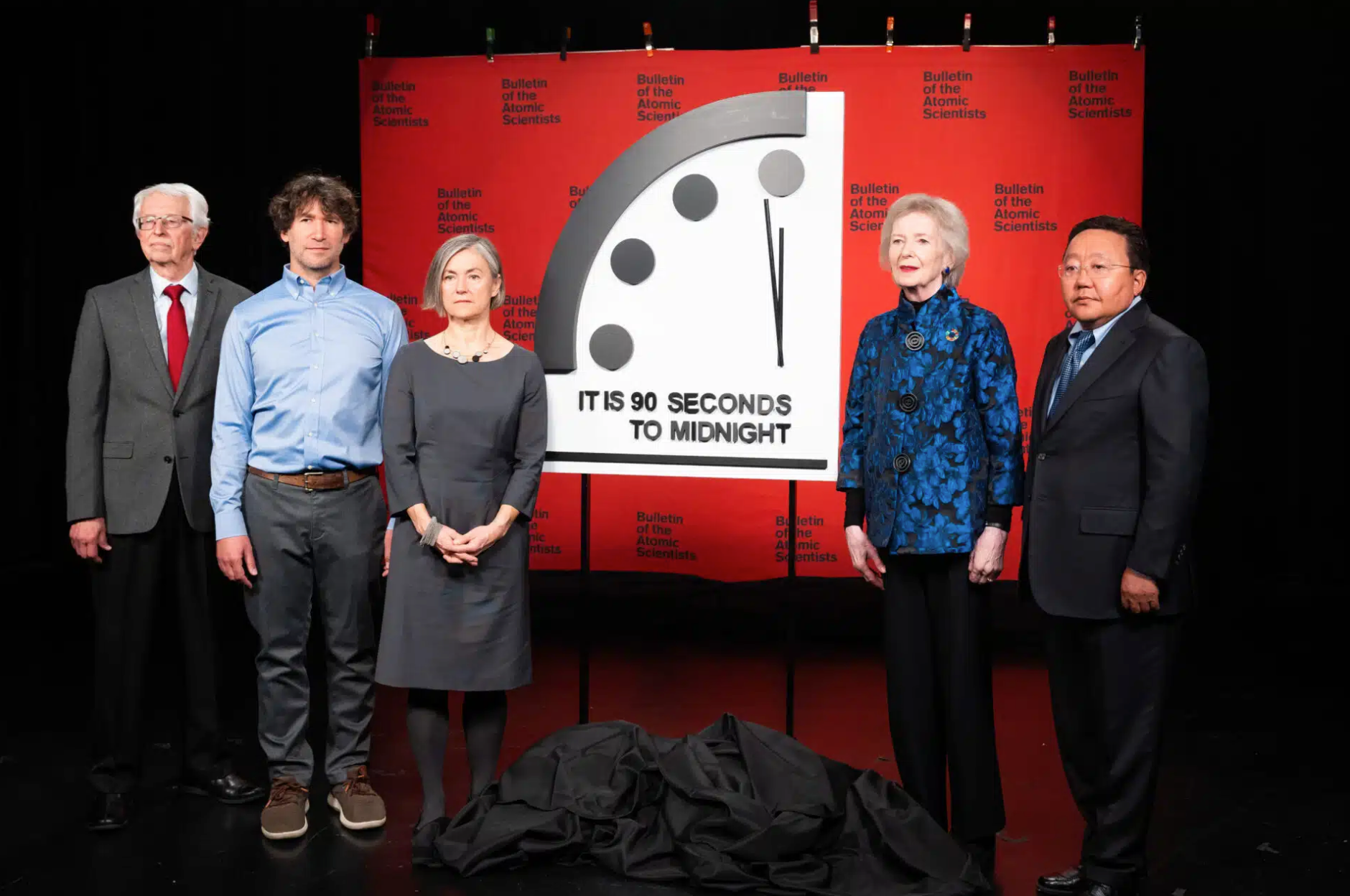 A 'vital' warning to heed
The organization said its science and security board and a board of sponsors, which includes 10 Nobel laureates, decided that Russia's war on Ukraine raised profound questions about how nations interact, eroding norms of international conduct that underpin the world's management of a broad range of global risks.
"And worst of all, Russia's thinly veiled threats to use nuclear weapons remind the world that escalation of the conflict – by accident, intention, or miscalculation – is a terrible risk," it said. "The possibility that the conflict could spin out of anyone's control remains high."
Russia has also brought the war to the areas next to Ukraine's Chernobyl and Zaporizhzhia nuclear reactor sites, violating international protocols and risking widespread release of radioactive materials, the organization said, adding that the International Atomic Energy Agency also has encountered resistance at the sites.
The symbolic clock first focused on the U.S-Soviet Union arms race during the Cold War, but it has since grown to include other threats to the planet. The furthest it has been from midnight is 17 minutes, in 1991 after the Cold War ended.
Former U.N. secretary-general Ban Ki-moon recalled helping unveil the Doomsday Clock when its hands were last moved.
"Today they are even closer to midnight, showing how much more perilous our world has become in the wake of the COVID-19 pandemic, extreme weather events and Russia's outrageous war on Ukraine," said Ban. "Leaders did not heed the Doomsday Clock's warnings in 2020. We all continue to pay the price. In 2023 it is vital for all our sakes that they act."
Comments