GENEVA (AN) — Despite the COVID-19 pandemic's closed borders and lockdowns, the global number of people fleeing wars, conflicts or human rights violations rose to almost 82.4 million people last year, the ninth straight annual increase, the U.N. refugee agency reported on Friday.
That is roughly equal to the populations of Germany or Iran, and is up 4%, or 2.9 million people, from the already record high 79.5 million people displaced in 2019, according to the latest Global Trends report from the Office of the U.N. High Commissioner for Refugees, or UNHCR.
The report shows 11.2 million people fled in 2020, up from 11 million a year earlier; the remaining 71.2 million people were displaced in previous years.
Of the 82.4 million forcibly displaced people worldwide, 48 million people remained within their home nation's borders and 26.4 million people were refugees — including 20.7 million people under the protection of UNHCR and 5.7 million people under the mandate of the U.N. Relief and Works Agency for Palestinian Refugees in the Near East, or UNRWA.
Another 4.1 million people were asylum-seekers and 3.9 million people were Venezuelans displaced abroad.
More than two thirds, or 68%, of all the 26.4 million refugees came from five nations: Syria, 6.7 million people; Venezuela, 4 million people; Afghanistan, 2.6 million people; South Sudan, 2.2 million people; and Myanmar, 1.1 million people.
Some 42% were children younger than 18, and UNHCR estimates almost 1 million children were born as refugees between 2018 and 2020.
"The tragedy of so many children being born into exile should be reason enough to make far greater efforts to prevent and end conflict and violence," said Filippo Grandi, UNCHR's chief.
"While the 1951 Refugee Convention and the Global Compact on Refugees provide the legal framework and tools to respond to displacement," he said, "we need much greater political will to address conflicts and persecution that force people to flee in the first place."
An 'epic failure of humanity'
About 86% of the world's refugees are hosted by neighboring and low- to middle-income countries that can least afford the influx. The U.N. refugee agency said 99 of the more than 160 nations that closed borders due to coronavirus restrictions did not make an exception for refugees and asylum-seekers.
Turkey was host to the biggest refugee population, 3.7 million people, for the seventh year running. After that came Colombia, 1.7 million people; Pakistan and Uganda, 1.4 million people each; and Germany, 1.2 million people.
As with last year's report, Geneva-based UNHCR said 1% of the world's population is now displaced — and the number has doubled in a decade from the nearly 40 million people that were forcibly displaced in 2011.
Jan Egeland, secretary general of the Norwegian Refugee Council, called the newest displacement figures an epic failure of humanity that shows world leaders have been inept at resolving the greatest emergency of our generation.
"The majority of people fleeing today are on the move because of manmade conflicts. What is lacking is the political will and leadership to end these wars. World leaders can and do act to resolve global issues. G-7 nations came together last weekend and agreed on a strategy to end the Covid-19 pandemic. But they have been muted on a strategy to end the suffering of millions of displaced women, men and children," Egeland said.
"Far more people are on the move today than anytime during World War II, yet we say we live in an unprecedented era of global peacetime," he said. "We need to rewrite tomorrow's history books to reflect today's reality, that we live in an unprecedented era of persecution and suffering."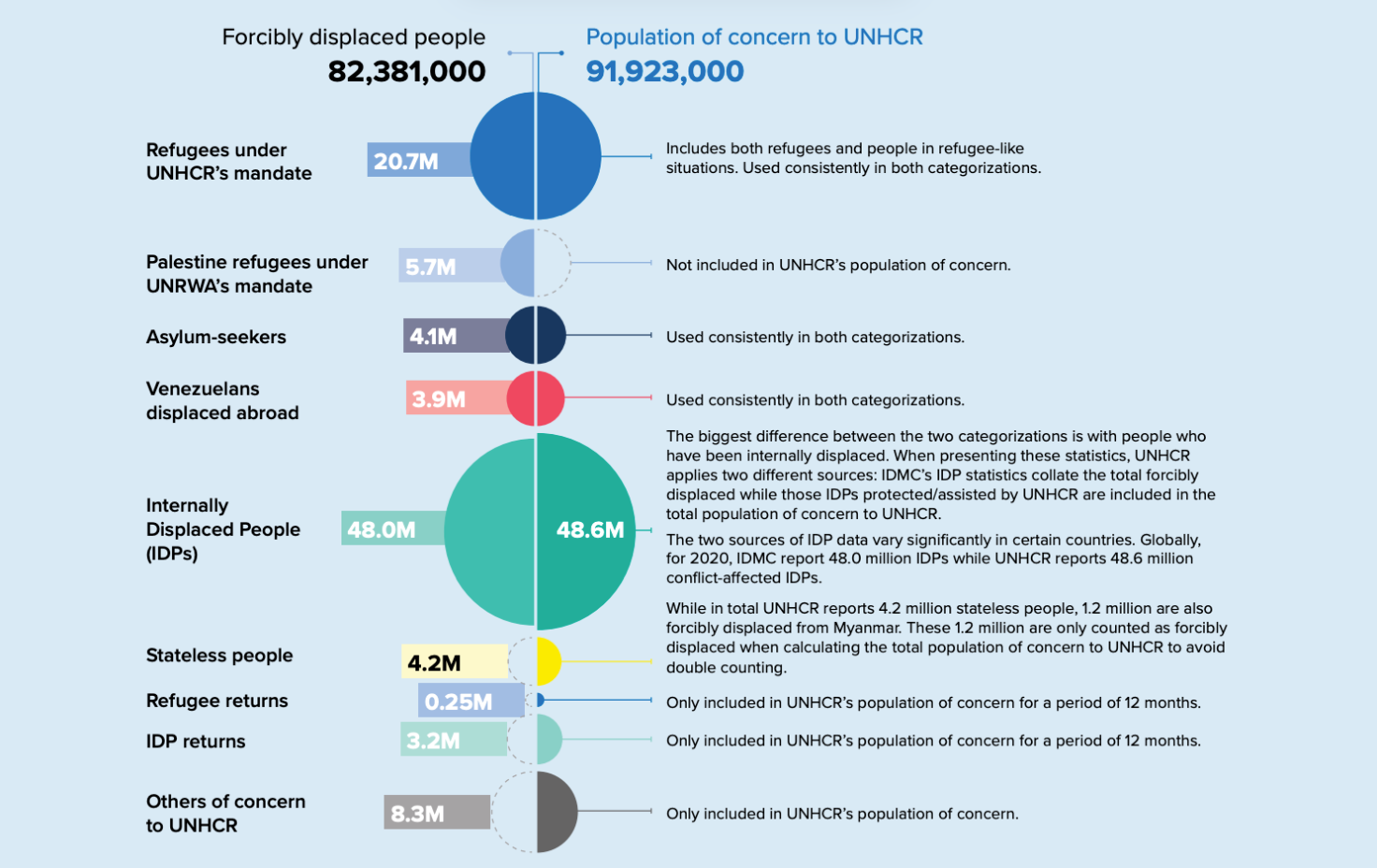 Comments