BERN, Switzerland (AN) — Up to 100,000 people turned out on Saturday for Switzerland's largest-ever climate demonstration to insist on fulfilling the United Nations-brokered goals for reducing heat-trapping greenhouse gases, organizers said.
The demonstration urged voters to elect candidates to Swiss parliament in the federal election to be held on October 20 who will make climate and environmental issues a top priority. Voters nationwide will elect members of both houses of the Federal Assembly. All but one of 246 seats will be decided; Appenzell Outer Rhodes canton picks its Senate member next April.
"Today's climate demo makes it clear that a sustainable climate policy is a concern of the whole society," Stefan Salzmann, co-president of the Climate Alliance's Swiss chapter, said in a statement on behalf of the more than 80 organizations from around the nation that were involved with the demonstration. "People from all over Switzerland today have set a historic example in Bern."
With the rising fervor over the climate crisis driven by student-led demonstrations globally, Switzerland's Greens could pick up more support, mirroring the outcome of elections elsewhere in Europe. Switzerland is not a member of the European Union, but in the 28-nation bloc's May elections, the Greens gained influence from voters worried about the planet's health.
The left-leaning Greens picked up 17 seats in the European Parliament elections, making it the fourth-largest political party with 69 seats. Its 2% gain gave it 9% of the 751-seat parliament. The Greens surged to second place in Germany and to third place in France.
Organizers initially estimated attendance at demonstration was about 25,000 people, then increased that to 60,000 and, finally, to up to 100,000, owing to the unexpectedly massive turnout. The police did not provide an estimate. The daylong demonstration included speeches, a minute of silence was many signs calling on people to adjust their food consumption, travel and household habits.
"The climate crisis is a power crisis and we will win if we are clearly and definitely responsible for just solutions. Science is behind us, and with a climate-smart election, we can ensure that this will become the future policy, "said Georg Klingler, a Climate Alliance member and climate campaigner for Greenpeace in Switzerland.
Climate Alliance Switzerland has a 28-page plan for how the country can best implement the 2015 Paris Agreement on climate change. Vania Alleva, president of Unia, the large trade union in Switzerland with 200,000 members, emphasized the importance of climate-friendly solutions.
"Let's finally see action instead of words," she said. "We want an eco-social transformation of the economy and society. Especially as a trade unionist, I say: there is no eco-social transformation of society without more social justice. And that's what we stand for together today."
The Paris accord's goals require keeping global average temperatures from rising by no more than another 1 degree Celsius above current levels, or only a half-degree C. more if possible, in keeping with the consensus projections and dire assessments carried out by the world's top climate scientists.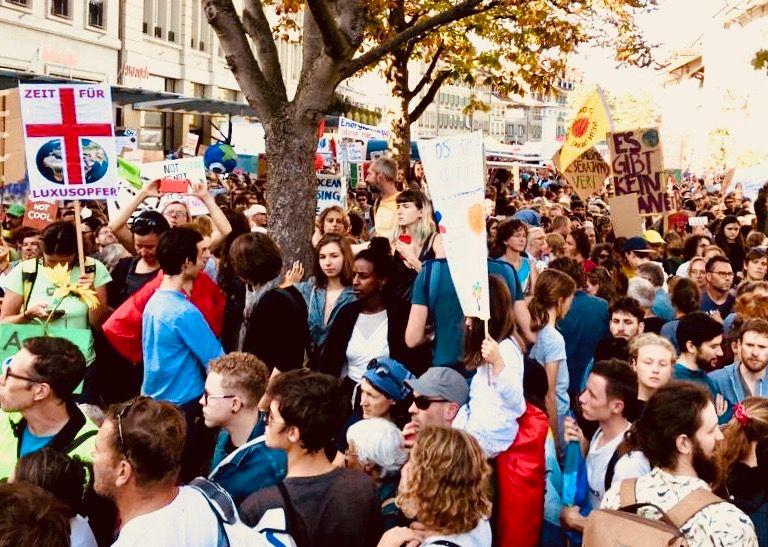 Climate protesters in Bern, Switzerland on Saturday (AN/Clarisa Gaines)
Getting to net zero carbon emissions
Thousands took to the streets and packed Bern's Bundesplatz, or Federal Square, in front of the parliament, for rallies and speeches calling for real and immediate action to fight global warming.
"Climate policy affects us all. Three weeks before the national elections, we travel from all over Switzerland to the national climate demo in Bern," the Swiss organizers said in a statement.
"Loud and colorful, we want to make it clear to the politicians what it is at stake," they said. "Their decisions now and in the years to come are nothing less than the future of our livelihoods. We expect action instead of words!"
Earlier in the Swiss "action week" of climate protests, thousands of people marched through the streets of Swiss cities such as Zurich and Lausanne. The protests coincided with the high-level gatherings of world leaders and officials at the U.N. General Assembly in New York, where the U.N.'s Secretary-General António Guterres convened a Climate Action Summit on Monday.
Some 40% of the U.N's 193 member nations committed to achieving carbon neutrality by 2050, and nearly the same amount vowed to take greater action to fight global warming by 2020.
Along with commitments from 77 nations to net zero carbon emissions, and from 70 nations on global warming, 130 banks representing a third of the global banking sector and 100 business leaders pledged to run greener operations and curb fossil fuel-burning linked to climate change.
The national and corporate commitments were intended to align businesses with the 2015 Paris Agreement and the U.N.'s 17 Sustainable Development Goals for 2030.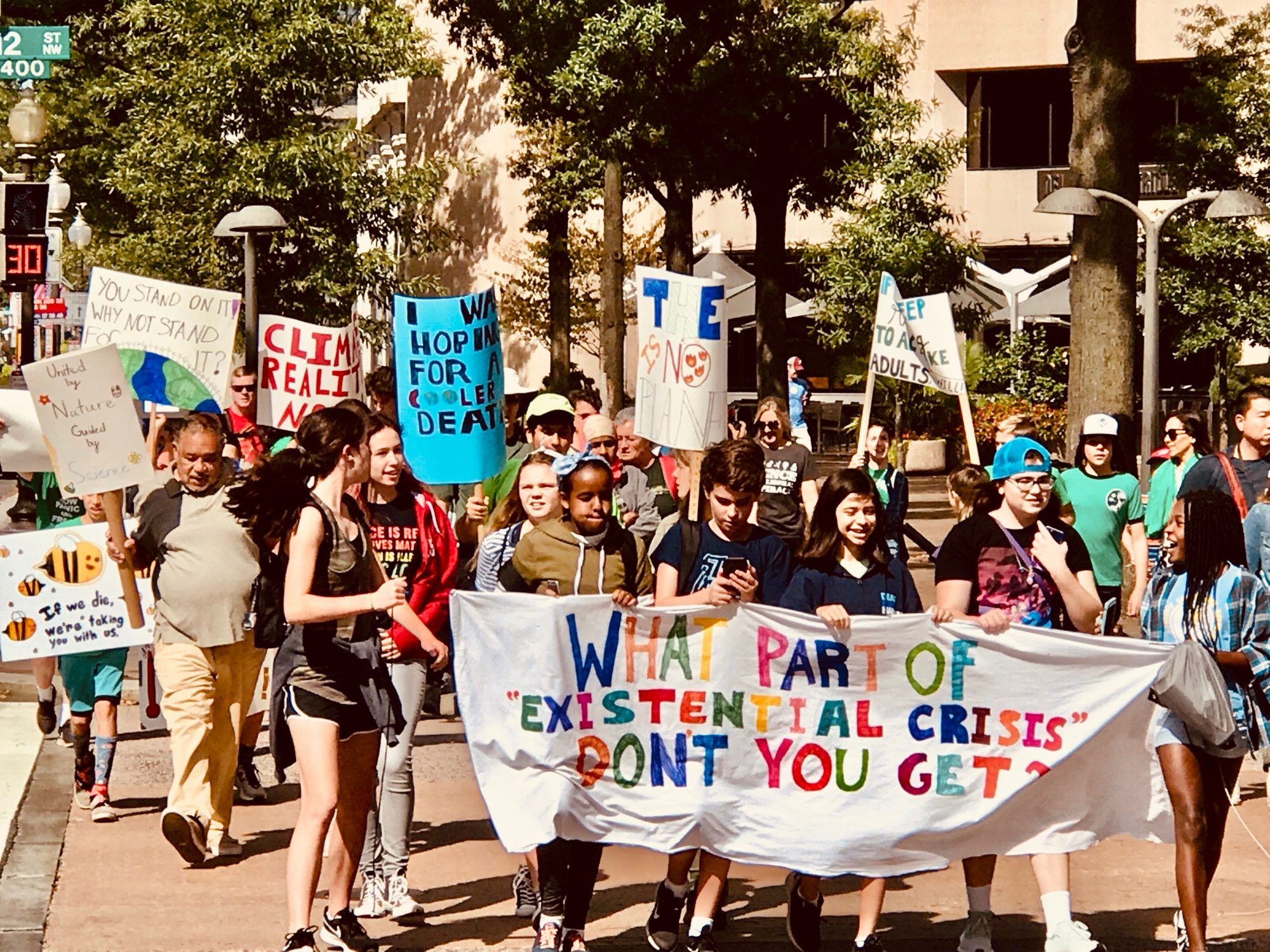 Student climate protesters walk on Pennsylvania Ave. past the Trump International Hotel in Washington on Friday (AN)
Comments