GENEVA (AN) — The past 12 months haven't been easy for social media managers worldwide.
The rebranding of Twitter to X and the changes on the platform – from the loss of the blue badge to paying for verification and TweetDeck, which is rebranding to X Pro – have kept community managers on their toes, to say the least.
There is a palpable uneasiness with the tone of the platform. While international organizations are wary of the antics of its new owner Elon Musk, there hasn't been any notable X-odus yet.
However, it is fair to say that social media teams are seeking alternatives, Geneva advisory firm DigiTips found in a new study on Monday. With every change on X, new platforms such as Bluesky, Mastodon and Threads gain traction as organizations try to rebuild their communities and re-engage their audiences.
The study analyzes the social media activity of 106 organizations and personal accounts of their leaders on Facebook, Instagram, LinkedIn, TikTok, X, YouTube, Bluesky, Mastodon, Snapchat and Threads. It covers multilateral organizations, leading nonprofit and non-governmental organizations, and their chief executives.
Data was captured on September 1, 2023, using Audiense.com for X and Crowdtangle.com for Facebook and Instagram, with data going back 12 months, and a manual count on Bluesky, LinkedIn, Mastodon, Snapchat, Threads, TikTok and YouTube.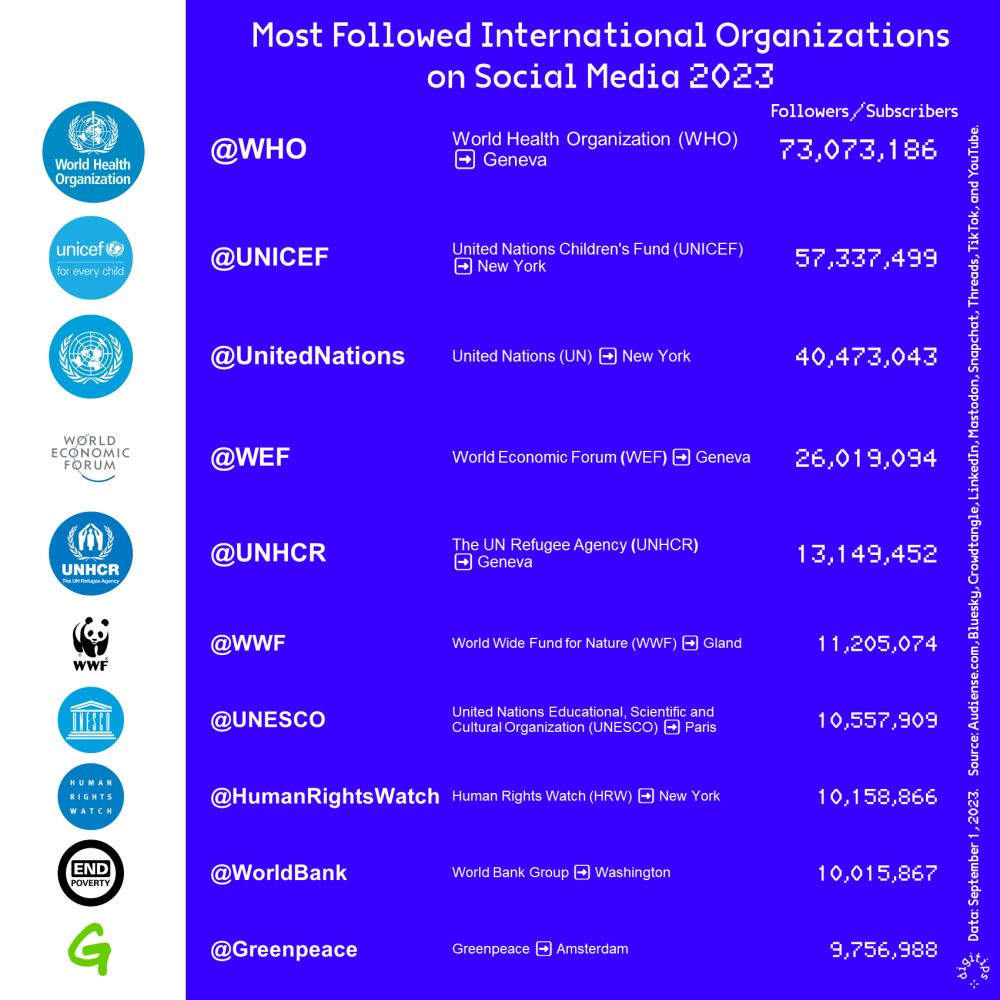 The most followed international organizations
The 10 most followed organizations are in a league of their own. Almost all have more than 10 million followers across all platforms combined.
The World Health Organization is by far the most followed organization, with 73 million followers and subscribers on all platforms combined. UNICEF is in second position with 57 million followers, followed by the United Nations which clocks up an audience of 40 million followers and subscribers. The World Economic Forum, or WEF, and the Office of the U.N. High Commissioner for Refugees, or UNHCR, complete the Top 5 list with 26 and 13 million followers, respectively.
Given the potential size of the audience, Facebook is one the most important social networks for international organizations. The 102 institutional pages have a combined following of 150 million followers and the median average of followers per page stands at 330,000.
X remains the second most important network. The 106 institutional accounts have a combined following of 124 million, with a median average of 212,319 followers per account.
LinkedIn is not far behind: 97 organizations have an official LinkedIn page and all pages combined have a total of 55.8 million followers and a median average of 194,415 followers per page.
"Sorry, But LinkedIn Is Cool Now," headlined a Bloomberg article by a reporter who covers the technology industry in the San Francisco area. The professional social networking platform has clearly benefitted from the slow decline of X.
Ninety-seven of the 106 organizations in the study have official company pages on LinkedIn and are active on the platform. All LinkedIn pages combined have a total of 55.8 million followers and a median average of 194,415 followers per page.
The combined total number of followers on Instagram is higher at 71.7 million, but the median average per account is only 75,789. All institutional and personal accounts combined have a combined following of 440 million on all networks.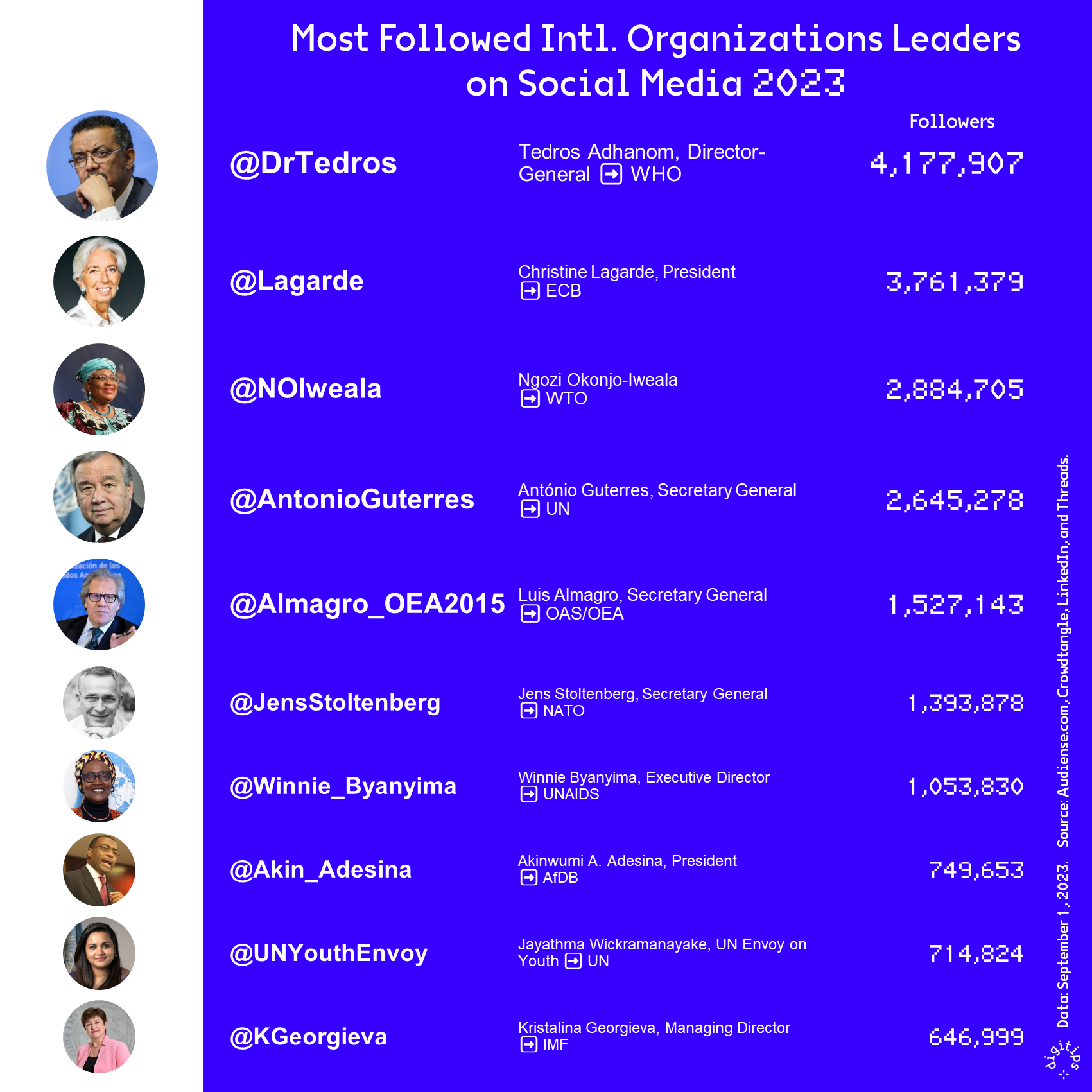 The most followed leaders of international organizations
Tedros Adhanom Ghebreyesus, WHO's director-general, is the most followed leader of any international organization with 4.17 million followers on Facebook, Instagram, LinkedIn, and X combined. Christine Lagarde, president of the European Central Bank, is in second position with 3.76 million followers.
Ngozi Okonjo-Iweala, director-general of the World Trade Organization and António Guterres, the U.N. secretary-general, are in third and fourth position with 2.88 and 2.24 million followers, respectively.
The outgoing U.N. youth envoy, Jayathma Wickramanayake, is present on all social media platforms and makes it into the Top 10 of the most followed leaders.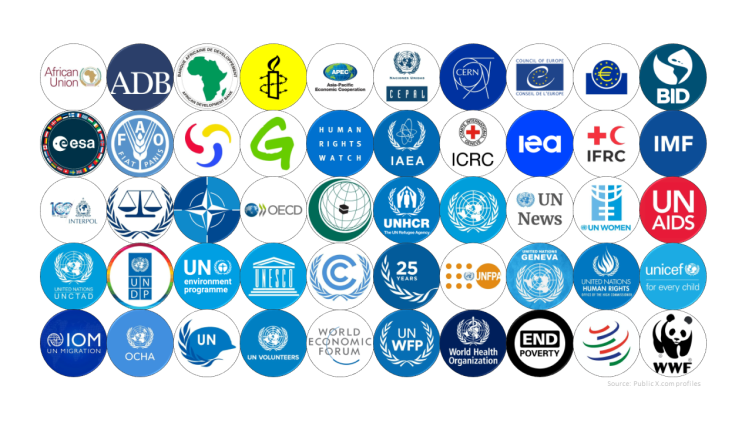 An essential role for social media managers
Fifteen years after setting up their first presence on social media, international organizations face a daunting choice of platforms to chose from. The top five – Facebook, Instagram, LinkedIn, X and YouTube – need constant attention and community management.
The question is whether they have the resources and bandwidth to engage on other niche networks or to invest time into new networks challenging the predominance of X.
While organizations have seen their audience grow year-on-year, one thing has remained constant over the years: the size of social media teams. The work of social media managers and digital media relations are no longer an afterthought but a key business function with the direct involvement of all employees including the chief executive.
Their work presents an opportunity to seize the cultural moment. The United Nations' most watched video, with 85 million views, is the clip of the South Korean boy band BTS dancing in the U.N. General Assembly Hall. The clip, posted in Sept. 2022, is by far the most-watched video posted by any international organization.
Comments