GENEVA (AN) — An unprecedented 79.5 million people, or 1% of the world's population, were forcibly displaced from their homes as of the end of 2019 after escaping wars or persecution, the U.N. refugee agency reported on Thursday.
Some 40%, or 30 million to 34 million of the 79.5 million people uprooted from their homes, were children younger than 18 years of age.
The annual increase resulted from new displacement in 2019, particularly in Congo, Africa's Sahel region, Yemen and Syria — where the conflict entered the start of its 10th year in March, and almost 5 million children have known nothing but war while another 1 million were born as refugees into a harsh life.
The numbers underscore the important role of diplomacy and conflict resolution, according to the Office of the United Nations High Commissioner for Refugees, or UNHCR, since more than two-thirds of those people who were uprooted from their homes — 68% — came from just five nations: Syria (6.6 million people), Venezuela (3.6 million people), Afghanistan (2.7 million people), South Sudan (2.2 million people) and Myanmar (1.1 million people).
"We see the consequences of so much hypocrisy and indifference, which plays out unfortunately, tragically, in the lives of those that are uprooted and traumatized," said Filippo Grandi, UNCHR's chief. "One percent of humanity lives now in forced exile. In the last 10 years, the number of people forcibly displaced has doubled to almost 80 million people now.
And, in a video messsage aimed at diplomats who are often divided in purpose on the 15-nation U.N. Security Council based in New York, the United Nations' most powerful arm, he added, "We expect from you — the world expects from you — unity, at least where humanity is most wounded and trampled."
The 79.5 million displaced people included 45.7 million people who were forced to flee to another part of their own country. Another 29.6 million people crossed borders seeking safety, and 4.2 million people sought aslyum.
Some 26 million of the people who crossed borders seeking safety had registered as refugees as of last year: 20.4 million people were under the mandate of UNHCR's protection; 5.6 million people were under the care of the U.N. Relief and Works Agency for Palestinian Refugees in the Near East, or UNRWA. Another 3.6 million people who crossed borders seeking safety were Venezuelans displaced abroad.
Nearly three-quarters of all refugees and Venezuelans displaced abroad — 73% — were taken in by neighboring countries, a figure that, according to Grandi, contradicts the notion fanned by the inflammatory rhetoric of anti-immigration populism that most refugees flee for wealthy, Western nations.
UNHCR reported that Turkey hosted the largest number of refugees worldwide, with 3.6 million people, while Colombia was second, with 1.8 million people including Venezuelans displaced abroad. Next were Pakistan and Uganda, each with 1.4 million people, and Germany, with 1.1 million people.
Doubling in a decade
The number of displaced people rose by 8.7 million, up from 70.8 million people a year earlier, and was nearly double from the 41 million people in 2010.
Jan Egeland, secretary general of the Norwegian Refugee Council, called the new figures "a damning verdict of unaccountable, impotent and nationalistic leadership around the world. International and regional powers have been bystanders and even accomplices, as armed men have driven 79.5 million defenseless people out of their homes with impunity."
Hsaid that during the 1990s genocides, including Rwandan genocide of 1994 and the Srebrenica massacre of 1995, the amount of 40 million people fleeing conflict and persecution was considered the sign of a world falling apart. But today that number has doubled — one in every 100 people worldwide has been forced to flee, he said, an outrage that demands politicians end their inertia over protracted wars.
"Covid-19 and conflict are a lethal cocktail," Egeland, a veteran diplomat who has held numerous high-level U.N. positions, said in a statement. "Only real global cooperation will flatten the curve on these out-of-control displacement numbers, and end the suffering and the fertile ground for the pandemic."
Part of the increase this year was due to the inclusion of Venezuelans in this year's report, representing a category of people — those facing protection risks "irrespective of their status" — that was not included in the U.N. refugee agency's previous Global Trends reports.
The 3.6 million Venezuelans considered to be in need of international protection were among a broader group of 5 million Venezuelans who have fled their nation's political and economic crisis to seek refuge in neighboring Brazil and Colombia, and in other South American nations such as Chile, Ecuador and Peru.
Up to 50,000 of those people have since returned home to Venezuela over the past several months.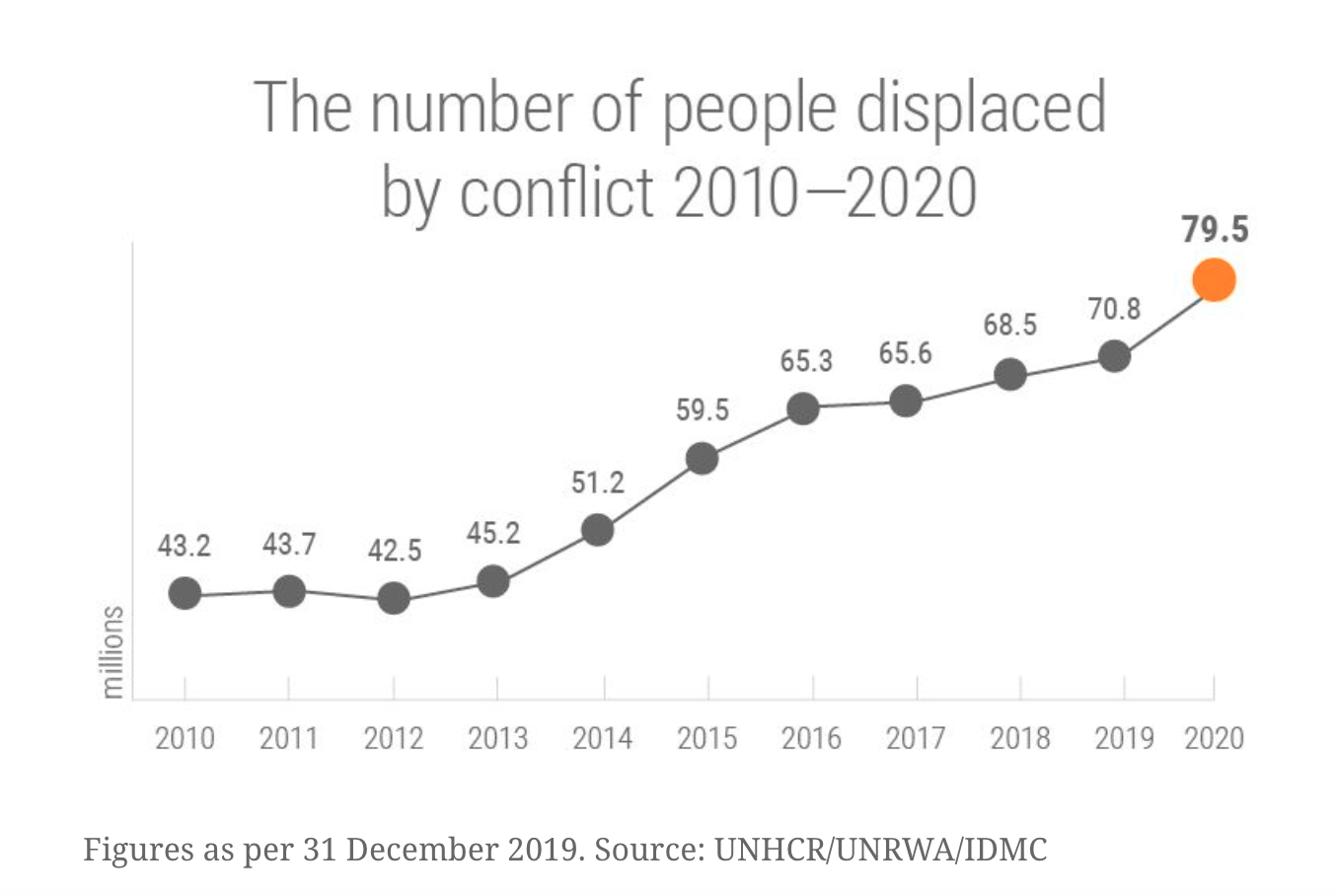 The unknown pandemic effect
Next year's figures in UNCHR's flagship report may be skewed by the coronavirus pandemic, the agency said.
"Although the novel coronavirus had just emerged in late 2019, the subsequent pandemic has had, and at the time of this writing continues to have, an unprecedented global social and economic impact, also affecting asylum systems," it noted.
For example, the number of asylum applications registered in the European Union in March dropped 43% from a month earlier, as nations closed their borders and imposed lockdowns on their citizens.
"In other parts of the world, refugee registration, an essential protection activity at the core of refugee statistics, also dropped significantly despite efforts by some countries to resort to remote registration and documentation," UNHCR said in its report.
"As a result, global refugee and asylum statistics may under-represent the true magnitude of the number of people seeking international protection during the pandemic," it added. "This could increase the uncertainty for predicting global forced displacement in the future."
Comments