WASHINGTON (AN) — When it comes to climate change it looks like we have kicked the can to the end of the road and over a cliff.
Extreme weather events and new records are becoming the norm. The Earth just experienced the hottest week ever and summer is only starting to rev up. Europe is growing hotter faster than any other continent, with temps this summer headed to 40° Celsius (104 Fahrenheit) or more in parts. India, China and parts of Africa are facing death-dealing heat waves and epic floods.
A stubborn dome of hot air has settled across the Southwest United States, pushing temps into the triple digits F. (38°+ C.) while in New England record rains have flooded cities, towns and villages.
Smoke from Canada's burning woodlands has smothered major cities in the U.S. and Canada under clouds of acrid, poisonous smog. For the first time in two decades, locally transmitted malaria is reported in Florida and Texas.
The Atlantic Ocean off Florida is as hot as a warm bath and scientists have real concerns about the fate of the Sunshine State's coral reefs and the aquatic life they support as the summer wears on.
The warming Atlantic has prompted forecasters to reverse their earlier predictions for a mild hurricane season.
"Humanity is in dangerous waters on climate," says U.N. Secretary-General António Guterres.
An oceanic heat wave
Sea water warming is far from confined to the waters of the Atlantic and the Gulf of Mexico. Studies by the U.S. National Oceanic and Atmospheric Administration find a marine heat wave is affecting about 40% of the world's seas and oceans.
Global sea surface temperatures in the North Atlantic were at record highs for the time of the year both in May and June with temperatures, as NOAA puts it, "beyond extreme," increasing the likelihood of more hurricanes and tropical cyclones. North Atlantic sea surface temperatures are also linked to rain and drought in West Africa.
No one should be surprised. For as long as most of us can remember, climate scientists — aside from those lobbying for Exxon and other oil companies — have warned that this day would come.
Now, as we double down on our air conditioning, consuming even more coal, oil and natural gas, it looks like it's only going to get worse.
"We can't stop global warming at this point. All we can do it try to stop it short of the place where it cuts civilizations off at the knees," Bill McKibben said in a recent interview on the Democracy Now! TV program.
'Worrying news for the planet'
The U.N.'s World Meteorological Organization reports that the first week of July was the hottest week on record, coming after the hottest June on record.
These record-breaking temperatures have potentially devastating impacts on human populations, ecosystems and the environment, and highlight the far-reaching changes taking place across the globe as a result of human-induced climate change fueled by pollution from fossil fuels.
"We are in uncharted territory and we can expect more records to fall as El Niño develops further and these impacts will extend into 2024," said Christopher Hewitt, WMO's director of climate services. "This is worrying news for the planet."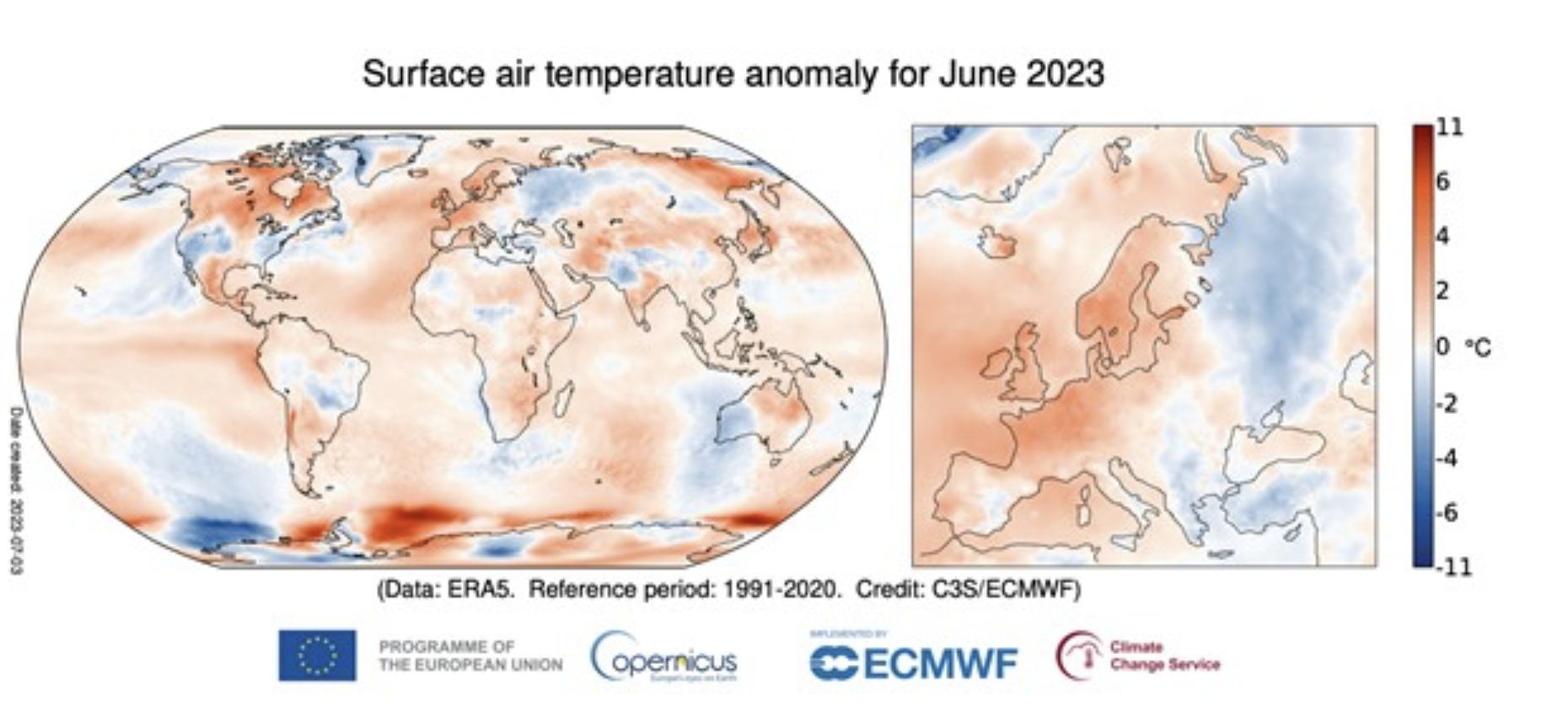 The human costs
As temperatures rise, so does heat-related stress that results in health problems such as fatigue, dehydration, cardiovascular stress and heat stoke.
A new study in the journal Nature Medicine found that more than 61,000 people died of heat-related causes during last year's record-breaking heat wave in Europe.
Most of the victims were older; women were more likely to die than men. Portugal, Spain and Italy recorded the highest heat-related deaths.
With Europe seeing high-temperature records fall almost weekly, this summer could be even worse.
Along the southern U.S. border with Mexico, more than 100 migrants have perished trying to cross the desert and make it into the United States.
COP-out?
The website for next U.N. climate change conference, or COP28, is a lovely fantasy with various shades of greens and photos of tranquil blue waters. It promises that COP28 "will be a milestone moment when the world will take stock of the progress on the Paris Agreement."
A more accurate milestone might well be the first week of July, which suggests that any progress on slowing global warming has been minimal, at best. The climate talks will take place this fall in the oil-rich United Arab Emirates, and will be headed by the man who runs the national oil company.
At the forefront of his agenda is input from the oil and gas industry, the producers of the products that got us into this climate change mess, and the companies that shelled out millions of dollars to finance climate change deniers.
Environmentalists who want to see oil, coal and natural gas replaced by clean renewables are outraged that a premier environmental conference might be hijacked by the oil industry and devolve into a trade show junket for overpaid oil-company executives.
"Developed countries have absolutely no excuse: the science tells us new oil and gas investments should have ended yesterday," said Mia Moisio of the Germany-based NewClimate Institute.
"With its focus on 'emissions free' fossil fuels and CCS (carbon capture and storage)," she said, "the UAE is clearly pushing an agenda to distract attention from a fossil fuel phaseout which, if successful, would lock in large scale oil and gas production."
Comments