Most nations had little to no improvement last year in fighting corruption that was "more pervasive" whenever big money influenced elections or governments, Transparency International's annual rankings showed on Thursday.
The Berlin-based global watchdog organization's annual Corruption Perceptions Index of 180 nations noted the United States and some other major powers lagged in taking on public sector corruption.
Clean elections were pivotal. Countries that scored lower on the index typically had weak or poorly enforced campaign finance laws, while 60% of the nations that significantly improved their scores in the past eight years had strengthened their campaign finance laws, according to TI's analysis.
"Frustration with government corruption and lack of trust in institutions speaks to a need for greater political integrity," said Delia Ferreira Rubio, chair of Transparency International. "Governments around the world must urgently address the corrupting role of special interest money in campaign financing and the undue influence it exerts on our political systems."
On a scale of zero, which is considered "very corrupt," up to 100 points, which is seen as "not corrupt," Denmark and New Zealand topped the index, with 87 points each. Close behind them in the top 10 were Finland, with 86 points, and Singapore, Sweden and Switzerland, with 85 points each.
Next were Norway, with 84 points, the Netherlands, with 82 points, and Germany and Luxembourg, with 80 points each.
At the opposite end, Somalia, South Sudan and Syria ranked lowest, with 9, 12 and 13 points, respectively. Only slightly better in the bottom 10 were Yemen, with 15 points, and Venezuela, Sudan, Equatorial Guinea and Afghanistan, with 16 points each.
North Korea had 17 points, while Libya, Haiti, Guinea Bissau and Congo were next, with 18 points each.
More than two-thirds of the nations and territories measured in the index scored below 50, with an average score of 43. Since 2012, only 22 nations, including Greece, Guyana and Estonia, significantly improved their scores; another 21 nations, including Canada, Australia and Nicaragua, declined significantly, according to TI.
"In the remaining 137 countries, the levels of corruption show little to no change," the organization said.
Western Europe and the European Union ranked highest as a region, with an average of 66 points, followed by Asia Pacific, with an average of 45 points. The Americas was next, with an average of 43 points. The Middle East and North Africa averaged 39 points, followed by Eastern Europe and Central Asia, with an average of 35 points, and most of Africa, the lowest, with an average of 32 points.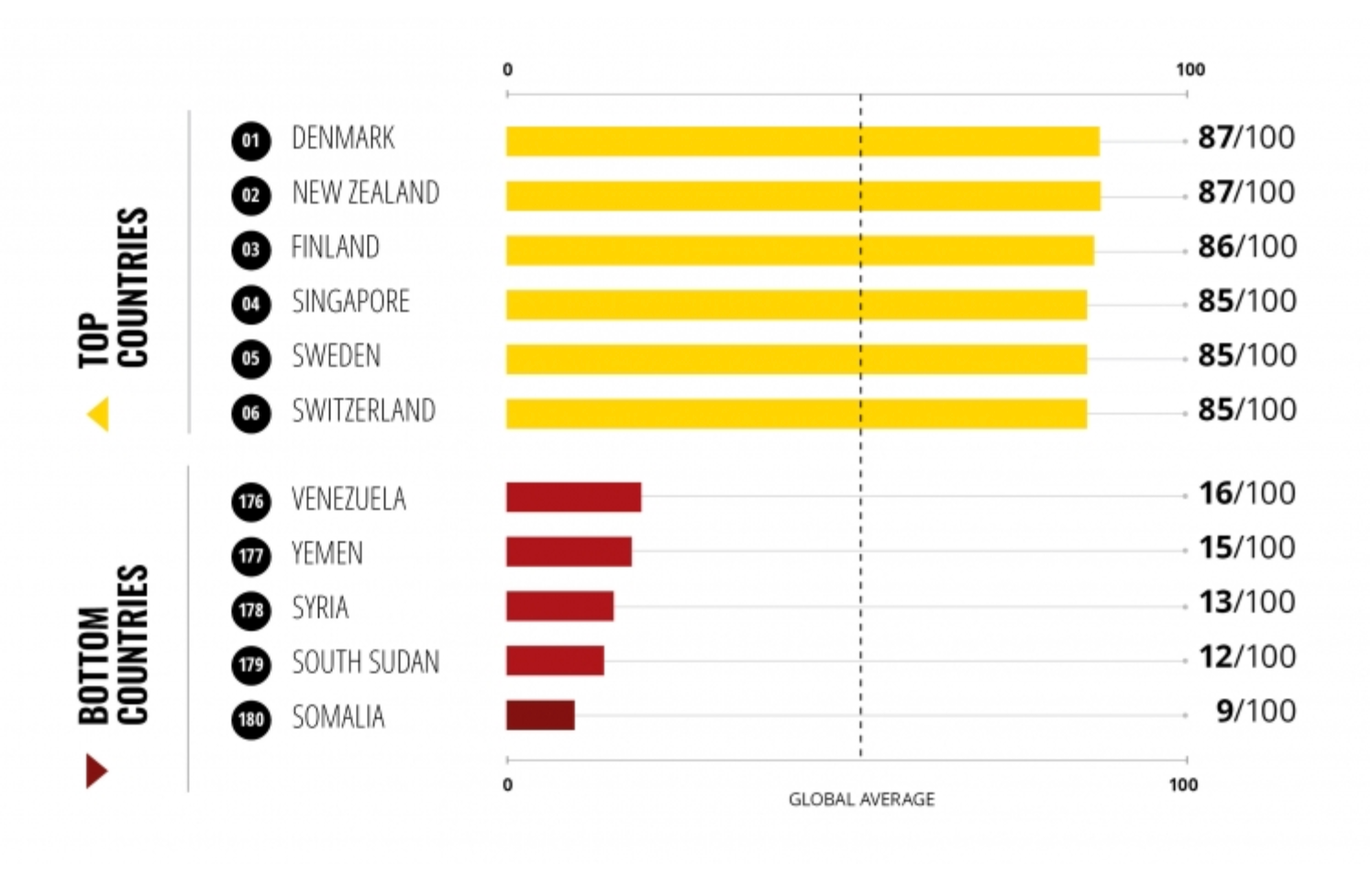 Transparency International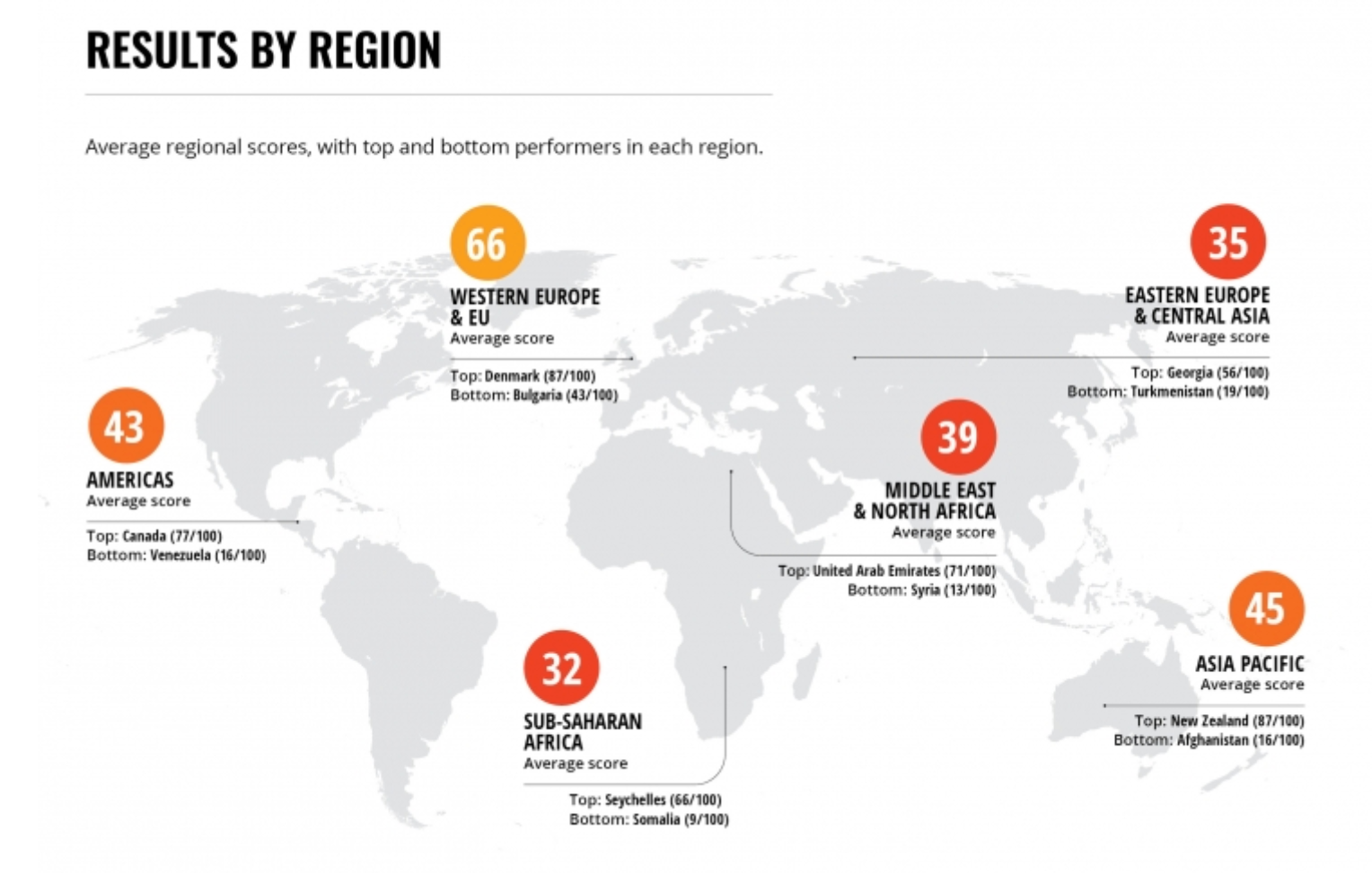 Transparency International
Threats to checks and balances
Several of the most advanced economies were "stagnating" in their anti-corruption efforts, TI said in a statement citing more than a dozen independent expert assessments and surveys as a basis for its index. The global organization introduced its index in 1995, then revised its methodology to be able to make better year-to-year comparisons in 2012.
Among the Group of Seven, or G-7, major economies, four nations scored lower than during the previous year: Canada had 77 points, a decrease of 4 points; the United Kingdom, with 77 points, and France, with 69 points, each dropped by 3 points; and the United States, with 69 points, fell by 2 points.
Canada and the U.K. were tied at 12th place worldwide, along with Austria and Australia. France and the United States were tied in 23rd place. It was the worst U.S. score in the index in eight years, according to TI, which cited challenges such as U.S. President Donald Trump's impeachment, the "ever-increasing influence" of special interests in U.S. government and "threats" to its systems of checks and balances.
"More than in any other major developed country, people in America believe that rich people buy elections," said Scott Greytak, advocacy director for TI's U.S. office.
"When people think their government is for sale, they stop believing in its future," he said. "In the U.S., many of our laws on campaign finance, lobbying and ethics were written almost 50 years ago. The world has changed since then, and we plan to learn from it by bringing political reforms from across the globe to American audiences."
Germany, with 80 points, and Japan, with 73 points, each showed no improvement from a year ago. Germany was the only nation among the G-7 to score in the top 10 of TI's index worldwide. Japan was ranked 20th globally. Italy, with 53 points, improved by just 1 point, and was ranked 51st in the world.
As an antidote to corruption and fraying trust in politics, TI said it was "imperative" for nations to prevent opportunities for political corruption by managing conflicts of interest, controlling political financing and strengthening electoral integrity. It also recommended that countries reinforce checks and balances, regulate lobbying, and empower citizens, rather than dole out preferential treatment.
Comments