WASHINGTON (AN) — An analysis of more than 11.9 million private financial documents identified secret assets in the offshore financial system belonging to more than 330 politicians and public officials from 91 countries and territories, including 35 current and former national leaders, the International Consortium of Investigative Journalists reported on Sunday.
The asset flows show how leaders on five continents use the global offshore system to create "a shadow economy that benefits the wealthy and well-connected at the expense of everyone else," according to the report by the U.S.-based nonprofit ICIJ, which led the Pandora Papers, the world's largest-ever collaborative journalistic investigation involving more than 600 reporters in 117 countries for two years.
Offshore companies are those incorporated in a jurisdiction other than where the beneficial owner resides. It is not illegal to hold assets offshore or to set up shell companies for international business in most countries. The system, however, allows people and businesses to hide assets, minimize taxes and obscure illicit activities.
"Millions of leaked documents and the biggest journalism partnership in history have uncovered financial secrets of 35 current and former world leaders, more than 330 politicians and public officials in 91 countries and territories, and a global lineup of fugitives, con artists and murderers," ICIJ concluded.
"The secret documents expose offshore dealings of the King of Jordan, the presidents of Ukraine, Kenya and Ecuador, the prime minister of the Czech Republic and former British Prime Minister Tony Blair," it said. "The files also detail financial activities of Russian President Vladimir Putin's "unofficial minister of propaganda" and more than 130 billionaires from Russia, the United States, Turkey and other nations."
Some leaders used secret U.S. trust companies, such as those in South Dakota. More than two-thirds of the 956 companies that were in offshore havens and tied to 336 high-level politicians and public officials had been set up in the British Virgin Islands.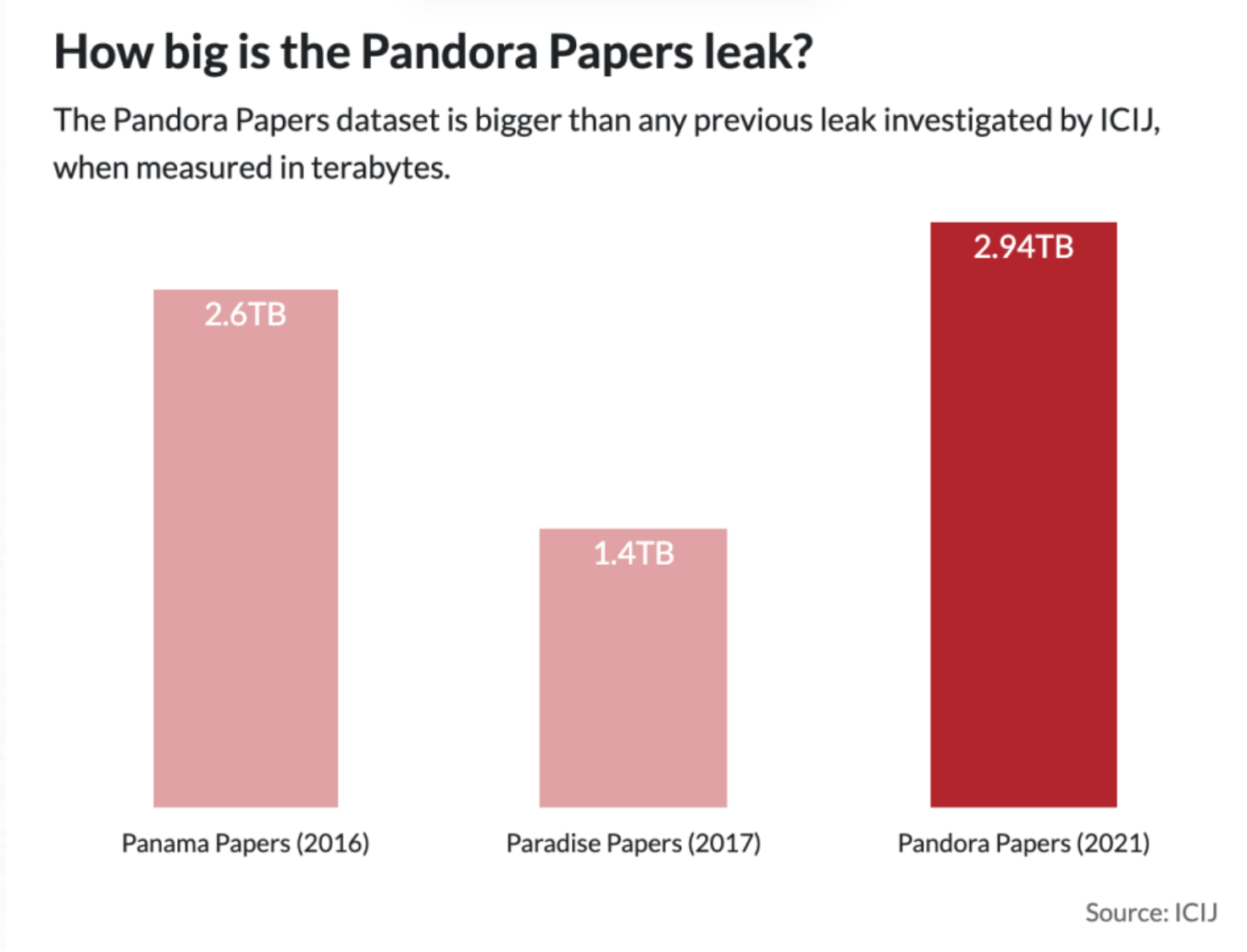 US$11.3 trillion in assets held offshore
Most the documents date to between 1996 and 2020, but some go back as far as the 1970s. Among the report's key findings are that:
Jordan's King Abdullah II secretly purchased 14 luxury homes worth more than $106 million in California, Washington, D.C., and the U.K. with the help of an English accountant in Switzerland and lawyers in the British Virgin Islands. The advisers helped him set up at least 36 shell companies from 1995 to 2017, but his representatives denied any wrongdoing.
Czech Prime Minister Andrej Babis came to power promising to crack down on tax evasion and corruption, but the leaked records show Babis put $22 million into shell companies to buy a property known as Chateau Bigaud in Mougins, France, near Cannes. He has not disclosed the shell companies or chateau in public documents he is required to file, and he did not respond to requests for comment.
Kenyan President Uhuru Kenyatta has also spoken publicly about the need for public officials to disclose their assets, but the leaked records listed him and his mother as beneficiaries of a secretive foundation in Panama, and show that his brother, two sisters, and other family members own five offshore companies with assets worth more than $30 million. Kenyatta and his family did not respond to requests for comment.
A 2020 analysis by Paris-based Organization for Economic Cooperation and Development found US$11.3 trillion in assets held offshore. Among the notable figures linked by Pandora Papers to offshore assets, ICIJ reported, are India's cricket superstar Sachin Tendulkar, pop music superstar Shakira, supermodel Claudia Schiffer and an Italian mobster known as "Lell the Fat One."
Some 150 news outlets joined the investigative partnership ICIJ said, including The Washington Post, BBC, The Guardian, Radio France, Oštro Croatia, Indian Express, Zimbabwe's The Standard, Morocco's Le Desk and Ecuador's Diario El Universo. ICIJ said a global team was needed because the headquarters of the 14 offshore providers that are the sources of the leaked documents span the globe.
Three of the offshore providers are owned by former senior government officials, ICIJ said, but the offshore operatives partner with others around the globe to create complex layers of companies and trusts that seek to provide clients with secrecy and protections.
Comments