GENEVA (AN) — New business investment across borders will likely drop by up to 40% this year and 10% in 2021 from the pandemic, the U.N. Conference on Trade and Development reported on Tuesday.
The United Nations' agency for trade, investment, and development issues, known as UNCTAD, forecast in its annual report on the prospects of foreign direct investment that multinational businesses will reduce costs by operating more closely to home, in a trend with harsh consequences particularly for the world's developing nations.
Reduced profits and cutbacks in new projects due to the coronavirus lockdown are the main driver behind the agency's calculations that global foreign direct investment flows will plummet by as much as US$600 million from 2019's value of US$1.54 trillion.
That would reduce investment flows below US$1 trillion for the first time since 2005, according to UNCTAD's World Investment Report 2020. The trend is expected to continue next year with an additional drop of between 5%and 10%.
But a slow economic recovery is in the cards for 2022, the agency reported.
"The outlook is highly uncertain," UNCTAD Secretary-General Mukhisa Kituyi said in a statement. "Prospects depend on the duration of the health crisis and on the effectiveness of policies mitigating the pandemic's economic effects."
Separately, the International Monetary Fund estimated in April that the world economy will contract more than expected, its chief economist, Gina Gopinath, said in a blog post on Tuesday.
"For the first time since the Great Depression, both advanced and emerging market economies will be in recession in 2020," she wrote. "The forthcoming June 'World Economic Outlook Update' is likely to show negative growth rates even worse than previously estimated. This crisis will have devastating consequences for the world's poor."
Gopinath added that the lockdown "is playing out in ways that are very different from past crises. These unusual characteristics are emerging all over the world, irrespective of the size, geographic region, or production structure of economies."
That is an even more pessimistic view than the IMF had in April when it forecast that the world economy will likely suffer the worst financial crisis since the 1930s-era Great Depression due to COVID-19 pandemic disruptions and shutdowns.
In the April forecast, the IMF said it expected an economic contraction of 3% in 2020, which itself was a significant reversal from its January forecast of 3.3% growth in global GDP for this year.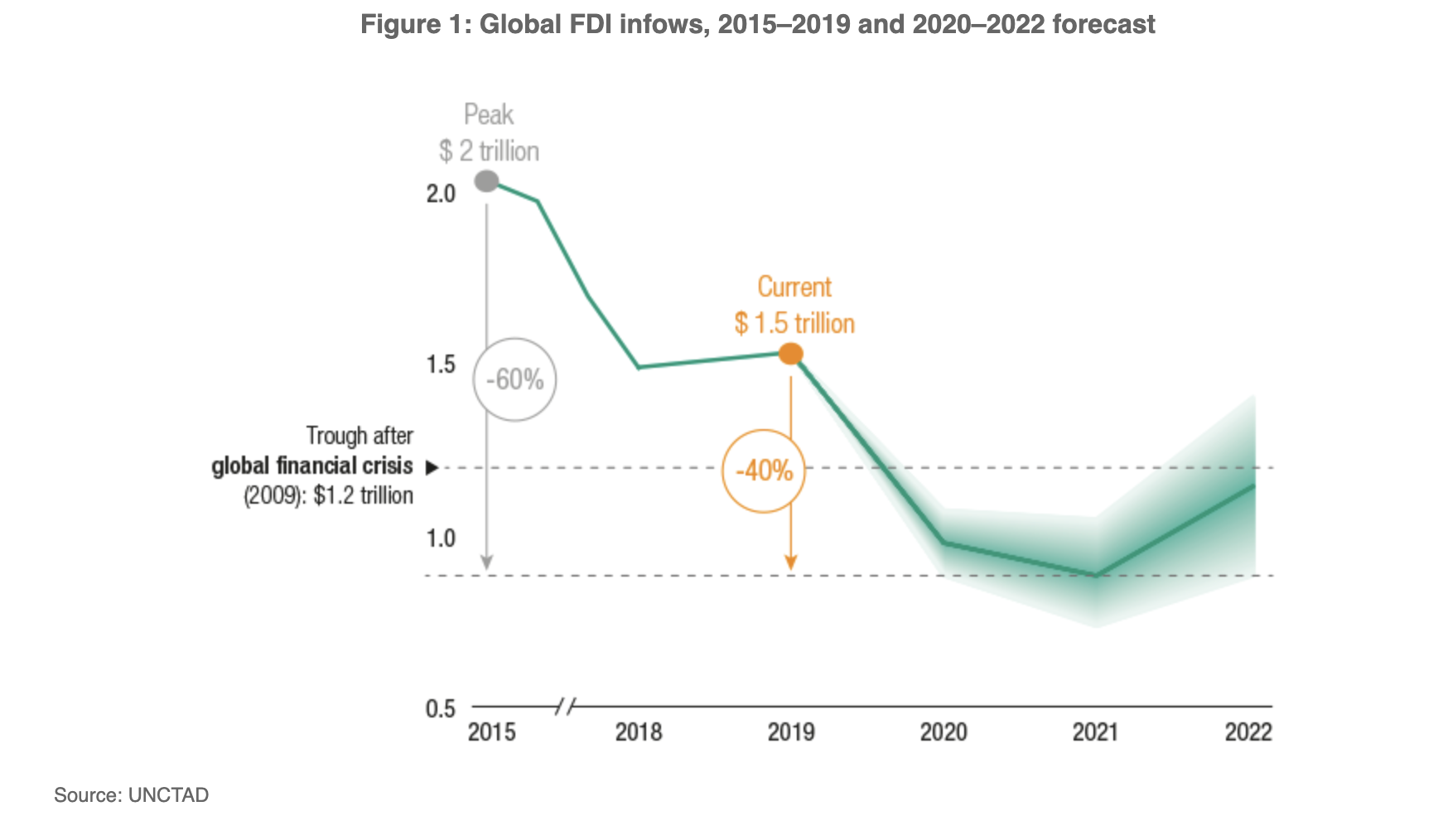 Regional differences
Since the coronavirus was first detected in Wuhan, China in late December, and became a World Health Organization-declared COVID-19 pandemic in March, the lockdown to slow its spread cost millions of jobs and shuttered companies globally. The infectious disease caused by the coronavirus has led to upwards of 7 million infections and 400,000 deaths.
Existing investment projects ground to a halt, leading to recession. Government stimulus packages have so far failed to stem much of the economic pain worldwide. Multinational profits and new deals have been revised downwardly by 40% on average.
James Zhan, UNCTAD's director of investment and enterprise, said the economic fallout varies by region, hurting developing economies the most because of their greater reliance on industries that tend to be more exposed to global supply chains.
Another reason for that, he added, is that poorer countries "are not able to put in place the same economic support measures as developed economies."
Investment this year in Africa is set to drop between 25-40%, UNCTAD reported, while it is expected to fall up to 45% among developing countries in Asia and by as much as half in Latin America.
Global foreign direct investment had edged up by 3% last year, after dropping in the previous two years due to increased trade tensions, financial volatility, rising interest rates in rich nations and expected weaker demand for commodities.
Even before the pandemic, UNCTAD cautioned last September there was "a clear and present danger" of a global recession in 2020 as a result of the trade tensions, corporate debt and weaker growth among both industrialized and developing nations.
But the coronavirus lockdowns have now all but ended the world's slowing recovery from the global financial crisis more than a decade ago that began with the collapse of Lehman Brothers in September 2008 and almost toppled the world's financial system.
Comments