WASHINGTON (AN) — For two decades, the US$100 billion space station has been a hub for living and experimenting in space — and example of how science can help nations rise above political rivalries.
Now, as a platform for experimentation, the International Space Station, or ISS, could become another form of experiment: an orbiting international organization that becomes privatized.
U.S. space agency NASA calls it "one of the most ambitious international collaborations ever attempted." But its future is in question, mainly due to the difficulties and expense of its upkeep.
The platform, launched in 1998 through combined American and Russian efforts, could be decommissioned by 2025 in favor of deep-space exploration. Or it may be put into the hands of private companies, perhaps better able to keep expenses lower and turn a profit.
Space remains "our best opportunity to dialogue when everything else falls apart," NASA Administrator Jim Bridenstine told a forum in July at the Center for Strategic and International Studies think tank. "We've got American astronauts and Russian cosmonauts dependent on each other on the International Space Station, which enables us to ultimately maintain that dialogue."
Scientists have used it to conduct research into life, physical and Earth sciences, human health and astrophysics. It has been a tool to delve into space science and commercial research and development for consumer products along with manufacturing, materials and pharmaceuticals.
It delivers near-real time mapping for recovery and humanitarian aid efforts in disasters, said Paul Martin, the inspector general of NASA, which spends up to US$4 billion a year, or half its human space flight budget, on ISS.
NASA pays Orbital ATK and SpaceX to deliver cargo in space. It is hiring Sierra Nevada Corp. to begin resupply flights and Boeing Co. and SpaceX to transport astronauts over the next couple of years. Cargo and crew transport eat up US$1.7 billion a year, or almost half of ISS's costs.
"NASA envisions itself as only one of many customers for the ISS or other privately-owned and operated low Earth orbit platforms," Martin told U.S. Congress earlier this year. "While all of these actions are positive steps, NASA's current plan to privatize the ISS remains a controversial and highly debatable proposition."
The big question, he said, is "whether a sufficient business case exists under which private companies can create a self-sustaining and profit-making business independent of significant government funding."
It is unclear whether any private business could handle the annual operating costs, projected at US$1.2 billion in 2024. There would have to be sufficient space tourism, satellite servicing, manufacturing and research and development to sustain it. Martin said there was only "scant commercial interest."
Russian-American cooperation
Recent political headlines have focused on the mounting evidence that Russian computer hackers interfered in the 2016 U.S. presidential election. Investigations into U.S. President Donald Trump's campaign revolve around security concerns over the electoral process and fears that a foreign power could mold public opinion or break into election computer systems to sway the outcome of voting.
But the two nations are brought together through the diplomacy of shared pursuits in space. American Nick Hague and Russian Alexei Ovchinin tried to head together to the ISS last week to mark its 20th anniversary. Before their planned trip, Hague told a news conference that the space station "serves as a reminder to us that we can only do those really hard things if we work together."
They were to be launched in a Soyuz spacecraft from Kazakhstan's Baikonur Cosmodrome to join the rest of ISS's crew involved in more than 300 scientific experiments that cannot be performed on Earth. The six-hour flight involves four-orbits. Everyone on ISS must know English and Russian.
But the launch was aborted due to a rocket failure. After an emergency landing, rescuers retrieved Hague and Ovchinin from their capsule, which was jettisoned from a three-stage booster rocket that failed a couple minutes after liftoff. They were supposed to spend the next half year aboard ISS, but NASA is now examining plans for flying it without a crew early next year.
Three current residents can remain on board until January, a month beyond their expected mid-December return. After that, the space station could be remotely flown. But for safety reasons, it would require more staff before SpaceX or Boeing can launch new crew capsules next year.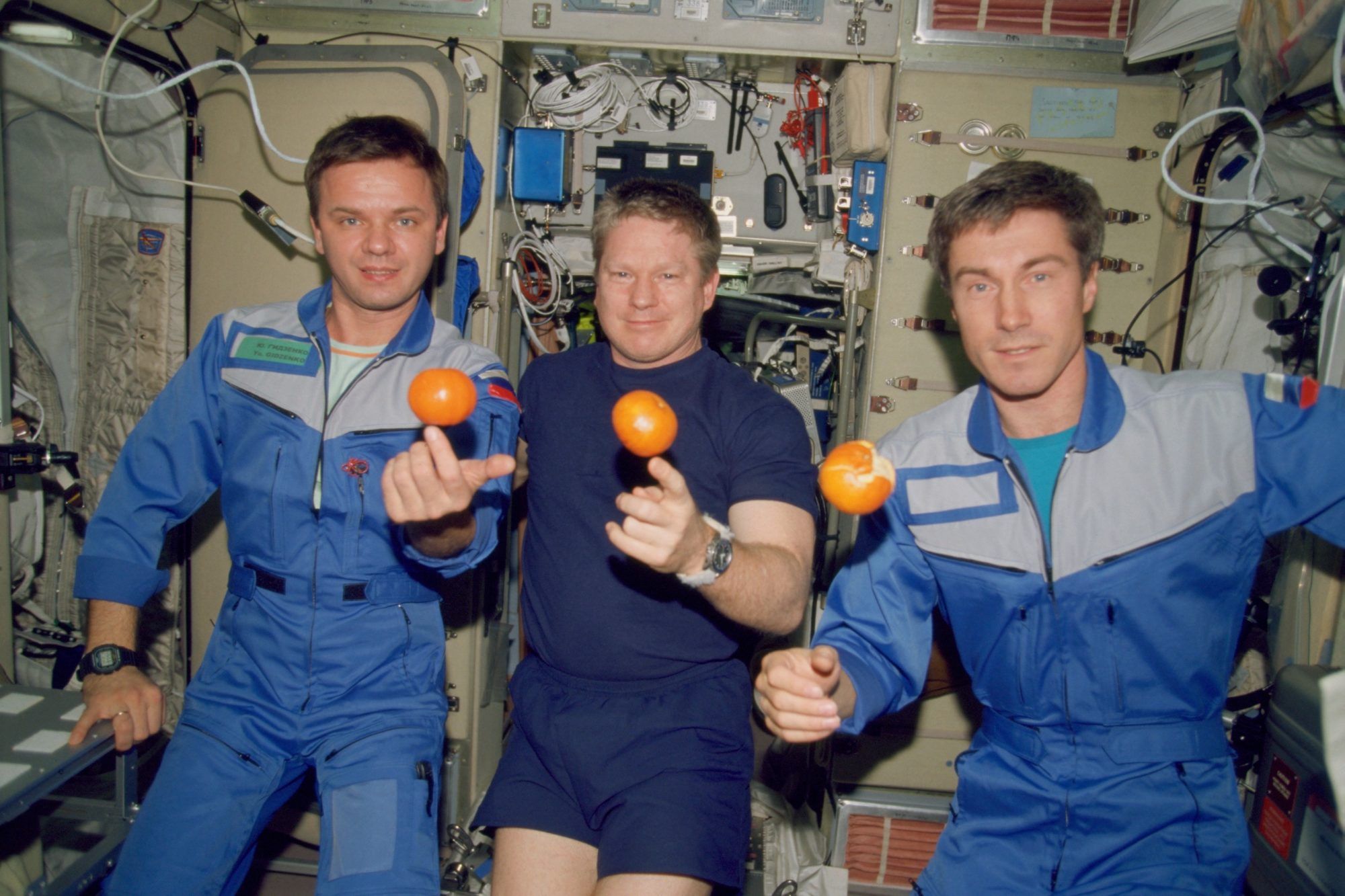 International Space Station's first resident crew (AN/NASA)
ISS has been continuously inhabited since 2000, orbiting about 250 miles above Earth's surface as an international partnership of the United States, Russia, Canada, Japan and 11 European nations.
Since the U.S. space shuttle program closed in 2011, NASA has been paying Russia to launch its astronauts aboard Soyuz rockets that cost the U.S. government more than US$80 million per seat.
NASA's Commercial Crew program has been encouraging private companies to develop "space taxis" for U.S. launches, and it has awarded SpaceX and Boeing US$6.8 billion in contracts in 2014 to send astronauts to ISS.
But the companies have faced serious delays in developing spacecrafts that can accomplish that. NASA says the companies' test flights to ISS would be put off until at least June 2019.
Though it is run as an international organization based on agreements among nations, it could be operated by a consortium of private companies years from now. Trump proposed eliminating U.S. funding for ISS by 2025 and transitioning operations to commercial entities.
If that does not happen, the space station might be intentionally destroyed upon reentry into Earth's atmosphere.
Trump's commerce secretary, Wilbur Ross, told CNBC the Trump administration envisions turning the Moon into a "gas station for the outer space" exploration. A 2015 Massachusetts Institute of Technology study said refueling near the Moon could enable humans to get to Mars more efficiently.
"Rockets would not need as much thrust leaving Earth if they only had to get to the Moon," he said. "Then at the Moon, you have very low gravity so you don't need so much thrust to go from the Moon to Mars, for example, or another asteroid."
Comments