GENEVA (AN) — The U.N.'s top humanitarian official paid a rare visit to North Korea, meeting with other aid providers and some of the more than 10 million people who need outside help.
With his three-day visit, Mark Lowcock, head of the United Nations' Office for the Coordination of Humanitarian Affairs, became OCHA's first official to visit the isolated nation since 2011.
Lowcock, a U.N. undersecretary-general for humanitarian affairs and emergency relief coordinator, was meeting with government officials, representatives of partner aid agencies and North Koreans suffering from widespread food shortages and malnutrition.
North Korea is in the grips of "a protracted humanitarian crisis that is largely overlooked by the rest of the world," OCHA said in previewing the visit.
"Over 10 million people — or 40% of the population — require humanitarian assistance," it said. "Chronic food insecurity and undernutrition are widespread, resulting in 1-in-5 children being stunted. Access to basic services, such as healthcare, water and sanitation is a challenge for much of the population, especially in rural areas."
In April, OCHA and its partner agencies announced an emergency plan to raise US$111 million in 2018 to help 6 million North Koreans in dire need of aid. Donors have pledged little more than 10% so far, indicative of many U.N. campaigns contending with donor fatigue, apathy and major, prolonged crises.
As a result, humanitarian agencies have been forced to significantly scale back programs there. OCHA said the cutbacks risk "reversing" some recent gains by lowering national rates of child and maternal mortality.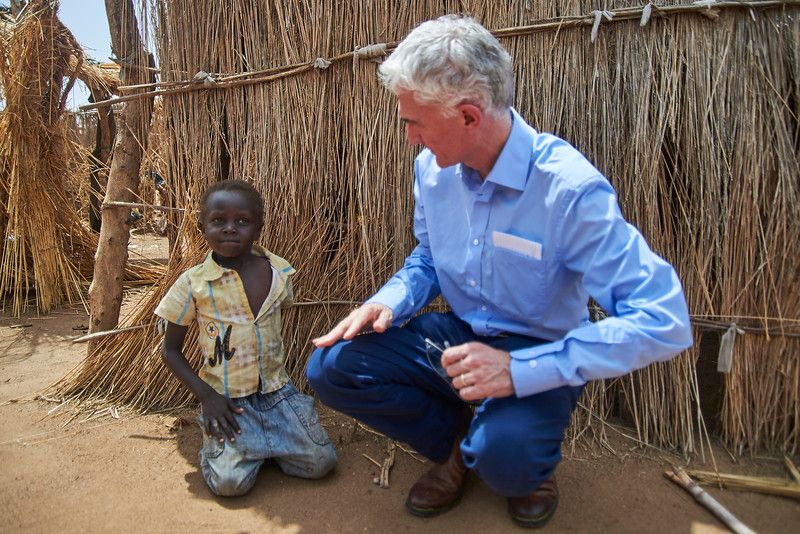 U.N. humanitarian chief Mark Lowcock in Sudan's South Kordofan region (Arete/Sari Omer)
Health and water challenges
Access to the country is highly restricted, and tourists tend to capture images of some of the most privileged or elite North Koreans. One of the few international organizations that is able to provide humanitarian aid in North Korea is the International Federation of Red Cross and Red Crescent Societies.
In June, IFRC reported that Åsa Sandberg, who is the head of desk for the Swedish Red Cross, returned from her second visit to the nation with hope there could be diplomatic talks to improve cooperation.
"I sat down with people in the villages to better understand their needs. They get by with very few means, but possess such resilience and dignity," Åsa said in an article by IFRC.
Among the country's biggest challenges are poor nutrition and polluted water, according to IFRC. Many people rely on river water or shallow wells, dirtying the water and sanitation for six million North Koreans.
"An elderly couple that I met had difficulty getting access to safe water from the well near their home, and for years they struggled with buckets, sometimes finding only a few drops of water," Åsa said. "Now we have installed a water management system in their house, and they won't have to worry about clean drinking water anymore. It was a joy to hear how well it works."
Åsa said IFRC helped build greenhouses where vegetables and tree plants are cultivated. That built up land protections and reduced soil erosion and flooding, she said, which are important as North Korea struggles with some of the impacts of climate change such as increased floods, droughts and bitter cold winters.
An influenza outbreak in North Korea earlier in 2018 killed four people and affected more than 178,000 others, said the IFRC, which dispatched 500 volunteers to go door-to-door promoting health and hygiene.
Human rights and nuclear weapons
Though it is a secretive nation with a state media that shows off a choreographed reality, North Korea maintains important conduits to the world besides China through what experts describe as a sizable but little-known involvement with international organizations.
North Korea belongs to at least 50 U.N.-affiliated agencies and other organizations and has embassies in 47 countries, according to data from the East-West Center and National Committee on North Korea in the United States.
A U.N. special investigator and other experts and human rights groups were unable to persuade American officials to put human rights on the agenda when U.S. President Donald Trump met with North Korea's leader Kim Jong Un for a high-stakes nuclear summit on June 12.
Tomas Ojea Quintana, the U.N.'s special investigator on human rights in North Korea, told reporters he believed "human rights and security and peace are interlinked." North Korea has not invited him to the country, and he urged the nation to make "a concrete gesture" by releasing some of the estimated 80,000 to 120,000 political prisoners it is believed to hold under arbitrary arrest in a notorious gulag.
Along with concerns over human rights and humanitarian aid, two Vienna-based international organizations that serve as nuclear watchdogs recently declared they are ready to help carry out any monitoring and verification needed for North Korea to fulfill its renewed vow of denuclearization.
The International Atomic Energy Agency, or IAEA, and Preparatory Commission for the Comprehensive Nuclear-Test Ban Treaty Organization, or CTBTO, offered to send experts if they were authorized.
IAEA's Director General Yukiya Amano said he welcomed the statement from Trump and Kim. But their agreement to keep talking resembled previous North Korean commitments that were later abandoned.
Comments