PARIS (AN) — Global investment in renewables and energy efficiency declined 3% to US$318 billion in 2017 and "there is a risk that it will slow further this year," posing a threat to the world's fight against climate change and air pollution, the International Energy Agency reported.
Investment in renewable power, accounting for two-thirds of power generation spending, dropped 7% last year, the Paris-based international organization said in its World Energy Investment 2018 report.
It noted that recent changes to China's solar policies — which attempt to rein in costs by cutting off subsidies for new utility-scale photovoltaic power stations — increase the risk of an investment slowdown this year.
China has an outsized influence on global markets. For the past several years it has been the world leader in solar capacity; as of 2017, it accounted for slightly more than half of the world's photovoltaic installations.
The report's annual review showed global energy spending was US$1.8 trillion in 2017, or 2% less than in 2016. The biggest share of investments, more than US$750 billion, were in the electricity sector, while US$715 billion was spent on oil and gas supply.
Energy efficiency expanded strongly last year but not enough to offset the decline in renewables, the report found, adding that efficiency investment growth weakened in 2017.
"Such a decline in global investment for renewables and energy efficiency combined is worrying," said IEA's Executive Director Fatih Birol, a Turkish economist and energy expert. "This could threaten the expansion of clean energy needed to meet energy security, climate and clean-air goals. While we would need this investment to go up rapidly, it is disappointing to find that it might be falling this year."
Government policy at work
Government-based investments accounted for a growing share: more than 40% in 2017.
More than 95% of investment is based on regulation or contracts for remuneration, showing the rising influence of government policies, in contrast to "a dwindling role for new projects based solely on revenues from variable pricing in competitive wholesale markets," IEA reported. "Investment in energy efficiency is particularly linked to government policy, often through energy performance standards."
The number of retiring nuclear power plants exceeded new construction starts, it said, as investment in the sector declined to its lowest level in five years.
IEA said the share of fossil fuels in energy supply investment rose last year for the first time since 2014 to US$790 billion, as spending in oil and gas increased modestly. Investment in coal power dropped, but that was offset by an increase in oil and gas spending.
And while oil and gas is on an upswing, electric cars are on the rise, too.
"The share of national oil companies in total oil and gas upstream investment remained near record highs, a trend expected to persist in 2018," the report said. "Though still a small part of the market, electric vehicles now account for much of the growth in global passenger vehicle sales, spurred by government purchase incentives."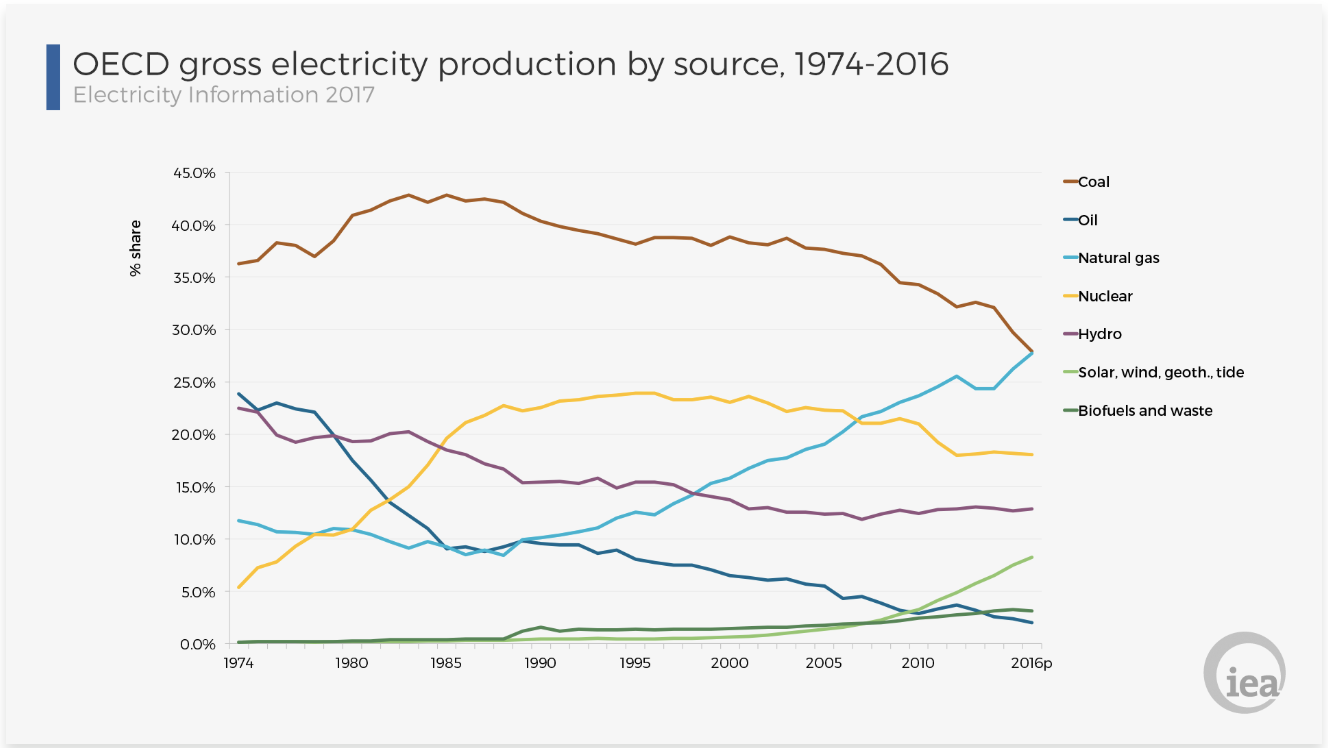 Energy snapshot (Arete/IEA)
Transition in electricity
In June, another international organization said the power sector was rapidly changing but not enough was being done to keep Earth from overheating. The Renewable Energy Policy Network for the 21st Century, or REN21, reported that wind, solar and other renewable energy sources accounted for 70% of net additions to global power generating capacity last year, but not enough to slow climate change.
"What we are actually seeing is an electricity transition, not an energy transition," said Laura Williamson, REN21's director of outreach and communication, citing technology advances and lower costs as big factors. REN21 is based in U.N. Environment's Paris offices.
Despite the broad transition to clean energy, global energy-related carbon dioxide emissions rose 1.4% in 2017 due to strong economic growth, lower fossil fuel prices and weaker efforts to boost energy efficiency, REN21 said in its Renewables 2018 Global Status Report.
Comments