UNITED NATIONS (AN) — By an overwhelming majority, the U.N. General Assembly approved a resolution on Thursday that blamed Russia for Ukraine's humanitarian crisis and demanded civilian protections and an immediate cease-fire.
The 140-5 vote in the 193-nation assembly demonstrated the fault lines over Russia's isolation, which was one of the main goals of the resolution, with most of the West supporting the measure but as many as 38 nations, including China, India, Iran and South Africa, abstaining.
Introduced by Ukraine, the resolution compared the nation's "dire humanitarian consequences" due to Russia's invasion on February 24 with suffering on a scale "not seen in Europe in decades." It called for Russia to provide unimpeded humanitarian aid access, protect civilians and immediately halt the airstrikes, shelling and siege tactics used to devastate Ukraine's cities.
"Let's prove that the assembly is still a solid structure and we are the United Nations that have been wise enough to avert imminent disaster," said Ukraine's U.N. Ambassador Sergiy Kyslytsya.
The resolution sends "a very strong signal" of support for Ukraine, France's U.N. Ambassador Nicolas De Riviere said on behalf of the 27-member European Union. It mirrored a previous assembly vote on March 2 to condemn Russia's invasion of Ukraine and demand that Russian forces halt their offensive on Ukrainian cities and ports.
The U.S. Ambassador to the U.N., Linda Thomas-Greenfield,  told reporters after Thursday's vote that this additional resolution, focused on the humanitarian fallout, shows "the world stood united" in the face of Russian President Vladimir Putin's "unjustified and unprovoked invasion of Ukraine."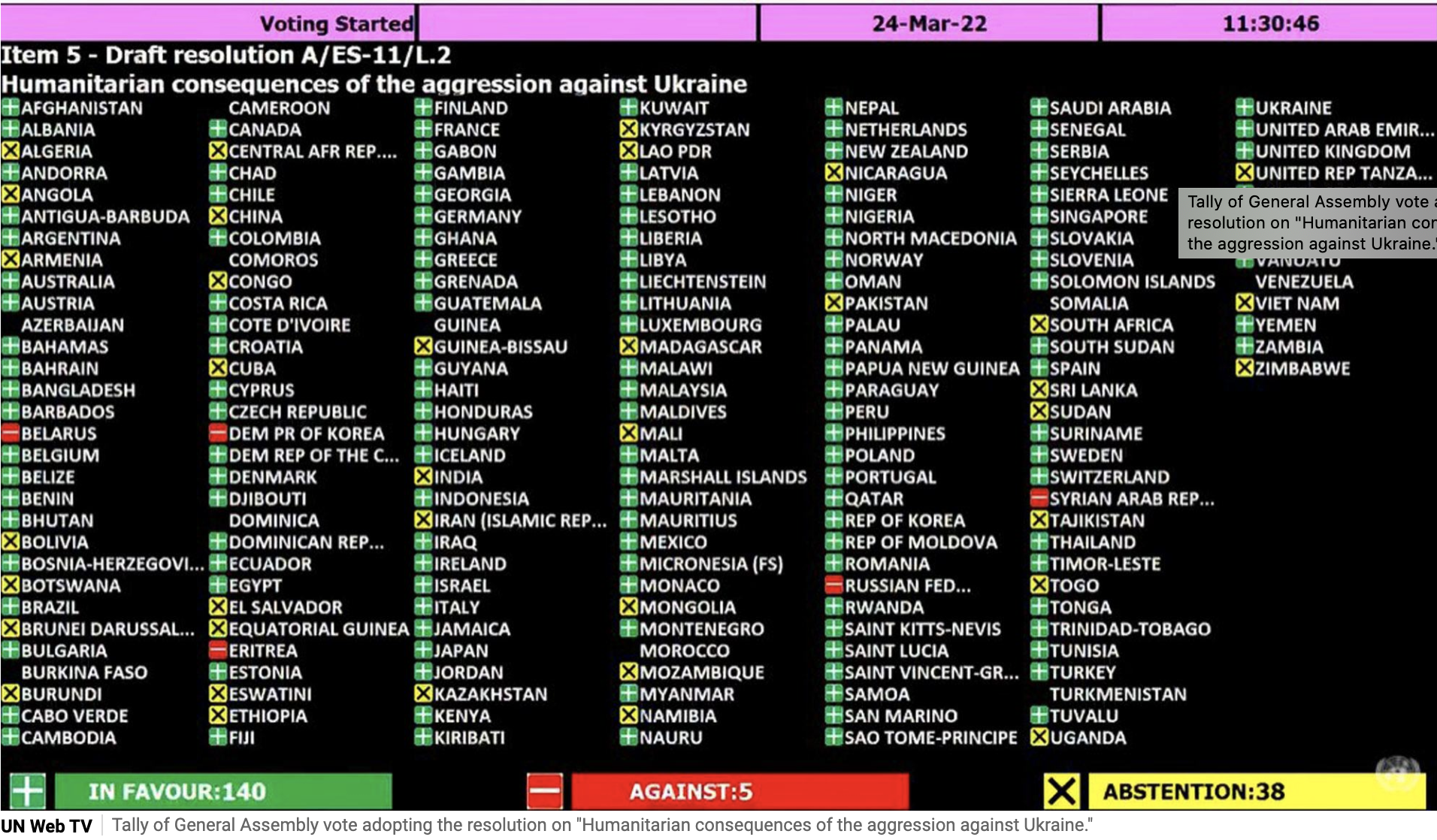 Russia bears 'sole responsibility'
The assembly vote came a day after the U.N. Security Council, the U.N's most powerful arm, shot down a proposed Russian resolution to acknowledge the humanitarian crisis in Ukraine without fixing any blame. Assembly resolutions are not legally binding,  but they carry a moral weight.
The war in Ukraine has displaced millions of Ukrainians, leaving countless in dire need of food, shelter, safety and other basic items, and sent well more than 3 million people fleeing as refugees.
Russia's U.N. Ambassador Vassily Nebenzia characterized the "pseudo-humanitarian resolution presented by the Western allies in Ukraine" as a misguided way "to once again condemn Russia."
Together, a strong majority of U.N. member states made clear that Russia — Russia — bears sole responsibility for the grave humanitarian crisis and violence in Ukraine," Thomas-Greenfield said. "Together, we called for the protection of all civilians fleeing the conflict and for steps to mitigate the increase in food insecurity caused by this senseless war. And together, we reaffirmed the U.N. Charter."
Comments