VIENNA (AN) — The United States and Russia resumed nuclear disarmament talks on Monday after more than a year, despite the unknown effects of China's non-participation and a looming U.S. presidential election.
Talks between Marshall Billingslea, the U.S. special presidential envoy for arms control, and Sergei Ryabkov, Russia's deputy foreign minister, were planned to negotiate possibly extending the decade-long U.S.-Russia nuclear pact known as New Strategic Arms Reduction Treaty, or New START. U.S. President Donald Trump's administration appeared intent on scapegoating China from the start.
The diplomats planned to set up technical working groups to prepare for a second round by late July or early August. The U.S. delegation wants all nuclear weapons — and China — obligated under the treaty.
"Vienna talks about to start. China is a no-show. Beijing still hiding behind #GreatWallofSecrecy on its crash nuclear build-up, and so many other things. We will proceed with #Russia, notwithstanding," Billingslea tweeted on Monday morning from the Austrian capital though Beijing never planned to attend.
The tweet featured a photo from Vienna with Chinese flags planted on empty seats, as if to emphasize Beijing's absence. However, the photo was staged, as it was officially known beforehand that China would not attend, and a photo posted on Facebook by Russia's Austrian ambassador, Dmitry Lyubinsky, showed the tables had only name cards and water bottles on them, Russian newspaper Kommersant reported.
Chinese diplomat Fu Cong, who heads foreign ministry's arms control department, tweeted his ridicule of Billingslea's photo: "What an odd scene! Displaying Chinese National Flags on a negotiating table without China's consent! Good luck on the extension of the New START! Wonder how LOW you can go?"
Russia's U.N. mission in Vienna, thanking Austria's foreign ministry for hosting the U.S.-Russia "consultations on strategic stability," also tweeted photos of the negotiations showing no Chinese flags.
No violations under New START
Last September, Ryabkov was quoted by the Russian state news agency Tass as saying that Moscow hoped Washington would seek to salvage the treaty limiting strategic nuclear weapons by resuming full-fledged negotiations aimed at "ensuring strategic stability and international security."
He urged the two sides to find "new understanding and ways of enhancing multilateral strategic stability" and said the Russians "expect our counterparts across the pond to be ready for a meaningful and interested dialogue."
Then in December, Russian President Vladimir Putin offered to immediately renew the treaty without preconditions or more discussions ahead of its expiration on February 5, 2021. New START took effect in 2011. Trump did not take him up on the offer.
New START replaced the START treaty from 2004 to 2009. Under New START, each side met a 2018 deadline to reduce their strategic nuclear forces to no more than 1,550 warheads on 700 deployed missiles or bombers.
A State Department report set for release on Monday shows that Moscow has, in fact, complied with its obligations under New START, but has an "abysmal track record in complying with its promises" on other major arms control treaties, Billingslea was quoted as saying by The Washington Times on Sunday.
If negotiations fail over New START, the last major nuclear treaty between the United States and Russia would expire just 16 days after Trump begins a second term or his 2020 opponent in the November 3 U.S. presidential election, former Vice President Joe Biden, is sworn into office.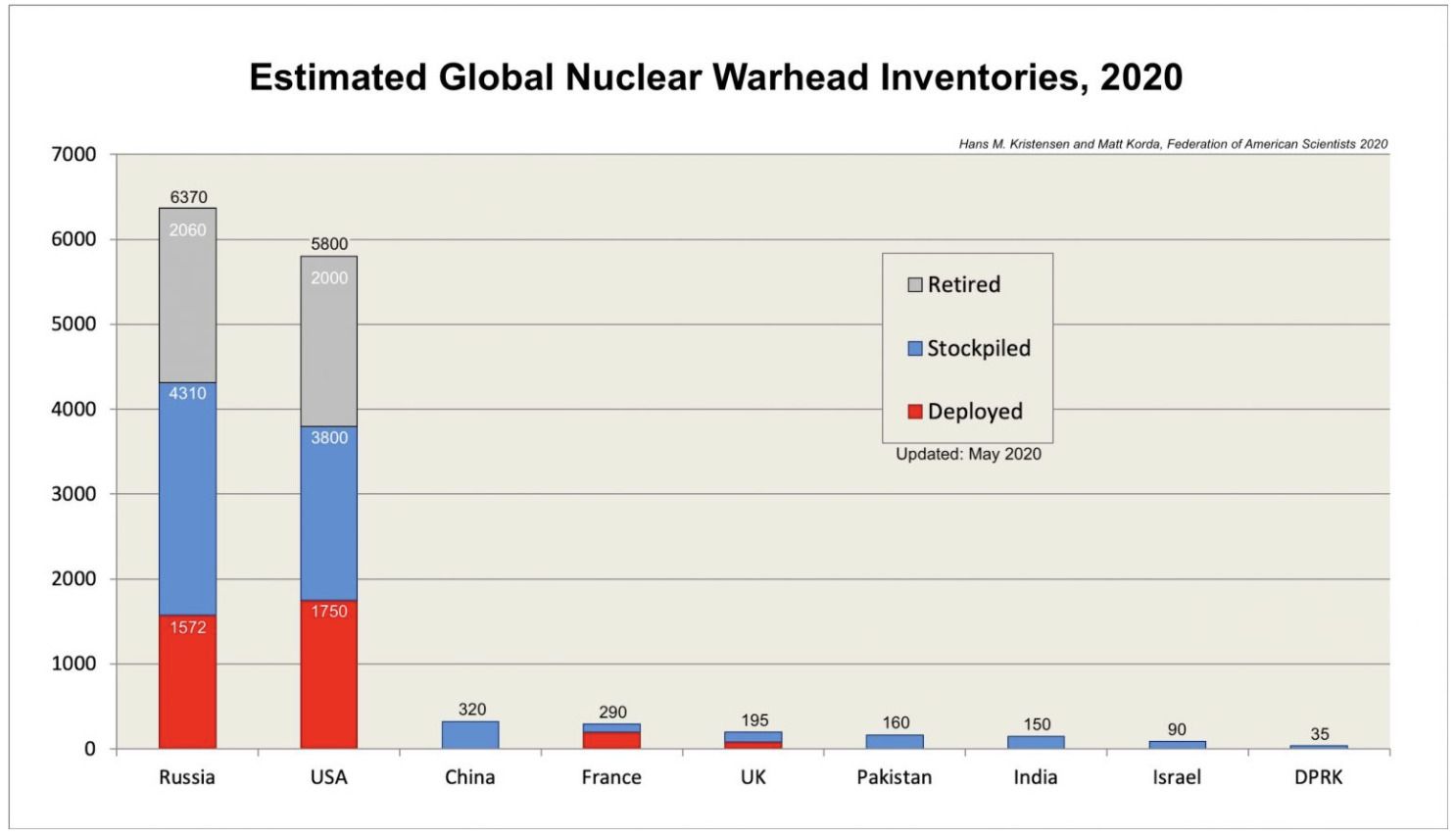 Federation of American Scientists
'Not yet the right timing for China'
The treaty's renewal has been subject to intense speculation and uncertainty since last year when the United States and Russia allowed the Intermediate-Range Nuclear Forces Treaty, or INF Treaty, a key part of Cold War-era nuclear arms control, to lapse without any attempts to resolve their differences.
As Putin and Trump traded blame over the collapse of the INF Treaty, disarmament and nonproliferation experts worried about New START expiring and sparking a renewed global arms race.
The two countries have approximately 91% of all nuclear warheads in the world, according to the Federation of American Scientists. Each has around 4,000 nuclear warheads in their military stockpiles. Other nuclear-armed nations have between several dozen to a few hundred nuclear warheads.
Nine countries — Britain, China, France, India, Israel, North Korea, Pakistan, Russia and the United States — are known or believed to possess nuclear weapons.
Trump's decision last month to withdraw the United States from another international treaty involving Russia cast further uncertainty over New START. Trump announced he would pull the U.S. from the Open Skies Treaty that permits mutual unarmed surveillance flights over 34 nations.
Trump told other signatories to Open Skies that a U.S. exit is justified by Russia's violations of its obligations under the treaty. That treaty took effect in 2002 as a tool for preventing misunderstandings that could lead to war. Russian officials said the U.S. withdrawal threatens European security.
Last year, John Rood, the U.S. undersecretary of defense for policy, told the Senate Armed Services Committee the Trump administration wanted China included in any negotiations with Russia to replace New START.
"Chinese development of nuclear capabilities is extensive," he said in his testimony. "China's activities, such as militarization of the South China Sea, development of offensive cyber and space capabilities, and legal and illicit efforts to acquire sensitive or advanced dual-use technologies to support its military objectives, are inconsistent with the rules-based international order, which has benefited all nations, including China."
China's foreign ministry, however, has made clear it has no intention of taking part in the U.S.-Russia round of talks slated for Vienna.
"As is known to all, China's nuclear power is not on the same order of magnitude as that of the U.S. and Russia. It is not yet the right timing for China to participate in nuclear disarmament talks," China's foreign ministry spokesperson Hua Chunying told a regular press briefing on June 11.
"Owners of the largest nuclear arsenals have special and primary responsibilities in nuclear disarmament," she said. "Considering the current circumstances, the U.S. should respond positively to Russia's call on extending the New START and further drastically reduce its nuclear arms stockpile, creating conditions for other nuclear-weapon states to join in multilateral nuclear disarmament talks."
Comments