Global foreign direct investment plummeted by 49% in the first half of 2020 compared with a year ago due to the coronavirus pandemic, the U.N. Conference on Trade and Development reported on Tuesday.
Government-ordered lockdowns around the world slowed existing investment projects, UNCTAD said in its latest Investment Trends Monitor, while multinational businesses reconsidered new projects due to the prospect of a deep global recession.
Foreign direct investment, or FDI, measures the flow of money that businesses invest across borders as a measure of global economic health. It can include new foreign construction, operations, or mergers and acquisitions.
"The FDI decline is more drastic than we expected, particularly in developed economies. Developing economies weathered the storm relatively better for the first half of the year," said James Zhan, UNCTAD's investment and enterprise director. "The outlook remains highly uncertain."
The United Nations agency projected, however, that global FDI will likely drop by as much as 30-40% for the entire year and by 5-10% in 2021 due to the pandemic, similar to its forecast in June.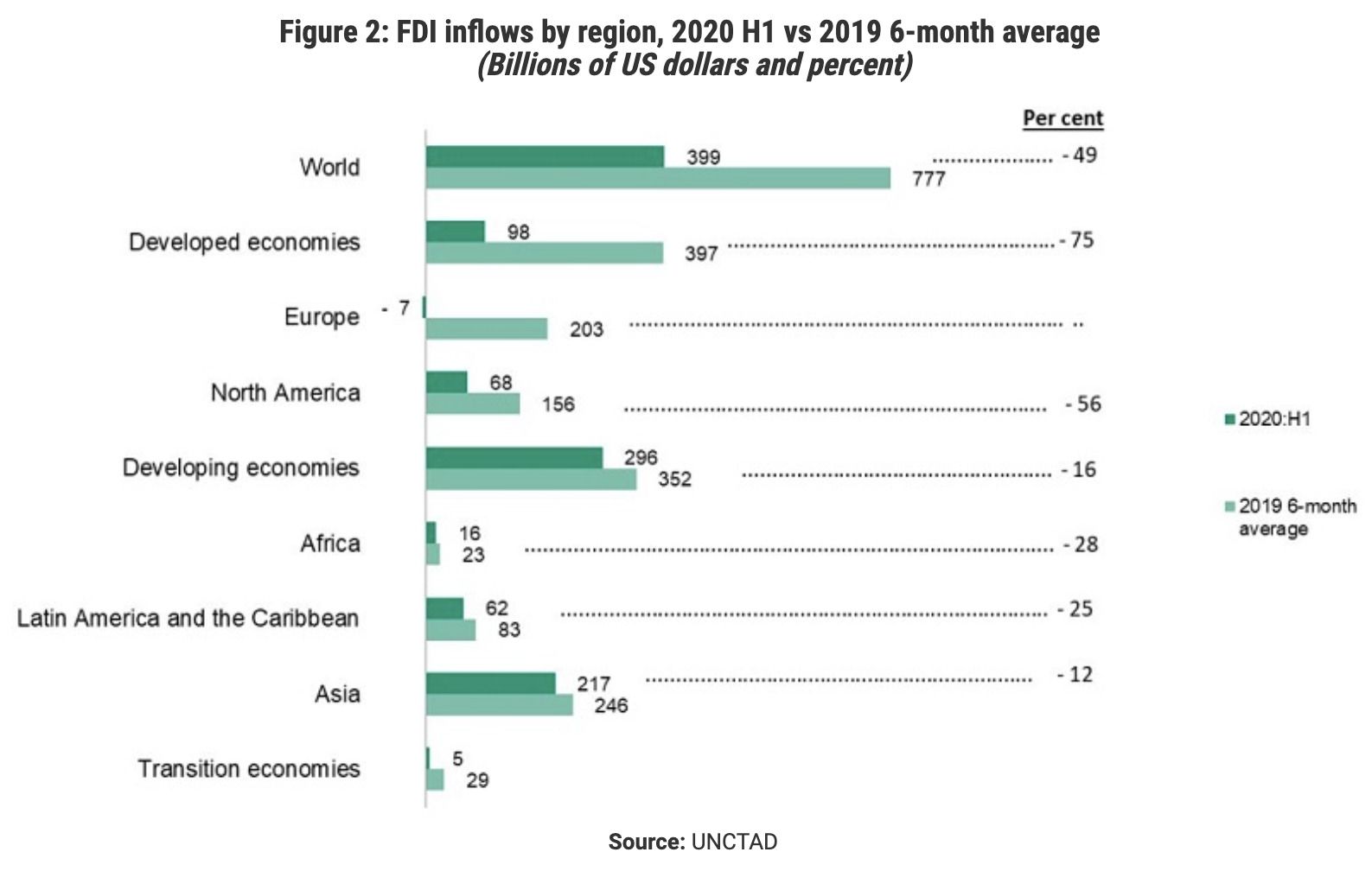 China's resilience
The lockdowns, restrictions and job losses since the coronavirus was first detected in Wuhan, China in late December, then became a World Health Organization-declared COVID-19 pandemic in March, have upended the global economy.
The infectious disease caused by the coronavirus has led to 44 million infections and more than 1.1 million deaths, while almost 30 million people have recovered globally.
Wealthy industrialized economies were the hardest-hit regions in terms of losses of investment, particularly in Europe and North America, where FDI fell to US$98 billion in the first half of 2020, a 75% decline from US$397 billion a year ago.
In Asia, FDI fell 12%, but in Africa it dropped 28% and in Latin America and the Caribbean it decreased 25%. Developing economies collectively suffered a 16% decline, down to US$296 billion from US$352 billion a year ago, which was less than what economists had expected mainly due to resilience in China's economy.
"Overall, investment flows into China remain at a high level," said Zhan, an Oxford-educated economist who is a guest professor at China's Nankai University. "And this is partly because China was one of the very few countries, among the first, to control the pandemic, and to resume its production system in the country."
Comments