GENEVA (AN) — Food shortages, global access to vaccines and environmentally harmful fishing subsidies top the agenda as the World Trade Organization holds its first ministerial conference in four and a half years.
Equally on the agenda, though not literally: the future relevance of the global trade body itself. The chair of the four-day conference, Kazakh politician Timur Suleimenov, acknowledged as much as it opened on Sunday. He promoted the 164-nation WTO as a global tool in need of reform but still vital to reduce "uncertainties" through more stable, predictable markets.
"The challenges we will face in the coming days are tremendous. Let us not forget that the world has faced multiple setbacks in recent years and we are still far from being out of the woods. This includes the multilateral trading system and the WTO," said Suleimenov, a deputy chief of staff to Kazakhstan's president, at an opening news conference.
"People have questioned the rules-based trading system and its ability to deliver," he said. "Now is the time to prove the critics wrong and show that it is feasible to reach the work in support of global trade and global values."
The World Trade Organization's director-general, Ngozi Okonjo-Iweala, similarly recognized the stakes for the world body and emphasized its 12th Ministerial Conference must deliver results on "aspirations for food, for health, for security, for better jobs, higher living standards, and a sustainable environment on land, in the oceans, and in our atmosphere" precisely now when the world needs them.
Part of the challenge WTO faces is that it operates on consensus, allowing any single nation to block a deal.
"Will the road to deliver at this MC12 be smooth? Absolutely not. Expect a rocky, bumpy road with a few landmines along the way. But we shall overcome them," she said. "This is a time to demonstrate that multilateralism works. A time to demonstrate that the WTO can deliver for the international community, and the people we serve."
Founded in 1995 as a successor to the General Agreement on Tariffs and Trade, WTO was established to operate a system of trade rules and provide a place for governments to try to sort out their trade issues.
It aims to be a forum for governments to negotiate trade agreements, but it has not led to any major trade deals in recent years and has instead been used far more commonly to settle trade disputes.
WTO's last ministerial conference was held in December 2017 at Buenos Aires, where it failed to reach hoped-for new deals on e-commerce and curbs to farm and fisheries subsidies.
In 2019, the global commerce system suffered a serious blow when WTO's appellate body was brought to a halt by former U.S. President Donald Trump's opposition to refilling judges on its bench.
Trump also threatened to withdraw the U.S. from WTO — which is not part of the United Nations system — unless it started treating the U.S. better. He withdrew the U.S. from several U.N. agencies and treaties before his successor, President Joe Biden, reversed those decisions.
Okonjo-Iweala conceded the previous ministerial conference "didn't really deliver," though it took important steps like encouraging trade for women's economic empowerment. But she said the "negativism" surrounding WTO in Geneva is undeserved because of all the hard work that trade diplomats do behind the scenes.
"Permit me to be blunt and say that Geneva has internalized many of these negative messages. The negativism is compounded by the negative advocacy of some think tanks and civil society groups here in Geneva and elsewhere who believe the WTO is not working for people," she said. "This is of course not true, although we have not been able to clearly demonstrate it, but it worsens the trust deficit that I have noticed in these past 15 months."
Food shortages
In the face of a looming food crisis, Okonjo-Iweala hoped nations agree to a declaration "allowing the free flow of food and agricultural inputs, especially for humanitarian purposes" by lifting or easing export restrictions on food and exempting World Food Program humanitarian purchases from export restrictions.
"This must be coupled with support to poor countries rich in land and natural resources to produce more of their own food," she said, noting there have been related initiatives by the World Bank, African Development Bank and European Union. "Low-income countries face a catastrophic situation if action is not taken at both the national and international levels."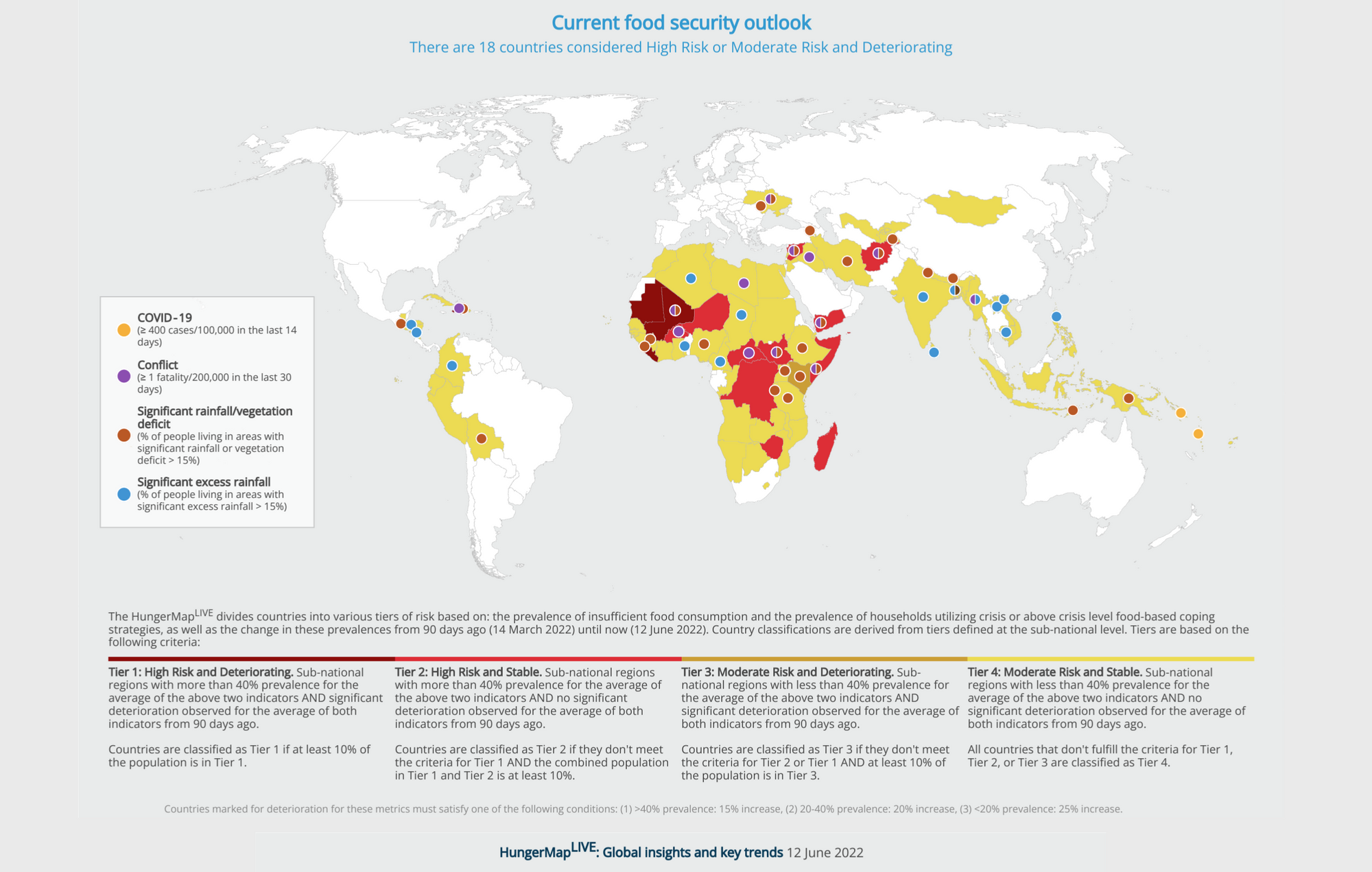 War in Ukraine's impact on hunger
Over the summer tens of millions of people in 20 nations and other hunger "hotspots" will need emergency aid as they face a sharply increased risk of starvation, WFP and the Food and Agriculture Organization predicted last week.
Okonjo-Iweala noted that droughts, floods, heat waves and other extreme weather events exacerbate the COVID-19 pandemic-related supply chain bottlenecks, leading to rising food prices worldwide, and the situation is worse since Russia invaded Ukraine on February 24. With Russia blockading its ports, Ukraine has warehouses of products such as wheat and sunflower oil that cannot reach markets.
Wheat and cereal prices rose 56% and almost 30%, respectively, from a year ago, while vegetable oils are up 45%, FAO says. Fertilizer prices in low- and middle-income nations increased 128%, according to the World Bank. That puts inflationary pressure on economies everywhere, with high food and energy prices hitting poor people hardest.
"Though Russia and Ukraine make up less than 3% of world goods trade, they loom large in exports of key foodstuffs, accounting in 2019 for 25% of internationally traded wheat, 15% of barley and, together with Belarus, 20% of fertilizer," Okonjo-Iweala said.
"Many low- and middle-income countries import a substantial percentage of their food and agricultural inputs from the region," she said. "For example, 35 countries in Africa import food products and 22 import fertilizer from the Black Sea region."
Vaccine patent waivers
Trade diplomats will attempt to build on growing support for temporarily waiving vaccine patent protections so developing countries can produce generic versions of COVID-19 vaccines. Okonjo-Iweala and the World Health Organization's director-general, Tedros Adhanom Ghebreyesus, support suspending intellectual property protections to speed up global vaccination campaigns that could more quickly end the coronavirus pandemic.
WTO is deadlocked over a proposed annual waiver of parts of the 1995 TRIPS Agreement, a major intellectual property agreement that covers copyright and related rights for music and broadcasting; trademarks and geography, patents, industrial designs and circuit layouts; and commercial trade secrets and test data.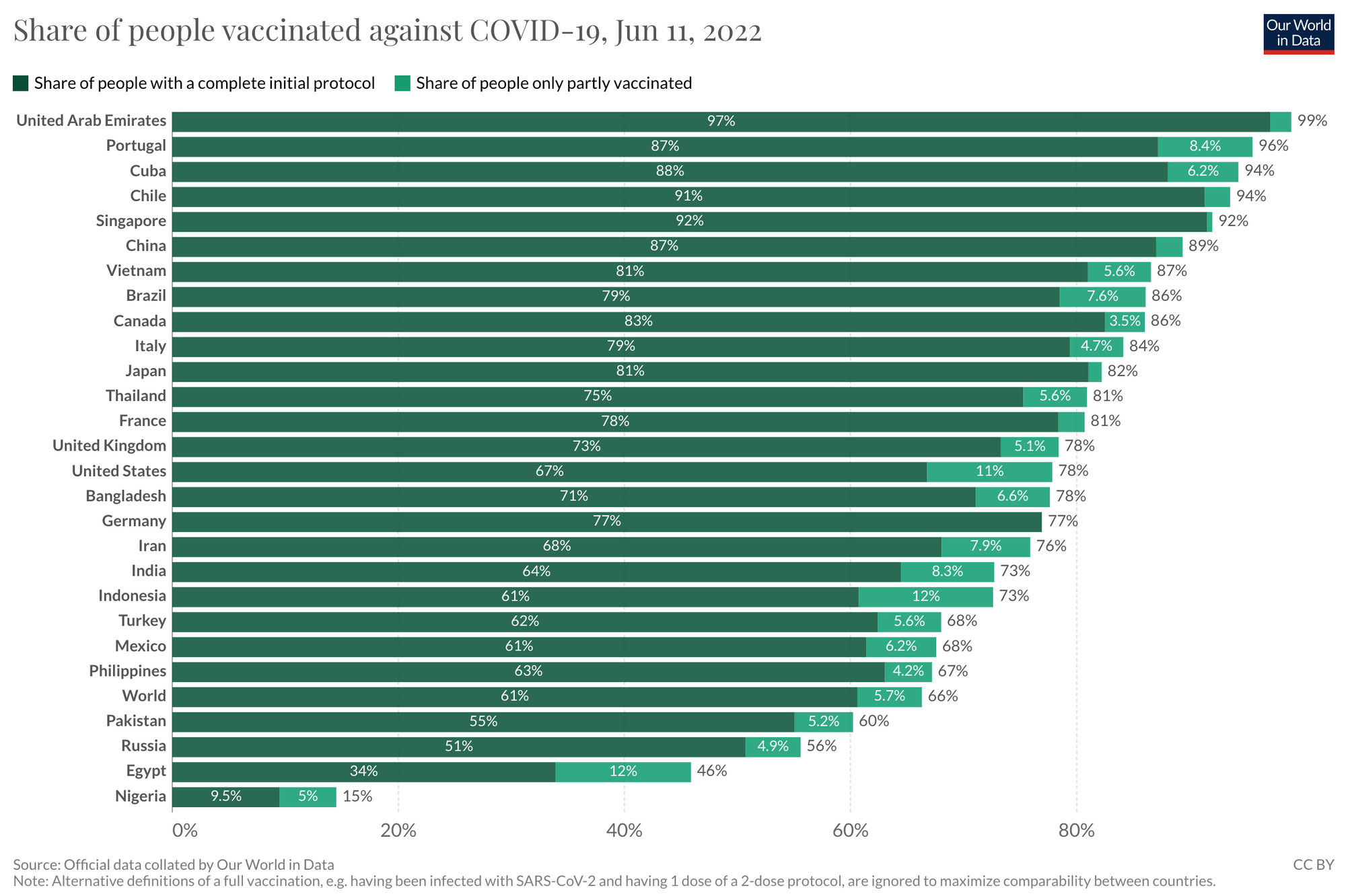 An initial proposal by India and South Africa called for WTO to authorize a waiver from fines or sanctions so any nation or company could produce a vaccine if it has the recipe and ingredients. The proposal would not have mandated public disclosure of patented technologies, however, and it included the potential for compensation.
More than 100 nations expressed support for the proposal, but consensus is needed. The strongest opposition came from nations with pharmaceutical and biotech headquarters. The United States at first opposed the waiver, but now supports it. Opposition remains from within nations such as Britain, Germany and Switzerland.
A new version of the draft proposal, based on a compromise between the European Union, India, South Africa and the U.S., would limit the waiver to certain patent rights on COVID-19-related vaccines, treatments and diagnostics, and would impose tighter restrictions on  developing countries that could take advantage of it. The idea behind an IP waiver is to eliminate barriers that developing nations face in doing research and development and in gaining access to more affordable and timely coronavirus vaccines and treatments.
Okonjo-Iweala said trade diplomats must "complete the work that will allow the WTO to have a holistic response to this pandemic and future ones" by agreeing to a legally binding agreement on the TRIPS waiver and a companion "trade and health declaration" to reduce trade barriers for essential medicines and active pharmaceutical ingredients they contain.
"Getting these documents to you has been a painful process of tough negotiations after almost two years of little movement on the latter issue," she said of the negotiating texts. "What remains to be decided requires political will — and I know you have it — to get us over the finish line. Getting agreement on the response to the pandemic will enable millions of people to access affordable vaccines and medical countermeasures in this and future pandemics."
Fishing subsidies
Nations appear to have made some progress towards a long stalemated deal aimed at halting government subsidies that contribute to overfishing, though some nations with big fleets such as China and India are seeking exemptions. Many coastal communities worldwide depend on fisheries for food and livelihoods but must compete with government-financed industrial fishing vessels that draw down local fish stocks.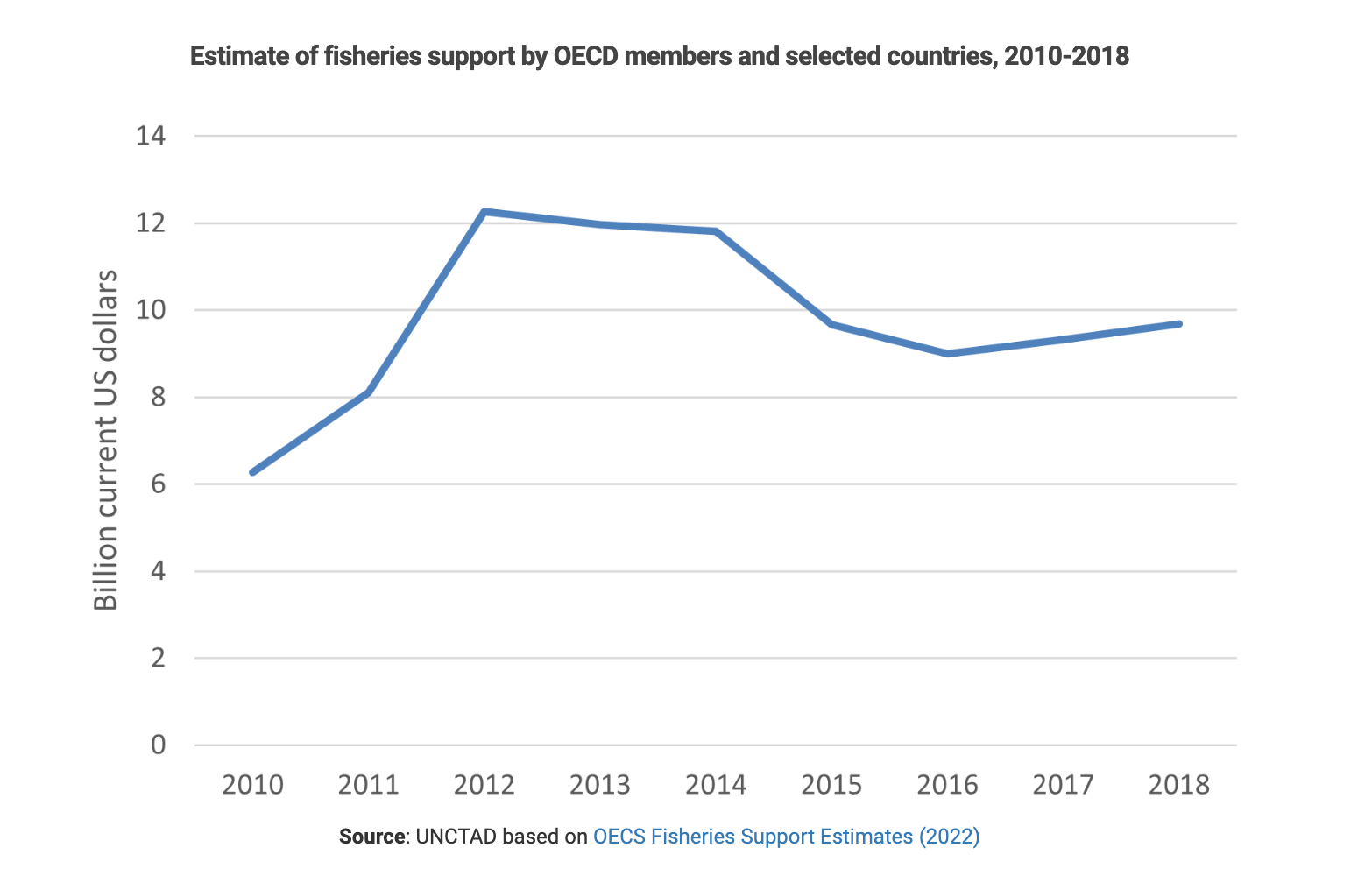 There have been more than two decades of negotiations on how to eliminate subsidies that contribute to unreported and unregulated illegal fishing. Talks began in Qatar's capital Doha in 2001 and were supposed to conclude by the end of 2020, in line with progress towards the U.N.'s 17 anti-poverty Sustainable Development Goals, or SDGs.
Fishing subsidies may run as high as US$35 billion worldwide, including US$20 billion that directly contributes to overfishing, according to the Geneva-based U.N. Conference on Trade and Development.
Fishing subsidies for 39 nations averaged US$12 billion a year between 2012 and 2014, then declined 20% to US$9.4 billion a year between 2015 and 2018, according to the Organization for Economic Cooperation and Development.
Some major fishing nations of Europe and Asia favor less-than-total limits, while some developing nations want to be virtually exempted. Annual subsidies help industrialized fleets keep capacity through boat-building, maintenance and purchases of gear, fuel and ice. Among the main providers of the subsidies are China, the E.U., Japan, South Korea and Spain.
The percentage of stocks fished at biologically unsustainable levels, meanwhile, rose to 34.2% in 2017, up from 10% in 1974, according to FAO.
In 2016, UNCTAD, FAO and the U.N. Environment Program proposed a "roadmap" for ending subsidies supported by at least 90 U.N. member nations, mostly in Africa and South America, and more than a dozen international and regional organizations. It would require countries to disclose information on subsidies, then prohibit and replace them with new deterrents. It was based on the U.N. SDGs' call to conserve and sustainably use oceans, seas and marine resources.
Okonjo-Iweala said WTO's prospective agreement to end harmful fishing subsidies "beautifully illustrates the WTO's founding purpose," which is to enhance people's living standards, create jobs and support sustainable development. "This agreement is crucial to the 260 million people around the world whose livelihoods depend directly or indirectly on marine fisheries," she said. "It is also central to the sustainability of our oceans, where the latest studies show close to 50% of stocks for which we have data are overfished."
Comments