The anti-U.N. rhetoric in the Republican wing of American politics is cranking up again as the presidential race gears up for the 2024 election.
Nikki Haley, a former U.S. ambassador to the United Nations campaigning to topple Donald Trump as the presumed Republican nominee for president, called for the U.N. to be defunded "as much as possible."
The former South Carolina governor told Fox News in an interview on Wednesday she would order the United States to withdraw from several U.N. organizations and treaties as Trump did in his 2017-2021 presidency.
She stopped short of calling for complete U.S. withdrawal from the global organization but deried it when asked by Fox News host Sean Hannity if she agreed the U.N. is "historically anti-American and anti-semitic."
"That's a true statement," Haley replied. Hannity pressed her to reveal if she would order the U.S. to withdraw if she won the presidency. She said the permanent veto-wielding seat on the U.N. Security Council given to Britain, China, France, Russia and the U.S. is the only reason to stay.
"The only thing is we would defund the U.N. as much as possible. The only reason, Sean, you don't get out of the U.N. is we're one country of five that has a veto," Haley said.
"And the number of things we were able to stop China, Russia and Iran from doing with that veto matters, and so you keep bad things from happening," she said. "But we don't have to pay at the level that we're paying, and we don't have to be in any of those other organizations."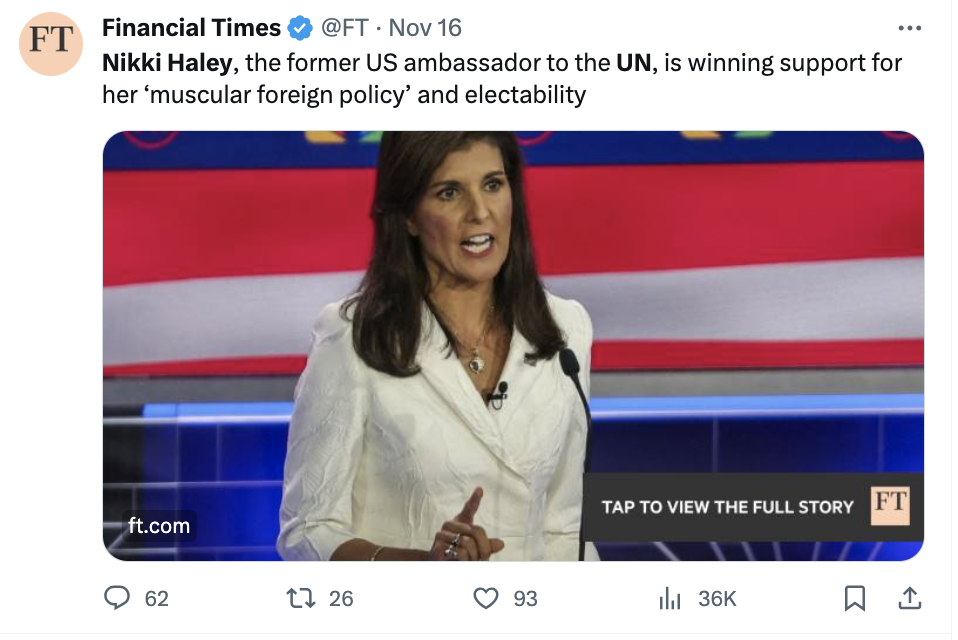 'We should stay out of it'
The United States remains the largest donor to the United Nations, contributing about one-fifth of its funding. That came to more than US$$12 billion in 2021 despite former U.S. President Donald Trump's efforts to drastically cut it. U.S. President Joe Biden's administration restored funding including aid to UNRWA, the U.N. agency for Palestinian refugees.
Trump pulled the U.S. out of the Human Rights Council, Paris Agreement on climate change, U.N. cultural and educational agency UNESCO and a string of other organizations and treaties. Biden reversed Trump's decisions and has tried to undo the damage to international relations.
Haley, who is rising in the polls but still lags far behind the Republican front-runner Trump, told Hannity the World Health Organization, which Trump also disavowed, is "bought and paid for by the Chinese."
The remarks are a page from Trump's playbook in 2020 when he accused the U.N. health agency and its leader of being bought off by the Chinese. WHO Director-General Tedros Adhanom Ghebreyesus objected, saying such claims were "untrue, without any foundation, and unacceptable."
Haley, however, revived the charges as part of her attempt to peel away Republican voters who still overwhelming support the twice-impeached and legally embattled Trump.
"All of these organizations, the World Health Organization, we shouldn't be a part of it," Haley said. "We should get out of it, and we should stay out of it. This all started when we helped China to get into the World Trade Organization."
China joined WTO in 2001 after 15 years of negotiations. WTO Director-General Ngozi Okonjo-Iweala called it a "pivotal event in the history of the multilateral trading system" that has helped lift millions out of poverty.
"If I become president, we will get out of the Human Rights Council," Haley said. "We would certainly not get back into the Paris climate agreement."
The Trump administration announced the U.S. would pull out of the Paris Agreement in 2017 and the Human Rights Council in 2018.
As Trump's ambassador to the U.N., Haley and then-U.S. Secretary of State Mike Pompeo said the 47-nation council based in Geneva had a "chronic bias against Israel" and lacked credibility because it let nations such as China, Cuba and Venezuela become members. She called it "a hypocritical and self-serving organization that makes a mockery of human rights."
U.S. participation has increased the council's credibility, according to diplomats and activists, because it is one of the few powers willing to call out nations such as Russia and China for reported human rights abuses.
The U.S. has also come in for its fair share of criticism, notably over systemic racism and police brutality in recent years. The U.N. has long been accused of bias against Israel within the U.N. system particularly among the Group of 77 coalition of U.N. member developing countries – whose moniker is now a misnomer because it includes 134 nations.
The council replaced the now-defunct U.N. Commission on Human Rights, which was regarded as a highly politicized entity overly critical of Israel.
Comments