GENEVA (AN) — The world's top climate experts sounded the alarm over the consequences of inaction in an exhaustive new report that details the hell of a warming world fast approaching for billions of people on the planet.
Hardest hit are the people and ecosystems least able to cope with the drought, heat waves, hunger, extreme weather, sea level rise and other effects of global warming, the U.N.'s Nobel Prize-winning Intergovernmental Panel on Climate Change says in its major report, entitled Climate Change 2022: Impacts, Adaptation and Vulnerability.
The full report, which runs to 3,675 pages, was approved by 195 member governments of IPCC. It is accompanied by a 96-page technical summary and a 40-page summary for policymakers.
The report says the world already has at least 3.3 billion people who are "highly vulnerable" to climate change and nations must do what is necessary to limit human-caused global warming to no more than 1.5 degrees or they will face dire consequences.
The risk of coastal flooding from sea level rise will be a reality for 1 billion people by mid-century, forcing many more people to leave their homes. Particularly hard hit will be parts of Africa, Central and South America, and South Asia.
But the report, prepared by hundreds of authors and editors from 67 countries, also provides a silver lining in that it makes clear there is reason for hope if the world takes immediate, concrete steps to prevent or minimize some of the risks.
"The cumulative scientific evidence is unequivocal: Climate change is a threat to human well-being and planetary health," the report says. "Any further delay in concerted anticipatory global action on adaptation and mitigation will miss a brief and rapidly closing window of opportunity to secure a liveable and sustainable future for all."
By the end of the 21st century, the IPCC says, between half to three-quarters of human population could be exposed to periods of life-threatening climatic conditions arising from coupled impacts of extreme heat and humidity. There will also be a rising toll on people's mental health, particularly that of younger people worried about the futures or struggling to cope.
"This report is a dire warning about the consequences of inaction," said Hoesung Lee, IPCC's chair. "It shows that climate change is a grave and mounting threat to our well-being and a healthy planet. Our actions today will shape how people adapt and nature responds to increasing climate risks."
U.N. Secretary-General António Guterres was more blunt. "I have seen many scientific reports in my time, but nothing like this. Today's IPCC report is an atlas of human suffering and a damning indictment of failed climate leadership," he said.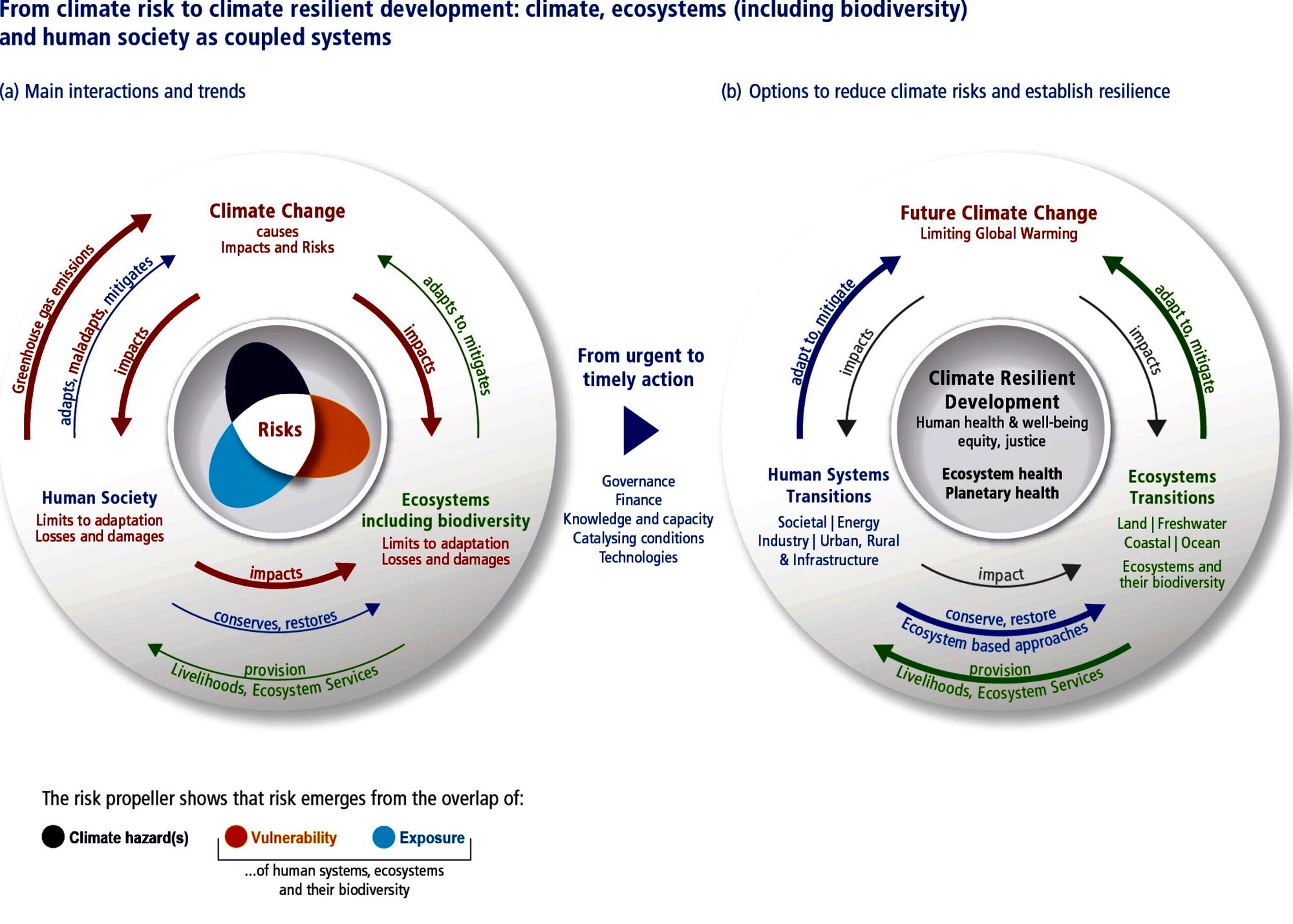 Half of humanity in the danger zone
Almost 200 nations signed on to the 2015 Paris Agreement's obligations of holding the increase in global average temperatures to well below 2 degrees Celsius above pre-industrial levels and, preferably, to limit the temperature increase to 1.5 degrees C. above pre-industrial levels.
The planet has already warmed by 1.1 degree so far, and scientists say it is on track to experience more than double the preferred limit of 1.5 degrees by the end of the century.
Each tenth of a degree multiplies the dangers for animals and plants and their habitats, and increases the likelihood that many more people dying from infectious diseases, illness spread by mosquitoes, cardiac and pulmonary problems, heat stress and starvation.
Even with 1.5 degrees of warming, the planet faces unavoidable multiple climate hazards over the next two decades, according to IPCC, which says some of the impacts will be irreversible even if the limit is exceeded only temporarily. That limit is expected to be reached sometime in the 2030s.
"With fact upon fact, this report reveals how people and the planet are getting clobbered by climate change. Nearly half of humanity is living in the danger zone now," said Guterres.
"Many ecosystems are at the point of no return now. Unchecked carbon pollution is forcing the world's most vulnerable on a frog march to destruction now. The facts are undeniable," he said. "This abdication of leadership is criminal. The world's biggest polluters are guilty of arson of our only home. It is essential to meet the goal of limiting global temperature rise to 1.5 degrees."
The reports offers some options to adapt to a changing climate. "Healthy ecosystems are more resilient to climate change and provide life-critical services such as food and clean water," said Hans-Otto Pörtner, co-chair of an IPCC working group.
"By restoring degraded ecosystems and effectively and equitably conserving 30-50% of Earth's land, freshwater and ocean habitats, society can benefit from nature's capacity to absorb and store carbon, and we can accelerate progress towards sustainable development, but adequate finance and political support are essential."
Comments