GENEVA (AN) — Almost half of the world's 2.2 billion children live among 33 nations where there is an "extremely high" potential for deadly exposure to multiple shocks due to inadequate essential services, UNICEF's first child-focused climate risk index found on Thursday.
Among those approximately 1 billion children who face the greatest risks, the most vulnerable to disruptions to their health and education live in Central African Republic, Chad, Guinea, Guinea-Bissau and Nigeria, according to the Children's Climate Risk Index launched in collaboration with the Fridays for Future youth climate movement.
The index, which ranks nations according to children's exposure to cyclones, heatwaves and other climate-affected hazards, indicated the number of children who face the greatest risks due to lack of clean water and sanitation along with inadequate healthcare and schooling is likely to grow as the anticipated devastating impacts of human-caused climate change worsen.
"For the first time, we have a complete picture of where and how children are vulnerable to climate change, and that picture is almost unimaginably dire," UNICEF Executive Director Henrietta Fore said on the third anniversary of the "school strike for climate" movement sparked by Swedish teenage activist Greta Thunberg's August 2018 protests in front of Swedish parliament.
"For three years, children have raised their voices around the world to demand action," said Fore. "UNICEF supports their calls for change with an unarguable message — the climate crisis is a child's rights crisis."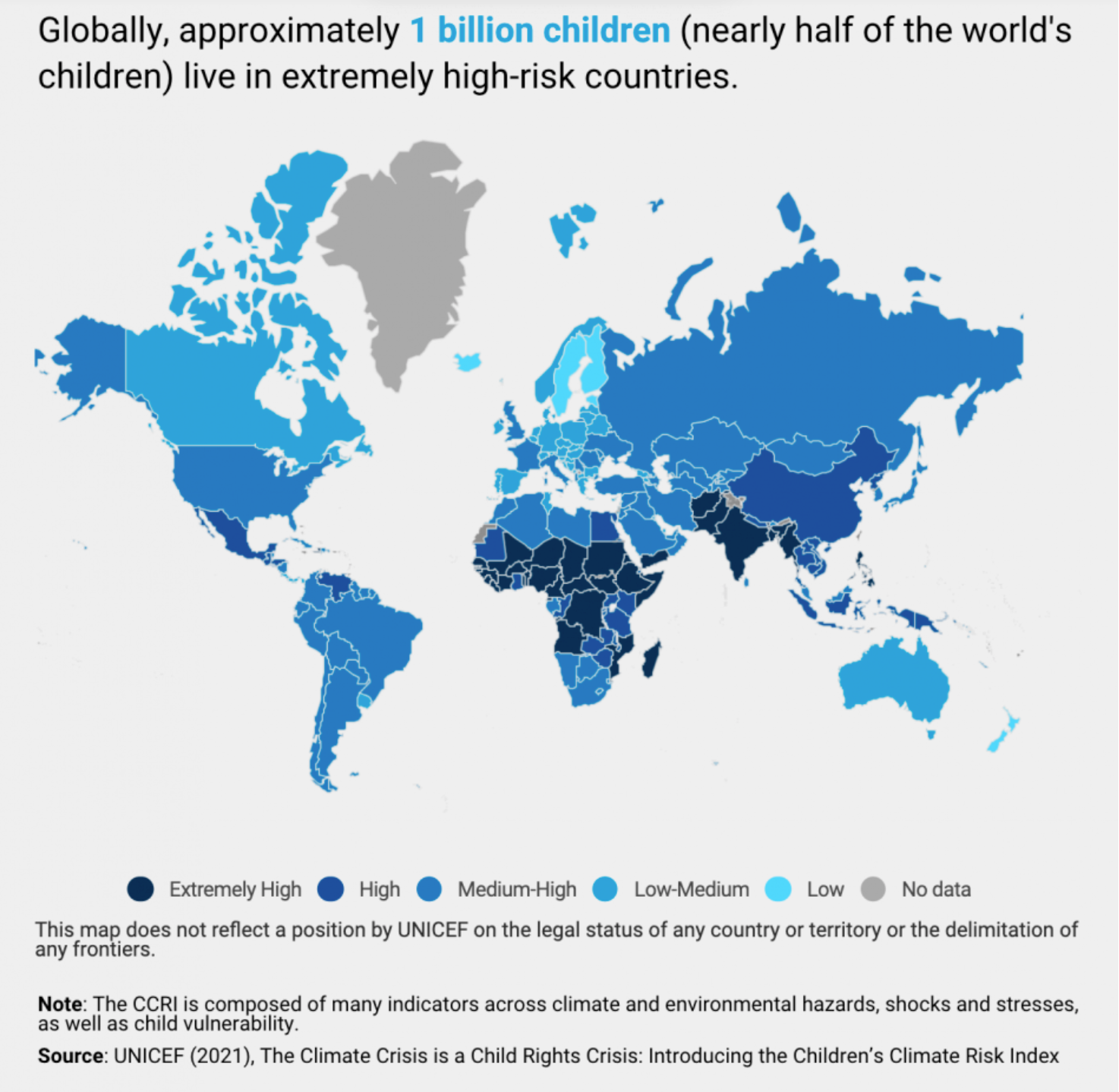 Still time to act
Thunberg has repeatedly denounced world leaders for relying on youth to persuade people to do something concrete about the climate crisis. Adults still have not listened, Thunberg wrote in an op-ed article co-authored by three other youth climate activists from Bangladesh, Mexico and Kenya.
"For children and young people, climate change is the single greatest threat to our futures," the four wrote in an article published in The New York Times to coincide with the release of the UNICEF's climate risk index.
"We are the ones who will have to clean up the mess you adults have made, and we are the ones who are more likely to suffer now," they wrote. "Children are more vulnerable than adults to the dangerous weather events, diseases and other harms caused by climate change, which is why a new analysis released Friday by UNICEF is so important."
They noted the index finds virtually every child on the planet is exposed to at least one climate or environmental hazard right now, while about 850 million children are exposed to four or more climate or environmental hazards such as air pollution, cyclones, flooding, heat waves or water scarcity.
"This is the world being left to us," they wrote. "But there is still time to change our climate future. Around the world, our movement of young activists continues to grow."
Comments