Famine looms in parts of Somalia between October and December and will likely last at least four to six months, the United Nations humanitarian chief warned, amid skyrocketing global food prices and worsening drought, conflict and mass displacement.
Martin Griffiths, who heads the U.N. Office for the Coordination of Humanitarian Affairs, said on Monday an analysis shows "concrete indications" that famine will occur in two areas, the Baidoa and Burhakaba districts, of Somalia's southern Bay region.
The climate change-linked drought is the worst in four decades, and is forecast to continue, with the harm to Somalia and the broader Horn of Africa region, including Ethiopia and Kenya, compounded by global food price spikes caused by the war in Ukraine.
Somalia was getting at least 90% of its wheat from Russia and Ukraine before the war began and Russia's war also has diverted humanitarian aid donors' focus to Europe.
Though not quite a formal famine declaration, OCHA's alarm is a call to action for governments and humanitarians to urgent rally resources for Somalia, where at least 1 million people have been displaced.
"I have been shocked to my core these past few days by the level of pain and suffering we see so many Somalis enduring," he told reporters in Somalia's capital, Mogadishu.
"Famine is at the door, and today we are receiving a final warning. I repeat: This is a final warning to all of us," he said. "One and a half million children across Somalia will face acute malnutrition by October if we remain on the current course."
The International Rescue Committee warned millions of lives are at stake in the region if world leaders do not immediately ensure that enough money reaches humanitarian partners and front-line organizations working directly on the ground.
Thousands of people have already lost their lives, IRC said, and millions more lives could be lost across East Africa where four seasons of inadequate rainfall have crippled livelihoods and access to food for more than 36 million people.
"This is a devastating announcement," IRC's President and CEO David Miliband said of Griffiths' warning. "A famine designation will be too late — people are already dying. During the last famine in Somalia in 2011, half of all deaths occurred before famine was declared. It took two years to assess the full death toll."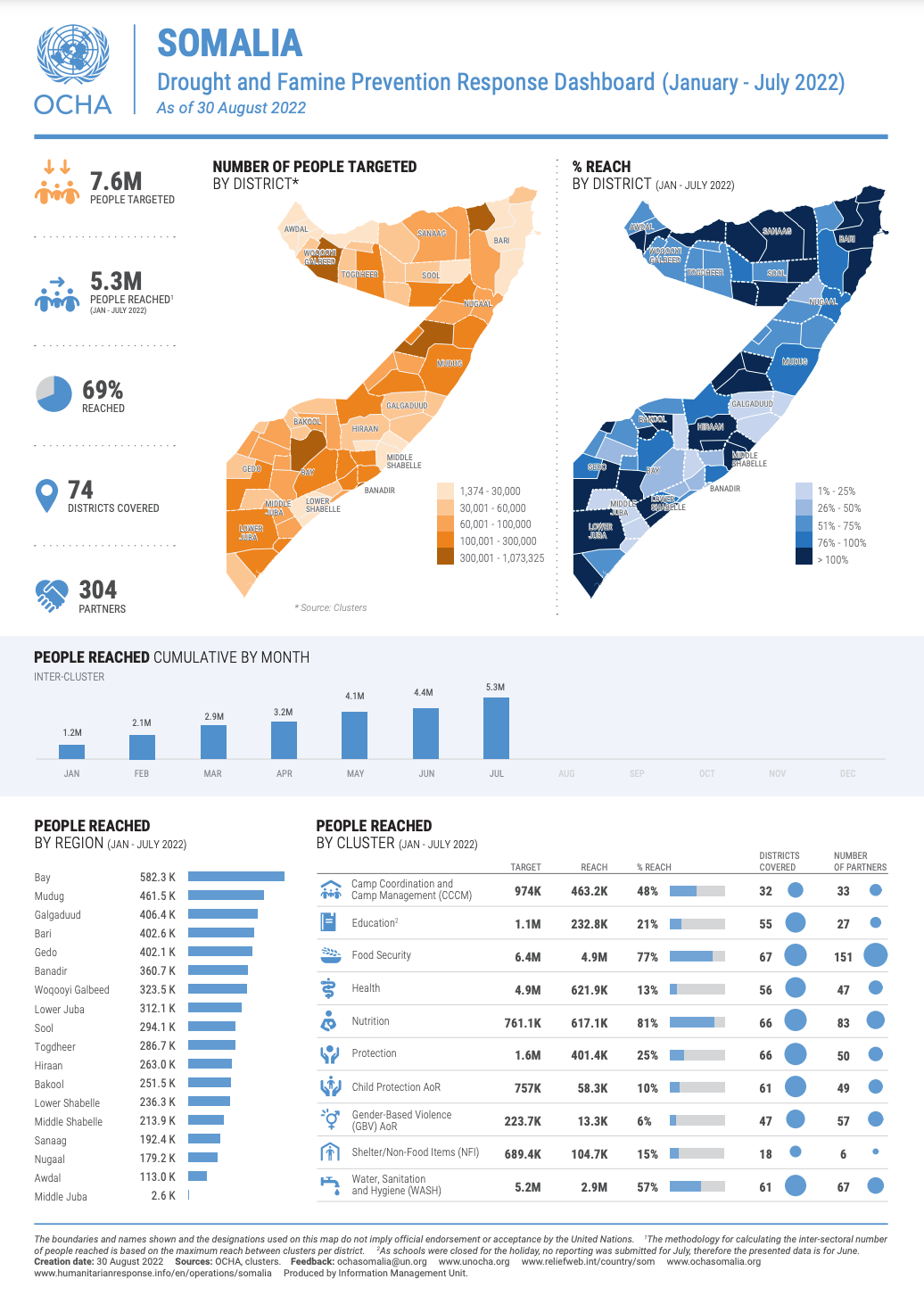 'None of the children could smile'
Famine is a technical term, marking an official declaration of the most severe hunger crisis. It shows malnutrition is widespread and people have started dying of starvation through lack of access to sufficient, nutritious food.
A famine declaration is made when acute malnutrition rates among children exceed 30%, more than two people per every 10,000 die each day, and people are not able to access food and other basic necessities.
"Famine is never inevitable — with proper planning and coordination, it can be prevented and millions of lives can be saved," the World Food Program says. "Inequality is a critical factor, with low incomes in particular putting affordable food beyond the reach of millions."
Griffiths said the conditions look similar to how things were in the runup to Somalia's 2011 famine, which despite a formal declaration resulted in the deaths of about a quarter million people.
"Except now they are worse. The unprecedented failure of four consecutive rainy seasons, decades of conflict, mass displacement, severe economic issues are pushing many people to that brink of famine. And these conditions are likely to last through to at least March 2023," he said. "In camps for the displaced people, we saw extreme hunger. In the hospital in Baidoa, we had the unenviable privilege of seeing children so malnourished that they could barely speak."
Most people have no hope of ever being able to return home, even after almost a decade of displacement, he said. At a hospital in Banadir, a doctor told Griffiths that 40% to 50% more children are being taken in than just a few weeks ago. None of the children could smile and "very few could cry," he said, because they were took weak from lack of food and proper nutrition.
"We were told that when a child cries, there is a chance of survival," said Griffiths. "Children who don't cry are the ones we need to worry about. And this child, crying anxiously in front of us — the mother smiled."
Comments