WASHINGTON (AN) — The world's foremost international organization for financing environmental change sent up smoke signals warning that far faster action is needed on many fronts.
The Global Environment Facility, or GEF, said the current incremental rate of change trying to improve how the Earth's resources are managed will not be enough to further reduce poverty and save the planet from catastrophic effects of climate change, vanishing species and other environmental crises.
The number of people living in extreme poverty, earning less than US$1.90 a day, dropped to 10% of the world's population this decade, down from 35% at the start of the 1990s. Environmental leaders, however, say progress cannot continue at the current pace without much better care and replenishment of oceans, forests, clean water and other vital ecological resources everyone depends on.
"Business as usual will guarantee disaster; incremental change will not suffice," the GEF's CEO Naoko Ishii told its high-level meeting in June at Da Nang, Vietnam. "The only solution is transformational change. We need to transform food, urban and energy systems, and move to a circular economy."
With a membership of 183 nations and other international organizations, the GEF may be the biggest environmental entity that is not a household name, in part because its utilitarian moniker aptly describes a giant mechanism for mobilizing billions of dollars for global projects. Once every four years, the GEF's assembly gathers environment ministers and other senior officials from around the globe.
And since its creation on the eve of the landmark 1992 Earth Summit in Rio de Janeiro that galvanized the environmental movement, the Washington-based GEF says it has provided nearly US$18 billion in grants and mobilized another US$93 billion in co-financing for more than 4,500 projects in 170 countries.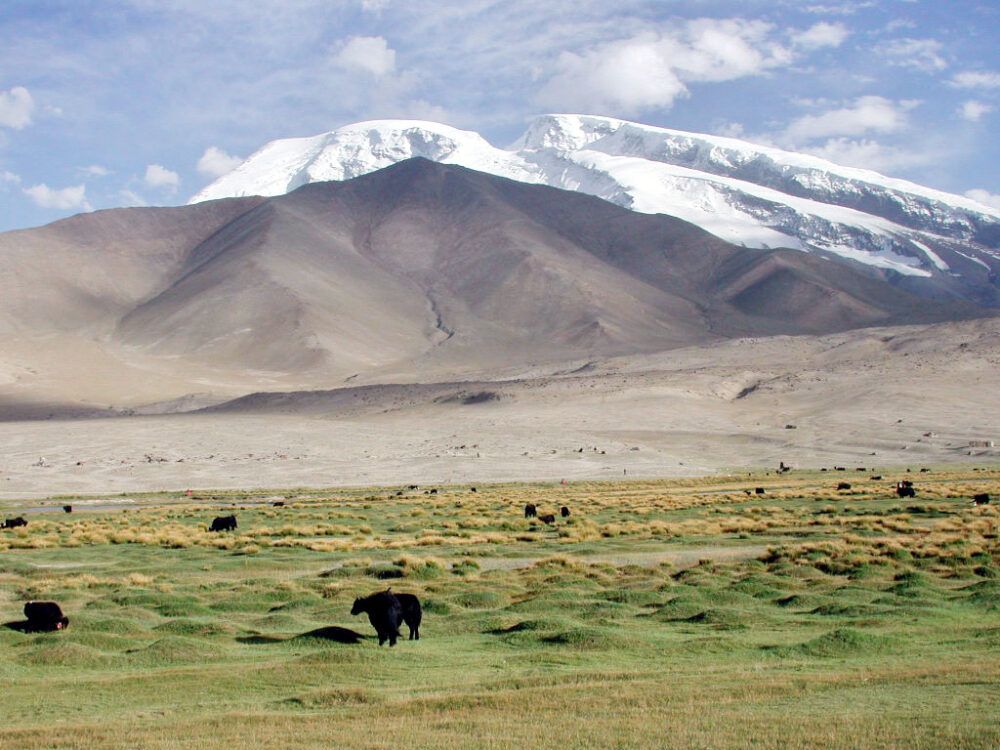 Muztagh Ata and sheep in the Pamir Mountains along the Karakoram Highway in China's Xinjiang Province (AN/J. Heilprin)
Stalled progress
But the interrelated fortunes of GEF and the Green Climate Fund, another international organization created as a financing tool for "consensus-based" projects between wealthy and developing nations, show the hurdles involved in trying to speed up environmental progress towards sustainability and clean energy amid a rising tide of angry, right-wing populism in politics.
In 2010, the GCF was created to help developing countries fulfill the 194-nation international treaty known as the United Nations Framework Convention on Climate Change, or UNFCCC.
The United States became the South Korean-based GCF's largest donor, pledging US$3 billion and contributing a third of that before the end of the Obama administration in January 2017. Since then, U.S. President Donald Trump, who announced plans for the United States to withdraw from the 2015 Paris Agreement on climate change, has not made any pledges to the fund.
The fund says it has already launched dozens of projects worth about US$1.6 billion collectively. It replenished its financing with US$4.1 billion in pledges from almost 30 nations last April, but that was a 7% drop from the US$4.43 billion in pledges at the replenishment round in 2014.
"The global environment is worsening and the consequences are increasingly being felt," said Axel van Trotsenburg, a World Bank vice president of development finance, though he added that the latest pledges represent a relative bright spot "in times when multilateralism is frequently challenged."
After the Paris Agreement was enacted three years ago, the new GCF became a centerpiece for action focused on the poorest countries in the world, which are the most vulnerable to the effects of climate change but emit only about a fifth of the world's heat-trapping carbon emissions.
Due to financing problems, however, the fund failed to add any new items this summer to the portfolio of 76 projects that it supports, most of them in developing nations of Asia and Africa.
Its board members said they had "four days of challenging and difficult discussions" due to the bleak financial picture. They conceded on July 4 they were unable to add new projects or even reach consensus on new policies for investments, let alone take on new partners as accredited entities.
"This has been a very difficult and disappointing board meeting for all of us, but most importantly for those people who are most vulnerable to climate change impacts, and who depend on the activities of the fund," said Swedish diplomat Lennart Båge, the meeting's chair.
"Whilst the results of the meeting are disappointing," he said, "we should not overlook that the fund has a strong portfolio of transformational projects, with many already under implementation in support of the climate ambition of developing countries."
At the end of the meeting, the fund announced that its executive director, Australian diplomat Howard Bamsey, was retiring with immediate effect, after less than two years on the job.
A big promise, undelivered
The setbacks cast doubt on wealthy nations' promise to jointly mobilize US$100 billion a year by 2020 for developing countries' most pressing climate mitigation and adaptation needs.
That goal was adopted at the 2010 international climate summit at Cancún, Mexico that was hosted by U.N. Climate Change, the UNFCCC's secretariat.
Australia and Britain later took the lead in developing a roadmap to come up with the money, based on technical analysis by the Organization for Economic Cooperation and Development, or OECD. The developments come as experts warn that projected climate change impacts are getting far worse.
The U.N.'s Nobel Prize-winning global warming panel is preparing to report on how the Earth will change if it warms by 1.5 degrees Celsius above pre-industrial levels or exceeds that desired limit, which the world agreed on at Paris in 2015.
Their report is meant to be a wake-up call that time is running out. It will be aimed at "strengthening the global response to the threat of climate change, sustainable development, and efforts to eradicate poverty," the U.N. Intergovernmental Panel on Climate Change, or IPCC, said in a statement.
A June 4 final draft of the report showed global warming was on track to exceed the 1.5 degrees Celsius limit in the 2015 Paris Agreement by around 2040, and averting that scenario will require "rapid and far-reaching" transitions in the world economy, Reuters reported. IPCC had no public comment.
Previous reports from IPCC, involving 195 member-nations and thousands of scientists around the world, found rising temperatures over the past century, mainly from industrial emissions of carbon dioxide and other heat-trapping atmospheric gases, raise the likelihood and frequency of extreme weather, rising sea levels, drought and disease, plus widespread harm to farmland, fisheries and forests.
In Vietnam, GEF and GCF agreed on joint steps to boost climate financing. The assembly drew at least 1,200 people, including heads of state and leaders from government and international organizations.
Bamsey, the GCF's former executive director, said the organizations must "strengthen the synergies" between them and "simplify the architecture of climate finance." He and the GEF's CEO Ishii cited a forest protection project in Bhutan as an example of how they could better pool support and resources.
Staying positive
Vietnam's environment minister Tran Hong Ha, who chaired the meeting, said in his closing remarks that he was encouraged by the "enthusiasm and commitment" for tackling marine plastic waste, biodiversity losses, climate change and other key challenges.
Guyana's President David Granger said the assembly recognized "the necessity and urgency of delivering transformational change to confront the challenges to the Earth's environment." He also emphasized that "incremental change, while necessary, will not be sufficient to avert environmental catastrophe."
GEF's new four-year investment strategy emphasizes the needs of least-developed and small island nations that are the most vulnerable to climate impacts like rising temperatures and sea levels, Ishii said.
"It is the poorest and most vulnerable countries that are hit the hardest from climate change," she said. "At this critical time, we all need to raise our climate ambition and the GEF is committed to transformational change."
Comments