The U.N. labor agency reported on Wednesday the number of home-based workers soared with the pandemic, prompting the need for more employment protections and access to health, legal and training resources.
The International Labor Organization estimated that before the outbreak of coronavirus, first detected in Wuhan, China in late December and declared a pandemic on March 11 by the World Health Organization, an estimated 260 million people, or about 7.9% of all workers globally, had home-based jobs. About 147 million, or 56%, were women.
"When the 2020 numbers are finally tallied, it is expected that the number of home-based workers will far surpass the 2019 figures," ILO said in a 279-page report. "In most countries for which data were available, home-based workers made up less than 10% of all employed persons; but in 13 countries, home-based workers accounted for more than 15% of the workforce."
Many who routinely work from home are employed in areas such as telemarketing, electronic assembly, embroidery, handicrafts, processing insurance claims, copy editing and data annotation for AI, according to an ILO statement, which said the pandemic has exacerbated the need to extend greater workforce protections to hundreds of millions of people already paid less than office workers.
ILO said, for example, that home-based workers on average earn 13% less than their office-based counterparts in the United Kingdom; 22% less in the United States; 25% less in South Africa; and 50% less in Argentina, India and Mexico.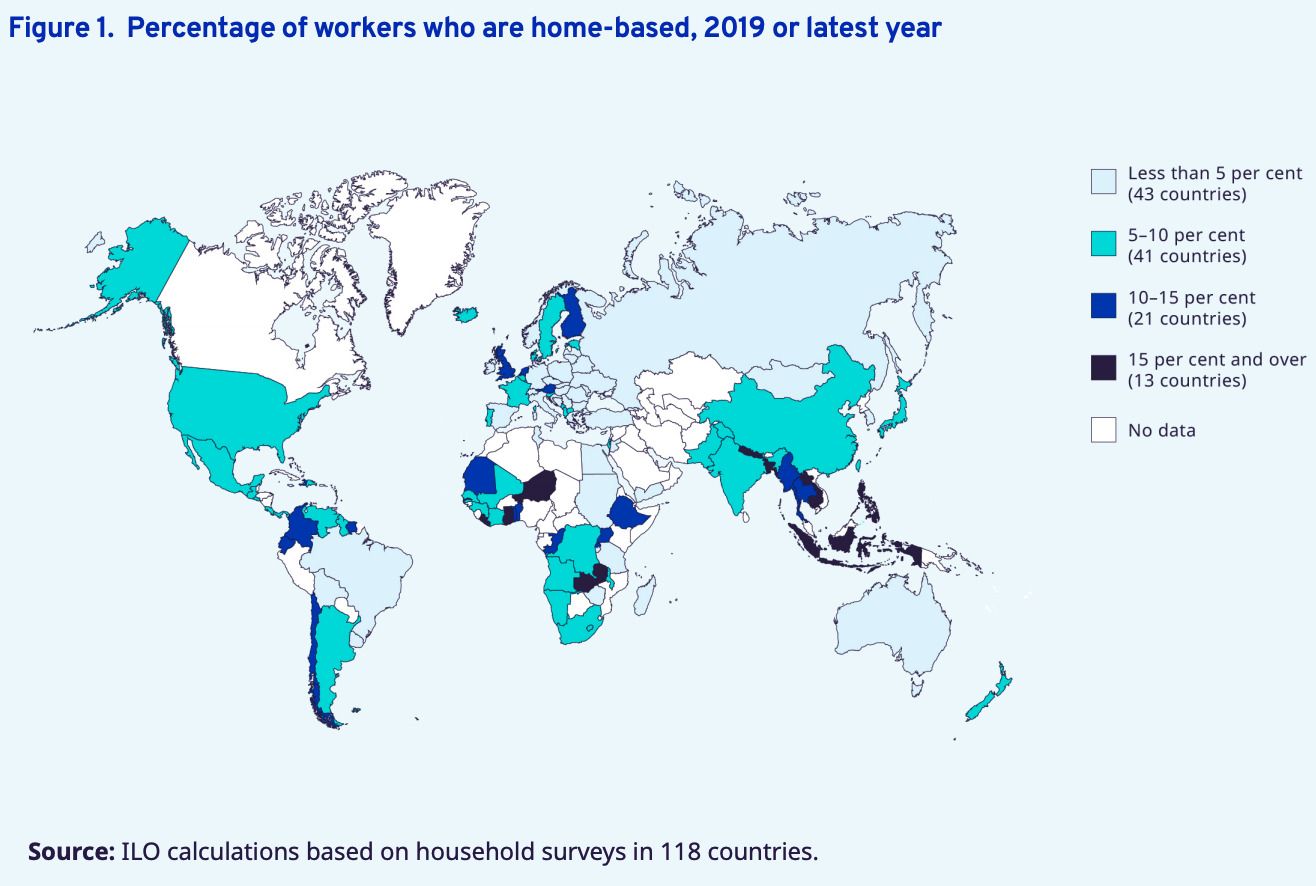 Lack of 'comprehensive policy'
The report said Asia-Pacific nations accounted for 166 million, or close to 65%, of all home-based workers. Benefits of home-based jobs include greater flexibility towards work hours, no commute time and accessible conditions for people with disabilities.
However, about nine-in-10 home-based workers have informal and, therefore, less protective arrangements with their employers, particularly in low- and middle-income nations, according to ILO, and they usually have less training and fewer trade union opportunities, while facing greater safety and health risks.
"There are significant social protection gaps for industrial homeworkers and home-based, digital platform workers," ILO reported. "Industrial home work is also associated with the use of child labor, including among children under 14 years of age."
ILO's Home Work Convention, an international treaty with legally binding requirements for nations to promote equality of treatment between homeworkers and other wage earners, took effect as much as two decades ago. Yet just 10 nations — Albania, Argentina, Belgium, Bosnia and Herzegovina, Bulgaria, Finland, Ireland, the Netherlands, North Macedonia and Tajikistan — have ratified it.
And while many nations have laws, and sometimes collective bargaining agreements, that cover aspects of work performed in home settings, said ILO senior economist Janine Berg, one of the report's authors, "few have a comprehensive policy on home work."
Comments