Climate change is damaging one-third of the world's most revered heritage sites and has become the single-biggest threat they face, the International Union for Conservation of Nature warned on Wednesday.
Swiss-based IUCN said in a report that climate change "is assessed as a high or a very high threat" to 83 of the 252 World Heritage Sites among 107 nations where they are listed by UNESCO, the United Nations' education and cultural agency. Among the chief concerns, IUCN said, are shrinking glaciers, coral bleaching, more frequent and severe fires and droughts, and other major effects of rising global temperatures.
Two of the sites, Australia's Great Barrier Reef and Mexico's Gulf of California, have entered the "critical" and most serious category of concern since 2017, the international organization reported. Sites such as Australia's Ningaloo Coast and Shark Bay, Switzerland's Jungfrau-Aletsch Glacier, and the United States' Papahānaumokuākea Marine National Monument, notably face climate threats beyond their borders.
"As the international community defines new objectives to conserve biodiversity, this report signals the urgency with which we must tackle environmental challenges together at the planetary scale," said IUCN Director General Bruno Oberle, whose organization — itself a network of 1,400 member organizations with 70,000 experts among them — acts as an official adviser to UNESCO's World Heritage Committee.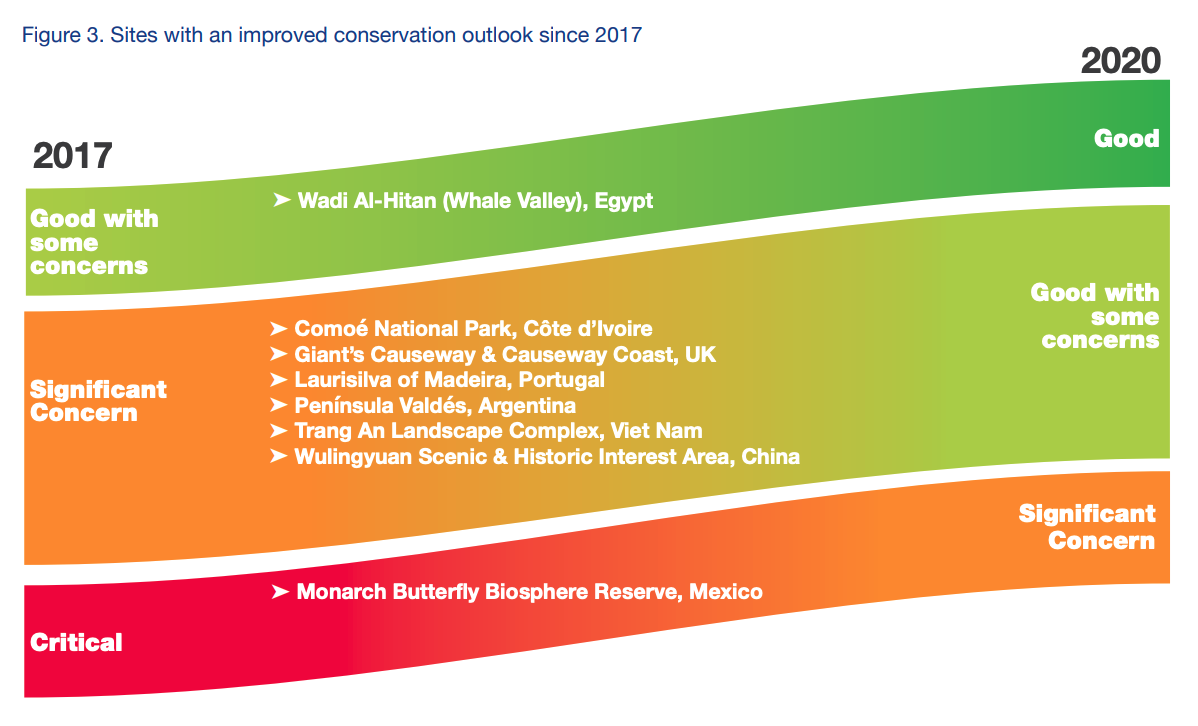 IUCN
Climate overtakes invasive species
Sixteen of the UNESCO sites have worsened since the last IUCN report on their condition in 2017, but eight of them in Argentina, China, Egypt, Ivory Coast, Mexico, Portugal, Vietnam and the United Kingdom have improved.
Climate change overtook "invasive alien species" — plants and animals introduced either deliberately or by accident into environments where they are not naturally found — as the primary threat. IUCN's 2014 and 2017 reports had found invasive species as the top ecological concern.
Other human activities that are wearing down the sustainability of the heritage sites, IUCN said, include global tourism, hunting and fishing, water pollution, fires and logging. But there are significant regional differences: hunting and fishing is among the biggest threats found to sites in Africa and Asia, while solid waste is a major concern in the Middle East and livestock grazing is a top worry in South America.
IUCN said the report is based on findings from three data sets compiled over six years that have been analyzed by 700 experts and 337 external reviewers and on input gathered from 81 nations.
Comments