GENEVA (AN) — Libya's two main warring factions agreed to hold nationwide elections for the presidency and parliament on December 24, 2021, the U.N. acting envoy for Libya, Stephanie Williams, told a news conference on Friday.
Libya has been split between rival governments and militias vying for power and oil since the 2011 NATO-backed uprising deposed and killed longtime dictator Muammar Gaddafi. Williams said the elections scheduled for next year are needed to elect a "new executive to unify the country" along with "an effective and unified government of national unity."
The scheduled date for the elections is a public holiday that carries a huge amount of symbolic importance, Williams noted, because it is the 70th anniversary of Libya declaring its independence from Britain and France in 1951.
"It will be a time, an occasion, on which they can democratically elect their leaders and renew the legitimacy of their institutions," Williams told a virtual press conference. "Of course we will work with them to seek full enfranchisement, including the ability of those who have been displaced from their homes, for them to be able to vote and to ensure the necessary security conditions."
The agreement to schedule elections at the end of next year was made between the military coalition of renegade general Khalifa Haftar, who took control of lands in the east and south, and forces loyal to Libya's prime minister, Fayez al-Sarraj, and his U.N.-backed Government of National Accord.
It was reached at U.N.-brokered talks held near the Tunisian capital, Tunis, this week as a follow-up on the ceasefire agreement signed at the United Nations' European headquarters last month that also required the withdrawal of military forces sent by Russia, Turkey and other regional powers.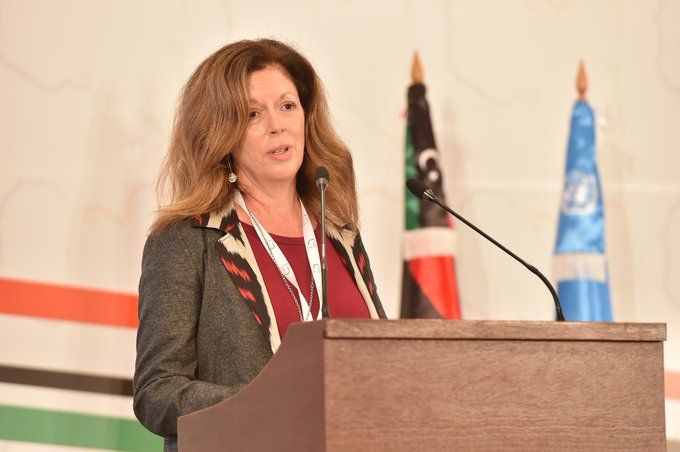 Stephanie Williams, U.N. acting special envoy and head of the U.N. Support Mission in Libya, at Libya's peace talks in Tunisia (AN/UNSMIL)
No preconceived list
Williams announced earlier in the week that the factions had agreed to hold elections no later than 18 months from now. The talks included 75 delegates and were overseen by Williams, an American diplomat who is an acting special representative of U.N. Secretary-General António Guterres.
Turkey, Italy and Qatar have been supporting the U.N.-backed government in Libya's capital, Tripoli. The United Arab Emirates, Russia and Egypt have been Haftar's main supporters, supplying his forces with arms as he blockaded oil exports, but his power has been decreasing since June when his 14-month campaign to capture the capital suffered huge losses.
Williams, who also serves as head of the U.N. Support Mission in Libya, or UNSMIL, has been trying to bring the North African nation back together after nearly a decade of chaotic violence. She has repeatedly emphasized the need for international support, including a police operation and military commission to secure areas cleared of military units and armed groups, along with the requirement that Libyans should pick their own candidates, free of any outside pressure.
"I want to make it really clear that there is no list of names and neither UNSMIL nor our international partners will propose or impose particular names," she said. But as with the participants in the peace negotiations, she added, all of the candidates will be asked to adhere to general principles of "inclusivity, transparency, efficiency, pluralism, collegiality, and patriotism."
https://youtu.be/jwSwd6wdjaM
Comments