GENEVA (AN) — With his one-day visit to Switzerland, Pope Francis encouraged Christians to rally for peace and justice, focusing attention on one of the world's oldest and largest international organizations: the Roman Catholic Church.
Francis's visit to Geneva, an epicenter of international organizations that hosts the United Nations' European headquarters, was the centerpiece of an ecumenical commemoration for the 70th anniversary of another international organization, the World Council of Churches.
Swiss President Alain Berset gave the pope a red carpet welcome to Geneva, one of the first cities to accept the Protestant Reformation in the early 16th century. Francis held an ecumenical prayer service in the chapel of WCC's Ecumenical Center. The pope's visit marked WCC's founding in 1948, and he encouraged Christians to rally for peace and justice.
"How hard it is to leave behind centuries-old disagreements and mutual recriminations," he said of the theological divisions that he urged all Christians to overcome by focusing instead on what unites them. "Our differences must not be excuses."
https://twitter.com/BR_Sprecher/status/1009740663691374593
'Journey toward unity'
As the world's largest and most inclusive ecumenical movement, WCC has 350 member churches in 110 countries. The Roman Catholic Church, with more than 1.2 billion members, has such an unusual status that it has formal diplomatic relations with nations.
The Holy See, the church's ecclesiastical jurisdiction, is an independent sovereign in Rome's Vatican City. With just 44 hectares of land, Vatican City is the world's tiniest nation by population and size. It became a permanent observer to the United Nations in 1964.
As such, Francis often advocates for justice and peace in the service of humanitarian aid while presiding over the church's complex international relations and laws. He cast his visit to Switzerland as an effort to build more bridges.
"It's a journey toward unity, the desire for unity," the pope said before greeting 60 journalists aboard the flight from Rome to Geneva, WCC said in a statement.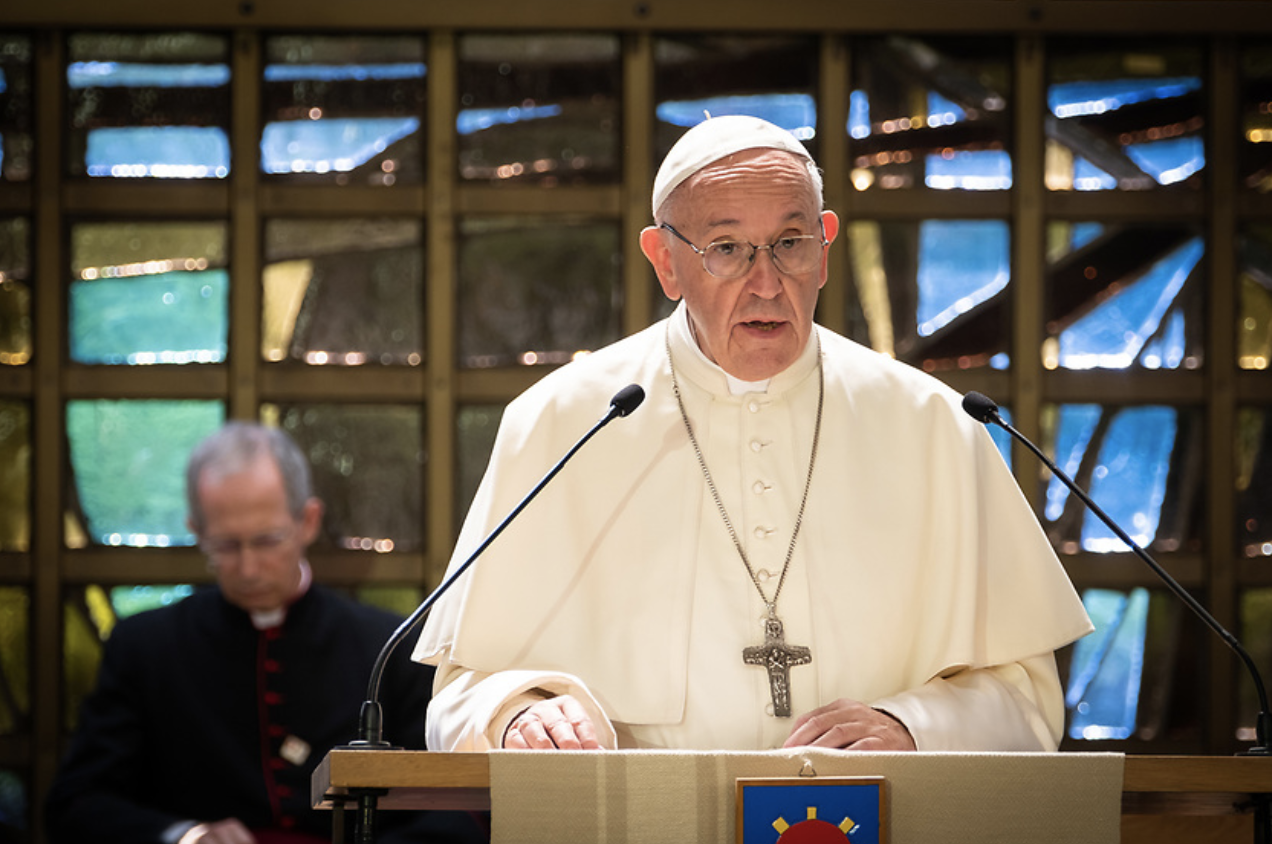 Pope Francis visits the World Council of Churches in Geneva (AN/Magnus Aronson/WCC)
Acting on humanity
The pope also supports Humanitarian Corridors, a pilot program and joint-ecumenical initiative for refugees run by the Community of Sant'Egidio, the Federation of Protestant Churches in Italy, the Italian government and the Waldensian and Methodist Churches.
It helps refugees get safely to Italy from places such as Eritrea, Ethiopia, Lebanon, Morocco and Syria without risking their lives on migrant traffickers crossing the Mediterranean Sea.
Francis also drew attention to a campaign for migrants and refugees this week that is sponsored by another international organization, Caritas Internationalis, the Rome-based confederation of Catholic charities that operates throughout the world.
"A person's dignity does not depend on them being a citizen, a migrant, or a refugee," the pope said on Twitter to mark the U.N.'s World Refugee Day on June 20. "Saving the life of someone fleeing war and poverty is an act of humanity."
Francis visited WCC's Ecumenical Institute in Bogis-Bossey, Switzerland, outside Geneva, and held mass with Switzerland's bishops at Geneva's Palexpo convention center. Almost 40% of Switzerland's 8.5 million population is Roman Catholic.
Nearly 27% is Protestant. More than 21% has no religious affiliation — a huge increase from 1.2% in 1970. And nearly 5% is Muslim, mostly from the Balkans and Turkey, while only 0.3% is Jewish, according to Swiss government figures.
Comments