The world is headed to 2.5 degrees Celsius of warming by the end of the century because of a huge gap between what nations are willing to do and what they must now do to slow climate change, U.N. researchers concluded in a report on Tuesday.
More than halfway through the United Nations-brokered climate summit in Glasgow, Scotland, the analysis by the U.N. Environment Program illustrates what is at stake in the negotiations: an urgency need for nations to quick raise their ambition towards reducing greenhouse gas emissions and switching to cleaner energy technologies.
The summit aims to fulfill the 2015 Paris Agreement's goal of preventing average global temperatures from rising more than 2 degrees Celsius above pre-industrial levels, or 1.5 degrees C. if possible — though the world already has warmed by more than 1 degree, so the choice is between four-fifths or three-tenths of a degree more warming.
Nations also committed to mobilizing US$100 billion a year in climate financing for improving developing nations' adaptation and resilience amid rising temperatures.
UNEP said its analysis is based on the new mitigation pledges for 2030 that 33 nations had offered since the cutoff date for nations to submit their plans before the start of the annual summit. Such pledges are called nationally determined contributions, or NDCs.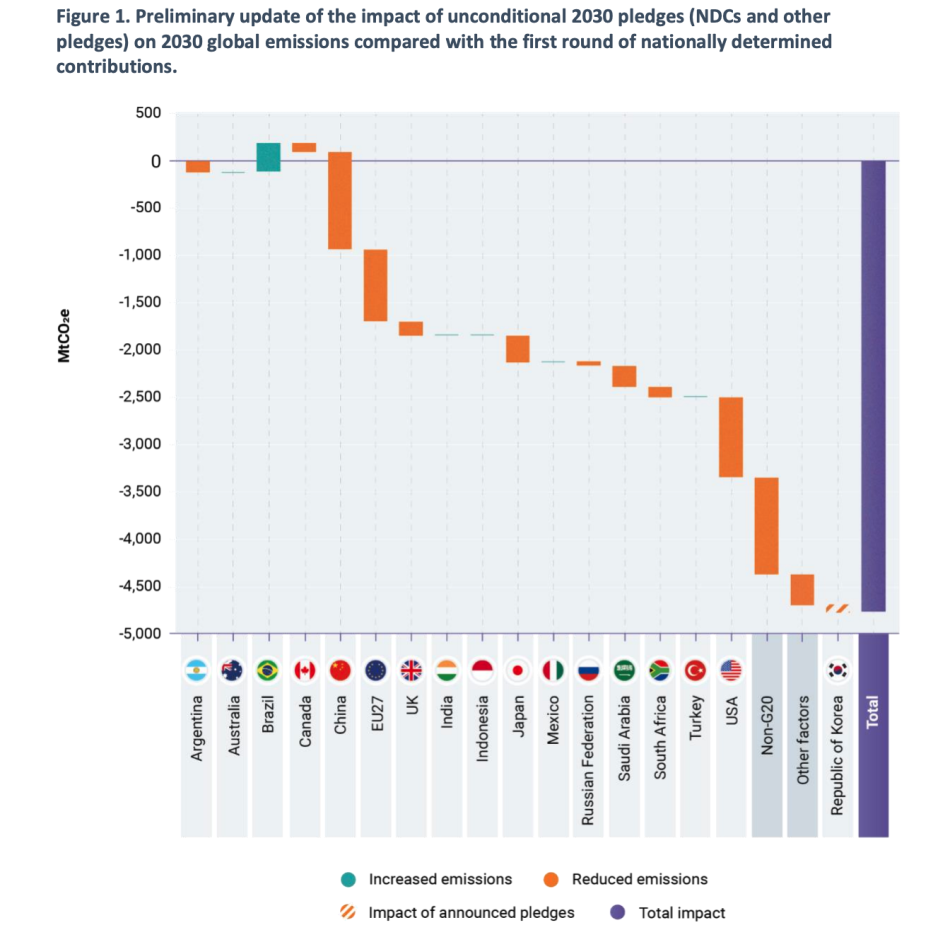 Stagnant ambition
The total number of NDCs seeking to rein in carbon emissions by 2030 "is now 152, covering 88% of global greenhouse gas emissions," UNEP assessed in an addendum to an earlier report.
But the world's top climate scientists say limiting global warming to 1.5 degrees C. would require nations to make a 45% reduction in human-caused greenhouse gas emissions by 2030. The Glasgow summit also aims to find a way to reach global net zero emissions around mid-century.
But as long as the level of ambition remains stagnant the "net zero" pledges will remain impossible, according to UNEP. And since emissions build up in the atmosphere over decades, nations' long-term net zero targets alone won't cut it.
"When the effects of full implementation of the latest updates of unconditional and conditional NDCs are projected out to 2100, warming over the 21st century is projected to be limited to 2.7°C (range: 2.2°C–3.1°C) and 2.5°C (range: 2.1°C–3.0°C), respectively, with a 66% probability," it said, adding the estimates "remain very similar" to those published a year earlier.
Comments