The Wall Street Journal has requested a U.N. advisory opinion that could help get its reporter Evan Gershkovich released from a Moscow prison.
The unusual request to the U.N. Working Group on Arbitrary Detention on Tuesday by lawyers for Dow Jones, the Journal's publisher, comes one week before the United Nations General Assembly's annual high-level gathering is held in New York and his appeal is heard in a Moscow court.
Dow Jones' lawyers want the Geneva-based working group to use its mandate from the U.N. Human Rights Council in Geneva to investigate the highly politicized case and issue an advisory opinion raising international pressure on Moscow to free Gershkovich, an American citizen.
A day later, Gershkovich's parents and sister appeared at U.N. headquarters at the invitation of U.S. Ambassador Linda Thomas-Greenfield to add to the pressure.
"This petition explains that Evan's detention is a violation of his human rights, and that Russia should release him immediately. We just want him home," said his father, Mikhail Gershkovich, speaking to reporters at a media stakeout shown on U.N. Web TV on Wednesday. "We urge all world leaders to stand with Evan and what he represents, the basic right to a free press and freedom of expression. These rights are bedrock principles of the United Nations."
Danielle Gerschkovich said the family wanted to remind the world that her brother "is innocent, and journalism is not a crime. We ask that world leaders help find a solution to secure Evan's release. If this can happen to my brother, it can happen to any journalist trying to report the news."
Ella Milman said her son has always been curious about the world, and he loves being a journalist and helping people understand Russia and the Russian people. "Now what he writes is letters," she said. "We've been able to send letters back and forth, and it gives me comfort to see how strong he is. We are glad he's kept his sense of humor – teasing me that the prison food reminds him of my cooking."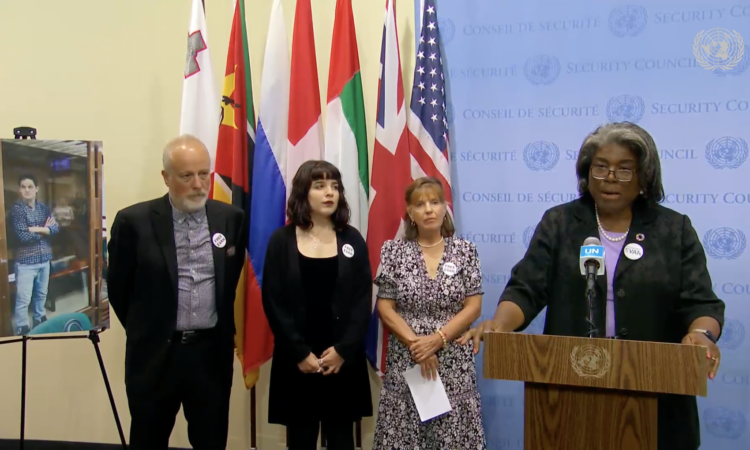 No evidence shown to support the allegations
The five-member working group looks into cases where people are unfairly imprisoned in violation of the Universal Declaration of Human Rights and international laws. If the working group agrees Gershkovich's detention is arbitrary, it would issue an opinion and make recommendations to Russia.
The lawyers argue Russia violated the reporter's rights and freedoms under both the UDHR and the International Covenant on Civil and Political Rights, which is quietly enforced by a little-known panel of experts.
"Since detaining him more than 165 days ago, Russia has failed to produce a shred of evidence in support of its accusations, which are patently inconsistent with Gershkovich's career as an independent journalist," the lawyers told the working group.
"Russia is not imprisoning Gershkovich because it legitimately believes its absurd claim that he is an American spy; instead, Russian President Vladimir Putin is using Gershkovich as a pawn," they wrote, "holding him hostage in order to gain leverage over — and extract a ransom from — the United States, just as he has done with other American citizens whom he has wrongfully detained."
Russia's Federal Security Service, or FSB, arrested Gershkovich while he was reporting from Yekaterinburg, Russia on March 29, and threw him in Moscow's Lefortovo Prison on charges of espionage. Gershkovich, his employer and the U.S. government adamantly deny those charges.
Russian authorities extended his initial pretrial detention, which was due to expire on May 29, until Nov. 30. Russian law allows such detentions to be extended every three months for up to one year. An appeal is scheduled for next week in Moscow City Court. No trial date has been set.
"I cannot imagine the pain that you are experiencing seeing your son – your brother – locked up for simply doing his job, for reporting the truth," Thomas-Greenfield told Gershkovich's family on Wednesday, while appearing before reporters. "No family should have to watch their loved one being used as a political pawn. And that's exactly what President Putin is doing. Russia's actions are beyond cruel. And they are a violation of international law."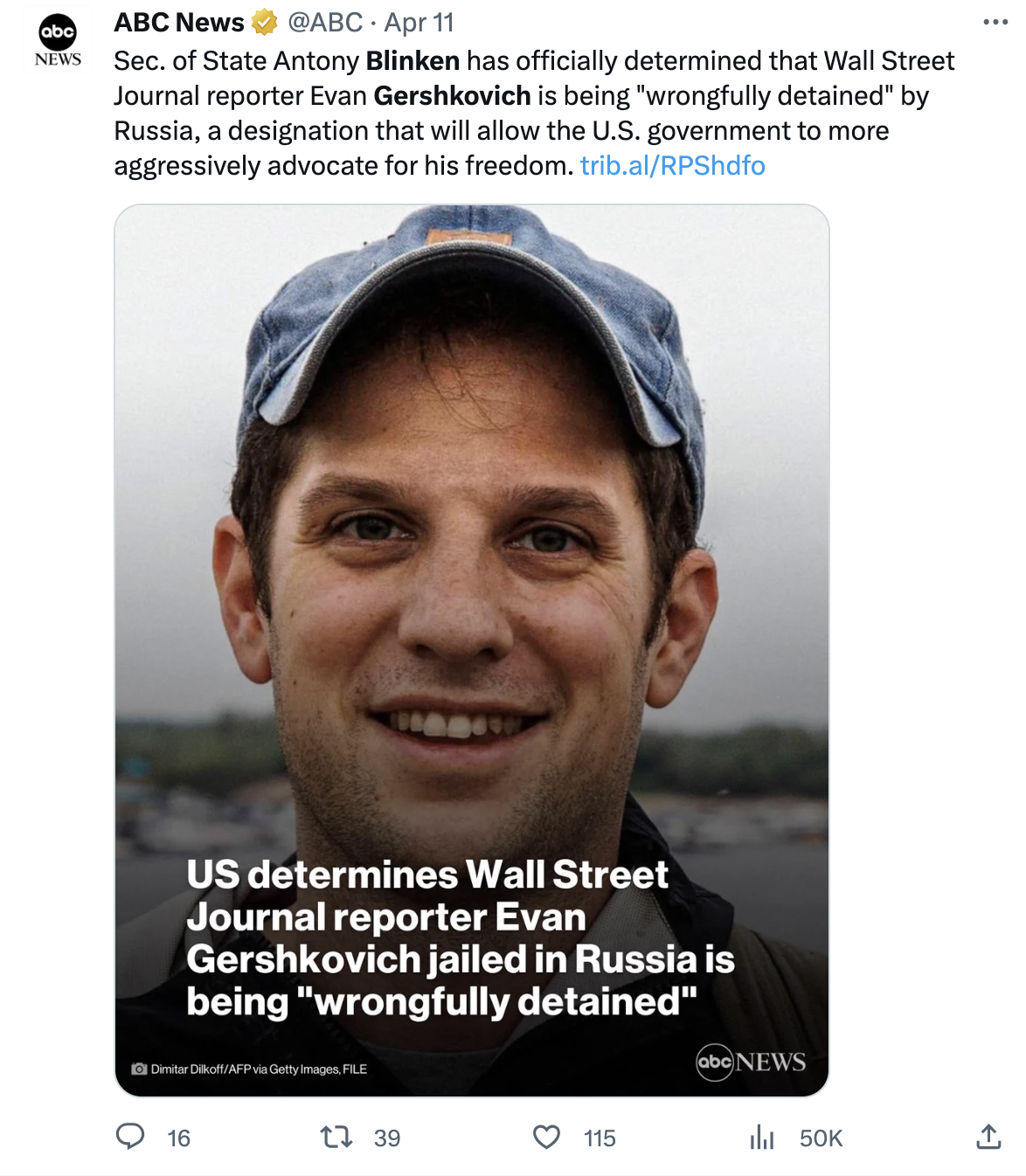 'A pawn in a superpower game'
In April, U.S. Secretary of State Antony Blinken made a determination that Gershkovich has been wrongfully detained by Russia, a legal finding that authorized the U.S. Office of the Special Presidential Envoy for Hostage Affairs to negotiate for his release.
"Journalism is not a crime. We condemn the Kremlin's continued repression of independent voices in Russia, and its ongoing war against the truth," Blinken said. "We also call on Russia to release wrongfully detained U.S. citizen Paul Whelan."
A day later, the Kremlin said Gershkovich — who was accredited by Russia's foreign ministry to work there as a journalist — had "violated Russian law" and been caught "red-handed" for allegedly spying on Russia. Along with the U.S. government, news organizations and human rights groups have come to Gershkovich's defense.
Whelan, a former U.S. Marine and security executive, was arrested in 2018 in Russia and convicted of espionage in 2020. He was sentenced to 16 years and has been serving prison time in a penal colony in Mordovia. He and the U.S. government have denied he is a spy.
Gershkovich, however, is the first American reporter to be charged by Russia with espionage since the KGB's Sept. 1986 arrest of Nicholas Daniloff, who was reporting from Moscow for U.S. News and World Report.
"For the next month – 13 days as an inmate at Lefortovo Prison, 17 days as a parolee in the American Embassy in Moscow – I was a pawn in a superpower game of strategy and will," Daniloff later recounted.
This story has been updated with additional details.
Comments