UNITED NATIONS (AN) — The Charter of the United Nations, the landmark treaty signed 75 years ago on Friday at the end of the U.N. Conference on International Organization in San Francisco, remains a global "touchstone" as relevant as ever.
Its mission was to make every effort to save succeeding generations from never again experiencing "the scourge of war" that engulfed the world twice in the 20th century, and to reaffirm faith in "fundamental human rights" while creating the conditions for the rule of law, social progress and "larger freedom."
When the Charter took effect four months later on October 24, 1945, the world's foremost intergovernmental organization formally came into existence. Even at the start, some of the key global leaders behind its creation knew formidable challenges loomed in keeping the world body afloat.
One of those driving forces, Eleanor Roosevelt — appointed the first U.S. delegate to the U.N. General Assembly and principal architect of the U.N.'s 1948 Universal Declaration of Human Rights — believed the world body was the best bet for world peace.
In a typewritten, signed two-page letter to this reporter's grandmother on October 3, 1947, Roosevelt wrote that "most people feel strongly that we had better try to make the U.N. work as it is before we begin to try to change and operate under an even more difficult system."
The "even more difficult system" that she referred to in her letter was the dream of establishing a federal world government as envisioned by the Student Federalists, a U.S. organization founded in 1942 by then-high school student and later U.S. Senator Harris Wofford, Democrat of Pennsylvania.
In 1944, with World War II still raging, delegations from Britain, China, the former Soviet Union and the United States met at Dunbarton Oaks in Washington to craft the architecture for international cooperation to succeed the failed League of Nations, which was created to prevent another world war.
The next year, 850 delegates from 50 nations met in San Francisco for two months of negotiations to hammer out and, eventually, sign the new U.N. Charter. Just four of those delegates were women. Less than two months after World War II ended, the United Nations began its work, which, almost by definition, remains always unfinished.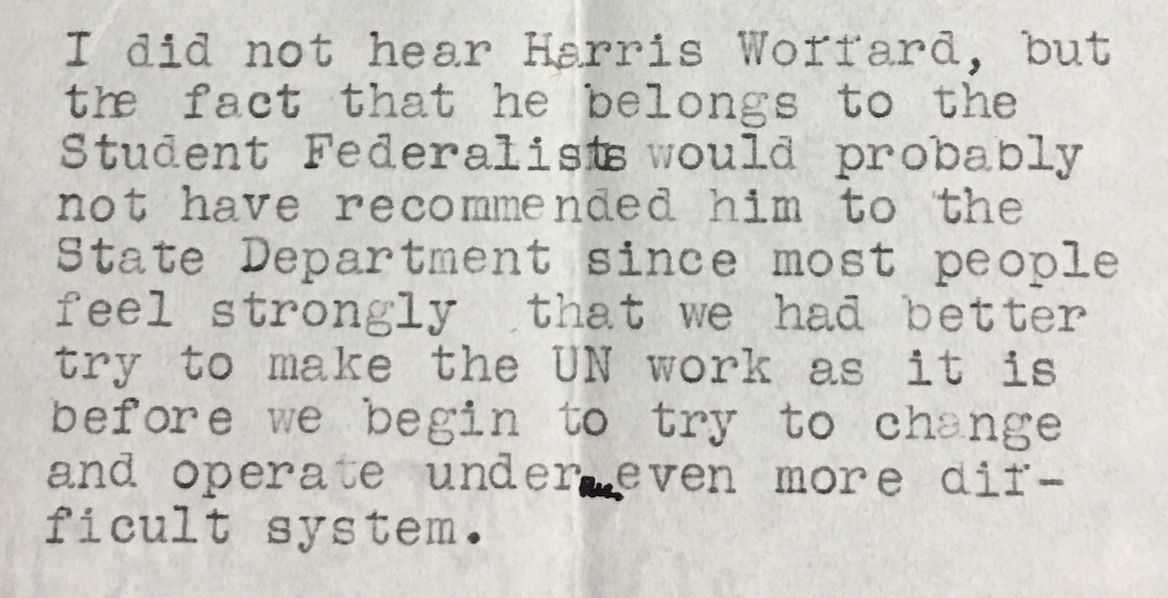 Passage from Eleanor Roosevelt's October 3, 1947 letter to Madeleine Sliosberg
From ruins, rules and hope
Commemorating the 75th anniversary of the Charter's signing, U.N. Secretary-General António Guterres said its first three words — "We, the peoples" — sums up the world body's vision and mission. He has achieved gender parity among senior U.N. leaders, and plans to reach that for all levels by 2028.
He noted Friday's anniversary coincides with a multitude of "spiraling" global challenges much like the pandemic, economic depression and wars that weighed on delegates to the 1945 San Francisco summit.
"The Charter brought rules and hope to a world in ruins," he said in his speech delivered as a video message. "It remains our touchstone for a world mired in a pandemic, torn by discrimination, endangered by climate change and scarred by poverty, inequality and war."
Nigerian diplomat Tijjani Muhammad-Bande, president of the 193-nation U.N. General Assembly based in New York, said the framers of the Charter imagined a world defined by peace and quality.
"As we work towards the future we want, and the U.N. we need, we must be results-focused," he said. "Now more than ever, we need a strong U.N. development system and effective collaboration between the U.N. and international financial institutions."
Comments