Scientists projected that global emissions of carbon dioxide will hit another record high in 2018, highlighting the urgency of international climate talks underway in Poland.
The estimated 2 to 3% rise in year-on-year emissions worldwide would translate to 37.1 billion metric tons of carbon dioxide released in 2018 — equivalent to 1,175 metric tons of carbon dioxide spewed into the air every second. Global CO2 emissions came to 36.2 billion metric tons last year.
That would represent the biggest increase in seven years and second consecutive year with a divergence from generally flat emissions between 2014 and 2016. Global emissions grew 1.6% in 2017.
Studies by the Global Carbon Project, an international collaboration, underscored the wide gulf between what the climate talks aim to achieve and the reality of what countries are doing.
"We thought, perhaps hoped, emissions had peaked a few years ago," said Stanford University scientist Rob Jackson, who chairs the Global Carbon Project, in a Stanford University article about the studies. "After two years of renewed growth, that was wishful thinking."
More increases in global CO2 emissions in 2019 "appear likely because of persistent growth in oil and natural gas use and strong growth projected for the global economy," said the published study in Environmental Research Letters by Jackson, Corinne Le Quéré — a professor who directs the Tyndall Center for Climate Change Research at the U.K.'s University of East Anglia — and five other co-authors.
"Coal use has slowed markedly in the last few years, potentially peaking, but its future trajectory remains uncertain," they wrote. "Despite positive progress in about 19 countries whose economies have grown over the last decade and their emissions have declined, growth in energy use from fossil-fuel sources is still outpacing the rise of low-carbon sources and activities."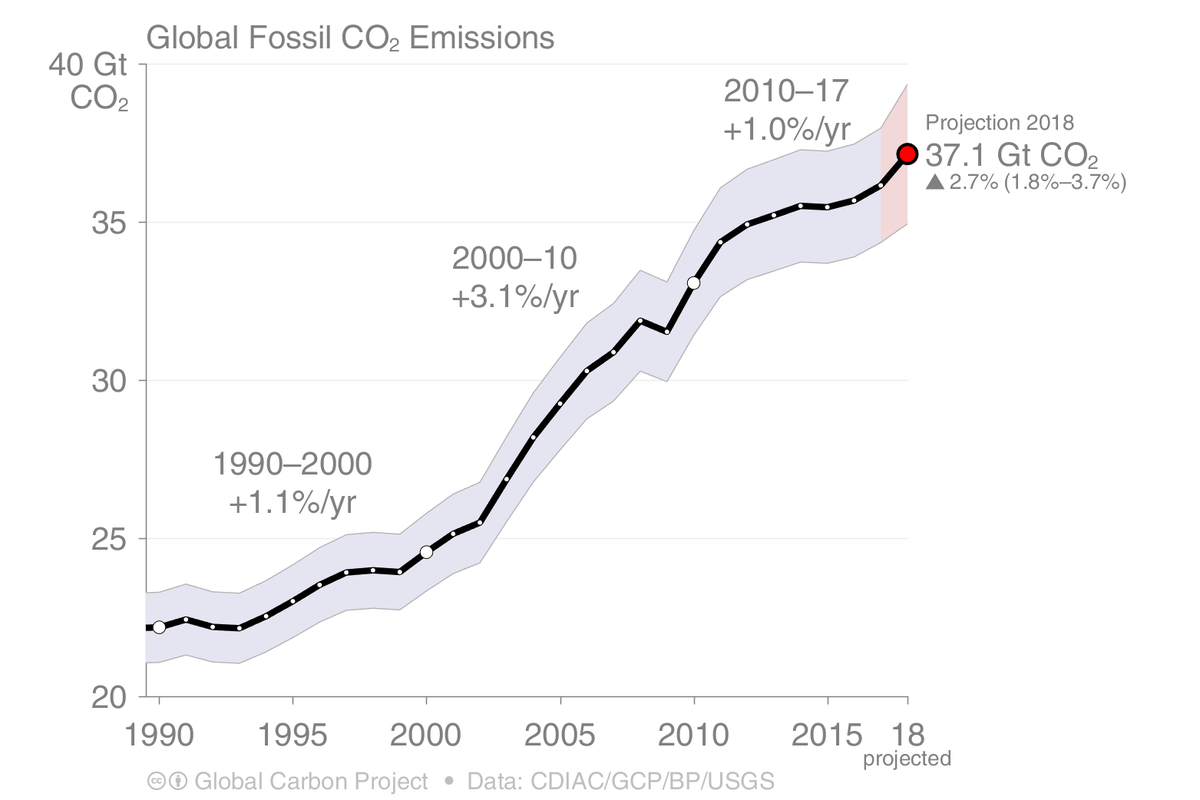 Getting past peak emissions
The scientists projected that a robust global economy, insufficient emission reductions in developed countries, and a need for greater energy use in developing countries where per capita emissions remain far below those of wealthier nations, will continue to put upward pressure on CO2 emissions.
"Peak emissions will occur only when total fossil CO2 emissions finally start to decline despite growth in global energy consumption, with fossil energy production replaced by rapidly growing low- or no-carbon technologies," they wrote.
The research for the studies is largely based on government and industry estimates, and on projected emissions from China, the United States, India and the European Union, the four leading emitters.
Unprecedented climate change over the past decade needs frequent monitoring "and a growing understanding of and improved capacity to anticipate the evolution of the carbon cycle in the future," concluded another study of the global carbon budget led by Le Quéré and dozens of co-authors.
https://twitter.com/gcarbonproject/status/1070387280857034752
Fast forward
Not since 2011 has China had such a big increase in emissions, up 4.6%, largely due to economic incentives for coal-burning manufacturing plants. And not since 2013 has the United States showed a major rise, up 2.5%, based on more electricity use for cooling in summer and heating in winter.
China's emissions grew to 10.3 billion metric tons; the United States rose to 5.4 metric tons; the European Union put out 3.5 billion metric tons; and India jumped to 2.6 billion metric tons. The results reflected the planet's continued reliance on fossil fuels for about four-fifths of its energy needs.
In the past 20 years, global CO2 emissions rose 55% while the planet warmed on average about 0.38 degrees Celsius, according to the U.S. National Oceanic and Atmospheric Administration.
"The science is clear; for all the ambitious climate action we've seen, governments need to move faster and with greater urgency," U.N. Environment's new head Joyce Msuya told the United Nations' news agency. "We're feeding this fire while the means to extinguish it are within reach."
Comments