A Chinese Foreign Ministry spokesperson said on Wednesday that Beijing is still negotiating the dates and terms of a visit by a World Health Organization-led team that has been planning to study how COVID-19 began.
Foreign Ministry spokesperson Hua Chunying's statement to a daily news briefing in Beijing adds a layer of complexity to statements by WHO Director-General Tedros Adhanom Ghebreyesus a day earlier that the visit was delayed by red tape.
Hua said China has "always been open, transparent and responsible and taken the lead in carrying out scientific cooperation" for international research to trace the origins of the coronavirus pandemic, which has infected 86.5 million people and killed more than 1.87 million worldwide since it began one year ago.
Beijing has taken firm control of all research into the origins of the virus first detected in Wuhan in late December, but it has come under strong criticism for how forthcoming it was in its initial reporting. Tensions between China and the United States also have not helped the investigation, particularly with the Trump administration accusing Chinese officials of obstruction.
Hua said that in February and July, China was faced with "daunting tasks" in trying to control the outbreak, and twice invited WHO experts to enter the country so they could "carry out cooperation on origin tracing and formulate the China part of a global scientific cooperation plan on origin tracing."
"In October last year, the Chinese side reached agreement on the members of the international expert group," she added. "Since then, the experts of the two sides have maintained frequent interactions. Four video meetings were held on October 30, December 3, December 10 and December 18 respectively."
Tedros, however, said he was frustrated with China over bureaucratic delays that were preventing WHO's international team from entering the country. The team's terms of reference were drawn up and each of the members were selected in November. Yet some team members were unable to enter the country because their visas were not approved.
"Today, we learned that Chinese officials have not yet finalized the necessary permissions for the team's arrival in China," he told a virtual news conference in Geneva on Tuesday. "I am very disappointed with this news, given that two members had already begun their journeys and others were not able to travel at the last minute."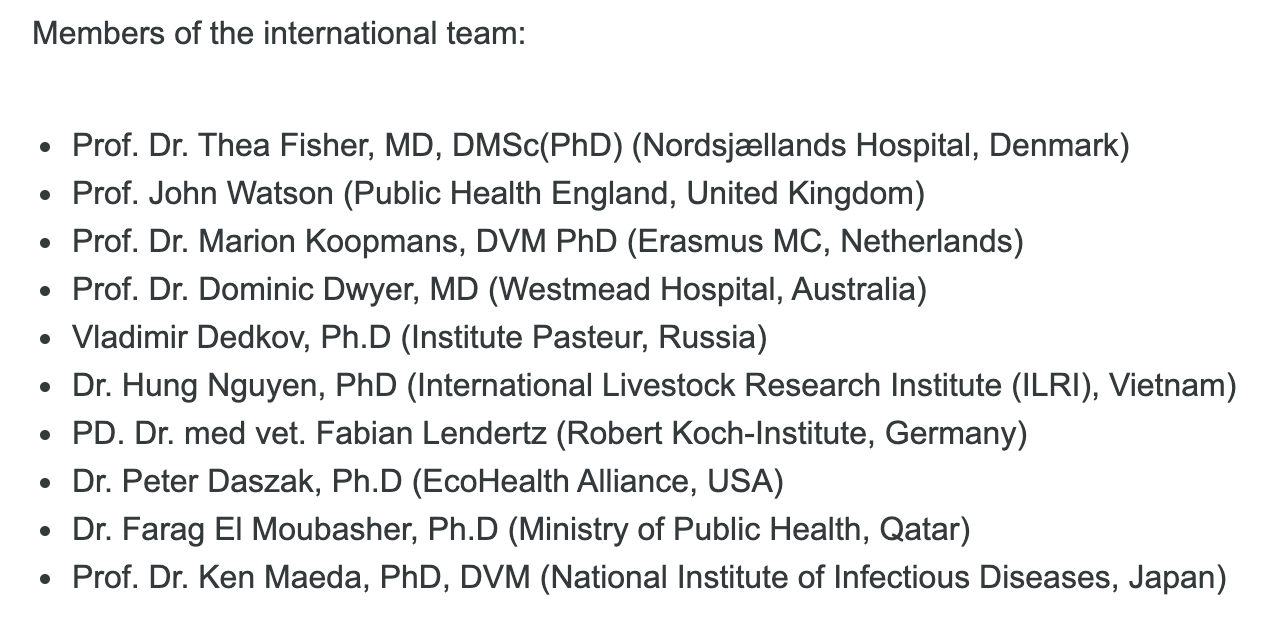 World Health Organization
'Origin tracing is very complicated'
Tedros, a politician and public health expert who headed Ethiopia's foreign affairs and health ministries, said he made clear to senior Chinese officials that the mission assigned to WHO's 10 public health experts and scientists is a high priority.
In response, China gave him assurances that it was "speeding up the internal procedures" to get team members in place quickly for the four-to-five-week mission, he said. The team members hail from Australia, Britain, Denmark, Germany, Japan, the Netherlands, Qatar, Russia, the United States and Vietnam, and they are supposed to be working in cooperation with Chinese public health officials and scientists.
They plan to review the first reported cases of coronavirus and to interview people who were among the first to become infected. They also plan to examine the Huanan Seafood Wholesale Market in Wuhan, including all the products and animals handled there in late 2019. Scientists have suspected that the wet market for seafood, meat and vegetables became a ground zero for Covid-19 transmission into humans.
China appears to have grown uncomfortable with the WHO mission, reflecting tensions stirred by U.S. President Donald Trump and some conservative media outlets that refer to COVID-19 as a Chinese virus. Chinese state media has spread counter claims that the virus may have originated in Europe.
"The issue of origin tracing is very complicated," Hua said. "In order to ensure the smooth progress of the work of the international expert group in China, necessary procedures need to be fulfilled and relevant specific arrangements need to be made. At present, the two sides are still in discussions."
Hua also maintained that China "has overcome difficulties, accelerated preparatory work at home and tried its best to create favorable conditions for the international expert team's visit to China. WHO knows that clearly."
Comments