With Israel intent on destroying Hamas and the United Nations powerless to slow the carnage, the humanitarian crisis for innocent Palestinians caught up in the fighting grew only more desperate as the number of people killed in Gaza crossed the 9,000 mark.
"We are running out of words to describe the horror unfolding in Gaza," World Health Organization Director-General Tedros Adhanom Ghebreyesus told a media briefing on Thursday.
"Hospitals crammed with the injured, lying in corridors, morgues overflowing, doctors performing surgery without anaesthesia," he said. "Thousands of people seeking shelter from the bombardment, families crammed into overcrowded schools, desperate for food and water, toilets overflowing and the risk of disease outbreaks spreading and everywhere, fear, death, destruction, loss."
In one glimmer of hope, several hundred people were allowed to cross into Egypt from Gaza, including people with dual nationalities and severely wounded Palestinians, and more were expected to cross, according to state-owned Egyptian TV station Al Qahera.
While the small opening was welcomed, Tedros warned that attention must not be diverted from the far greater needs of thousands of patients in Gaza. He called for the protection of hospitals that are under siege by the Israeli military and an immediate acceleration in the flow of medical aid into the Palestinian enclave.
Some 690,000 people who have displaced by the fighting in Gaza were sheltering in 149 facilities run by the U.N. agency for Palestinian refugees, known as UNRWA, which had 72 of its staff killed and 44 facilities damaged by the war.
Gaza's main cancer treatment center ran out of fuel and had to stop most activities, the U.N. Office for the Coordination of Humanitarian Affairs said. Northern Gaza remained largely cut off from the rest of the Gaza Strip while the delivery of humanitarian aid from the south to 300,000 displaced Palestinians came to a halt.
"What is happening in Gaza is a violation of international law and amounts to war crimes," said Mary Lawlor, an activist from Ireland and the U.N.'s special rapporteur on human rights. "International action is needed to stop these atrocities and both sides must be held accountable."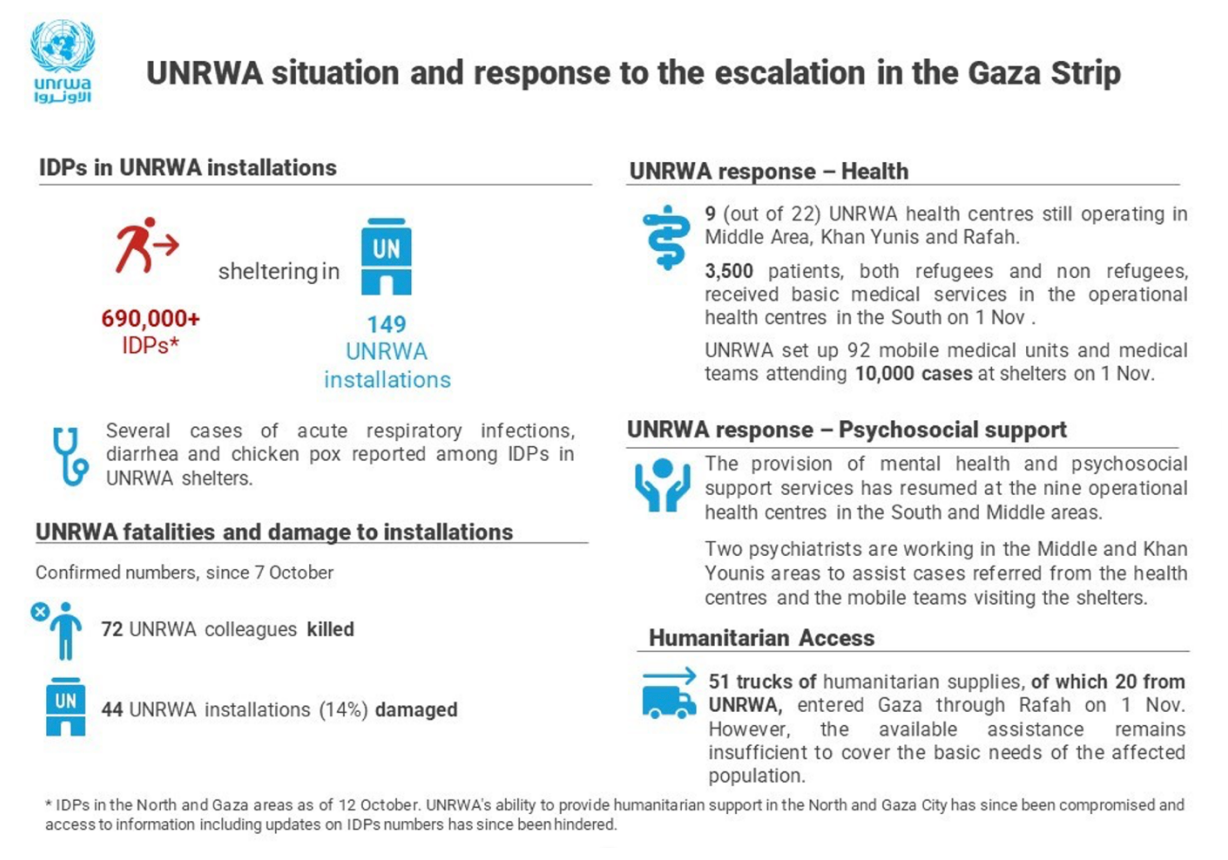 Foreign doctors among those leaving Gaza
Doctors Without Borders said its 22 international staff members left Gaza but a new team, including a specialized medical unit, is ready to go in "as soon as the situation allows."
Tens of thousands of people inside Gaza continued to need access to urgent and essential health services amid critical shortages of medicines, health supplies and other basic items such as fuel, water and food. Those in serious need included thousands of seriously injured civilians, many of them children, as well as people suffering from chronic illnesses such as cancer, diabetes and heart ailments.
"Gaza has become a graveyard for thousands of children. It's a living hell for everyone else," said UNICEF spokesperson James Elder.
As of Thursday, 3,648 Palestinian children had been reported killed, a number that UNICEF said "rises significantly every day." More than 1,000 other children were reported missing and feared dead or trapped in the rubble. The Hamas-run Ministry of Health said 9,061 Palestinians have been killed since Oct. 7, bringing the total number of recorded casualties in the war to more than 11,600.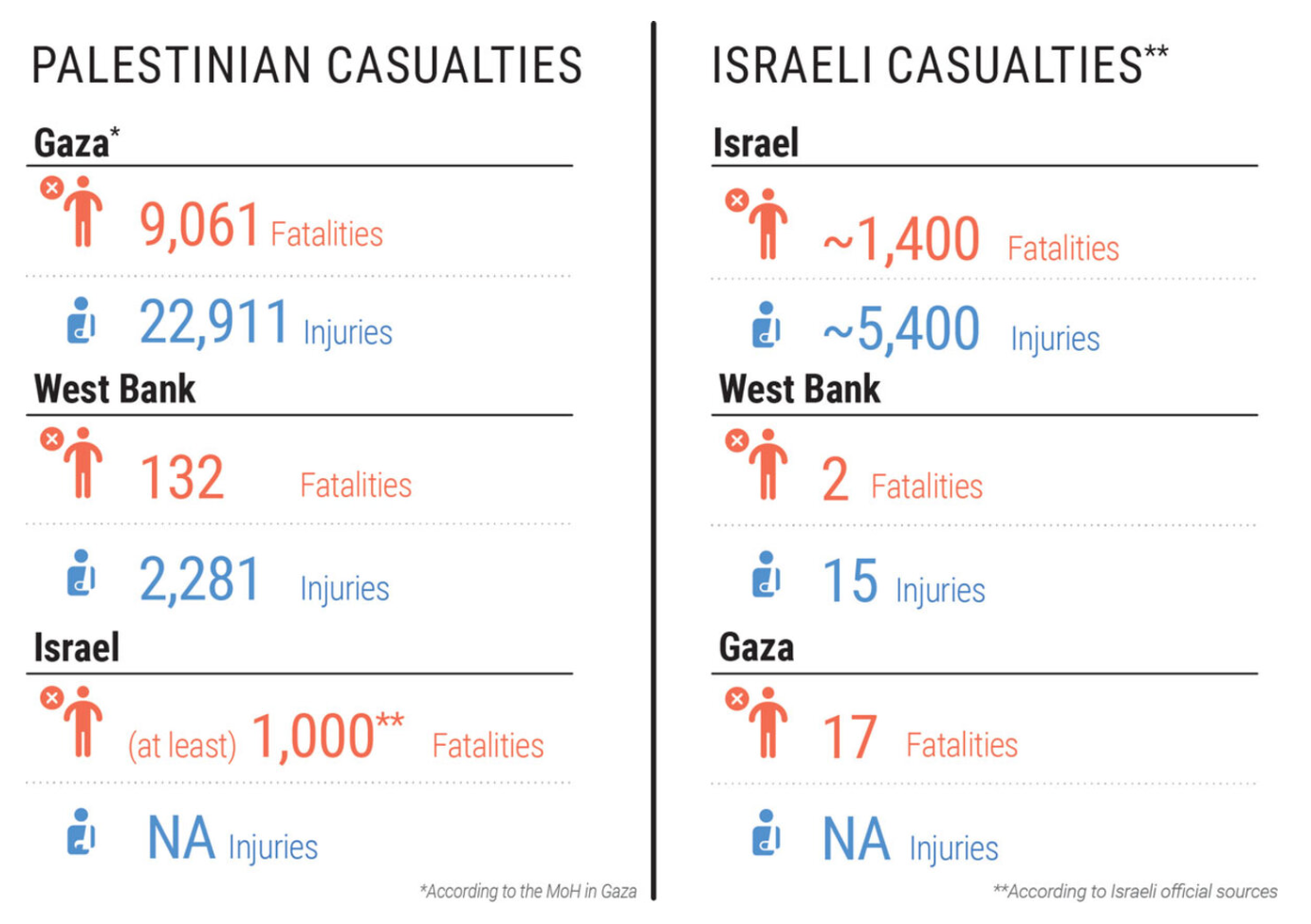 Top human-rights official quits U.N. in protest
In New York, where the U.N. Security Council remains stalled in an embarrassing deadlock, unable to produce even a statement condemning the ongoing violence, one of the United Nations' top human rights officials resigned in protest, accusing the world body of failing to address what he called a "textbook case of genocide."
"In Gaza, civilian homes, schools, churches, mosques, and medical institutions are wantonly attacked as thousands of civilians are massacred. In the West Bank, including occupied Jerusalem, homes are seized and reassigned based entirely on race, and violent settler pogroms are accompanied by Israeli military units. Across the land, apartheid rules," Craig Mokhiber, a longtime human rights lawyer who has been serving as director of the U.N. human rights office in New York, wrote in his letter of resignation.
Mokhiber said he first joined the United Nations in the 1980s because he found it "a principled, norm-based institution that was squarely on the side of human rights." It once stood up for the oppressed, he said, but now the U.N. has largely surrendered to the power of the United States and to the "fear of the Israel lobby."
"We have lost a lot in this abandonment, not least our own global credibility," he said.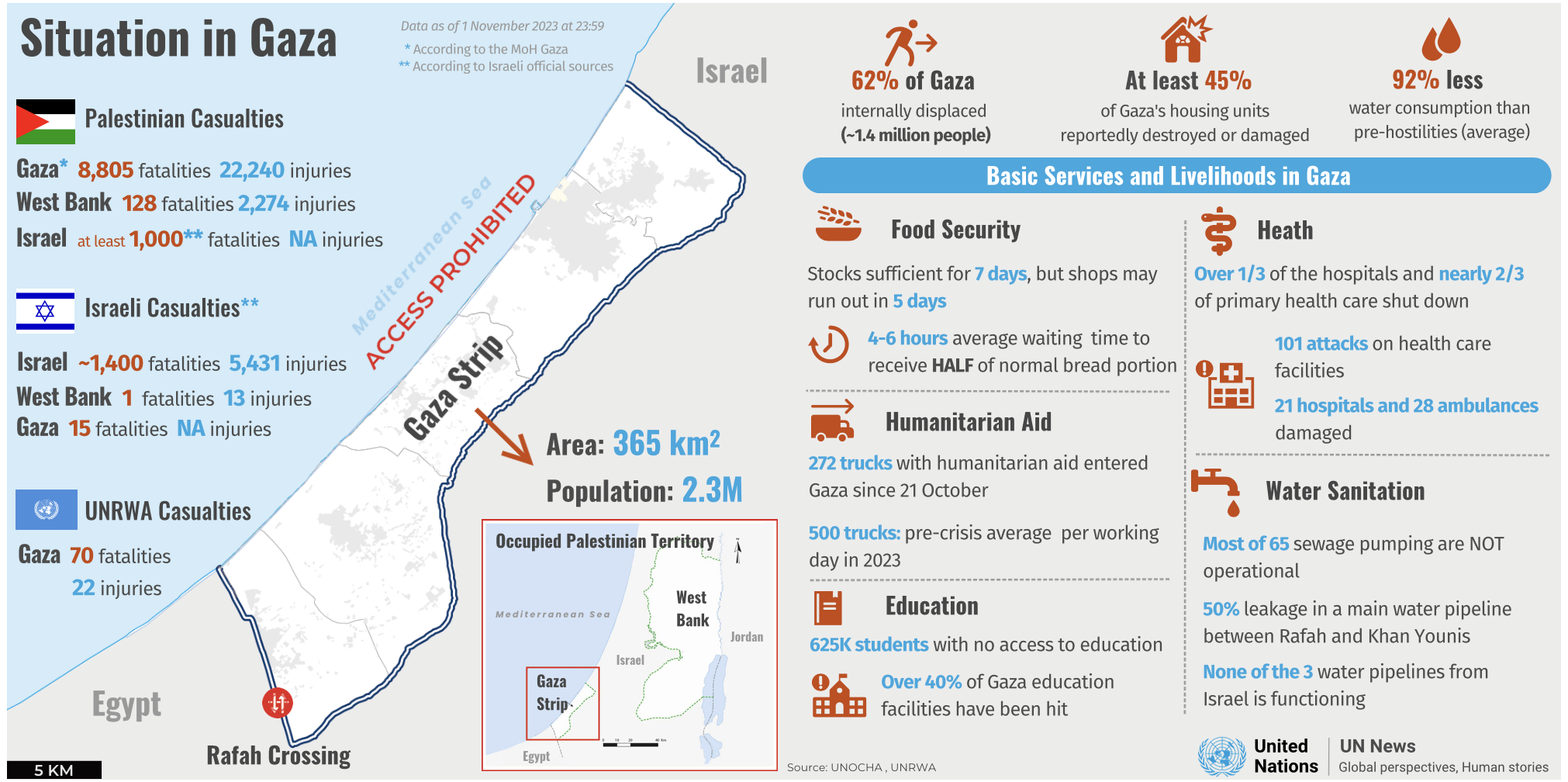 World Bank warns against escalating war
With the global economy still working through the challenges of inflation, the lingering effects of the COVID-19 pandemic and Russia's invasion of Ukraine, the Washington-based World Bank warned an escalation of the Israel-Hamas war could "push the global commodity markets into uncharted waters."
The bank's latest "Commodity Markets Outlook" found global commodity markets should see limited effects with falling prices for oil, metal and agricultural products next year if the war does not widen.
However, the bank said, the outlook would "darken quickly" if the war spread and forced up food and fuel prices. The report outlined potential scenarios based on historical experience since the 1970s.
Under what the bank called a "small disruption" scenario, the global oil supply could drop by up to 2 million barrels per day, about the same as what happened during Libya's civil war in 2011. The price of oil would initially increase 3%-13% relative to the average for the current quarter, going to US$93-$102 a barrel.
The most severe scenario, comparable to the price shock of the 1973 Arab oil embargo, forecasted the global oil supply could shrink by 6 million to 8 million barrels per day, driving prices up by 56%-75% to between US$140-$157 a barrel.
"The latest conflict in the Middle East comes on the heels of the biggest shock to commodity markets since the 1970s – Russia's war with Ukraine," said
Indermit Gill, the World Bank's chief economist.
"If the conflict were to escalate," he said, "the global economy would face a dual energy shock for the first time in decades – not just from the war in Ukraine but also from the Middle East."
Comments