GENEVA (AN) — Government officials inflicted almost half of all the violence suffered by people risking grave dangers to transit through North Africa for a chance at news lives in Europe, the U.N. refugee agency and Danish Refugee Council reported on Wednesday.
The two organizations' report titled "On this journey, no one cares if you live or die" also found that due to borders closed by the COVID-19 pandemic, human smugglers are turning to even riskier travel routes to evade authorities while subjecting victims to increased abuse, exploitation and trafficking.
Security forces, military, police and border officials were responsible for 47% of the abuses reported by almost 16,000 refugees and migrants traveling along the Central Mediterranean route who were interviewed during the past two years by the Danish Refugee Council's Mixed Migration Center and the Office of the United Nations High Commissioner for Refugees, or UNHCR.
Men, women and children that survived the journeys to Libya, where boats depart for Italy, were traumatized with severe mental health issues. They saw random killings or endured torture, forced labor and beatings. Some were electrocuted, tied in stress positions or burnt with hot oil, melted plastic or metal. Rape and sexual violence was common, and many were forced into prostitution.
"For too long, the harrowing abuses experienced by refugees and migrants along these overland routes have remained largely invisible," said Filippo Grandi, UNHCR's chief.
"This report documents killings and widespread violence of the most brutal nature, perpetrated against desperate people fleeing war, violence and persecution," he said in a statement. "Strong leadership and concerted action are needed by states in the region, with support from the international community, to end these cruelties, protect the victims and prosecute the criminals responsible."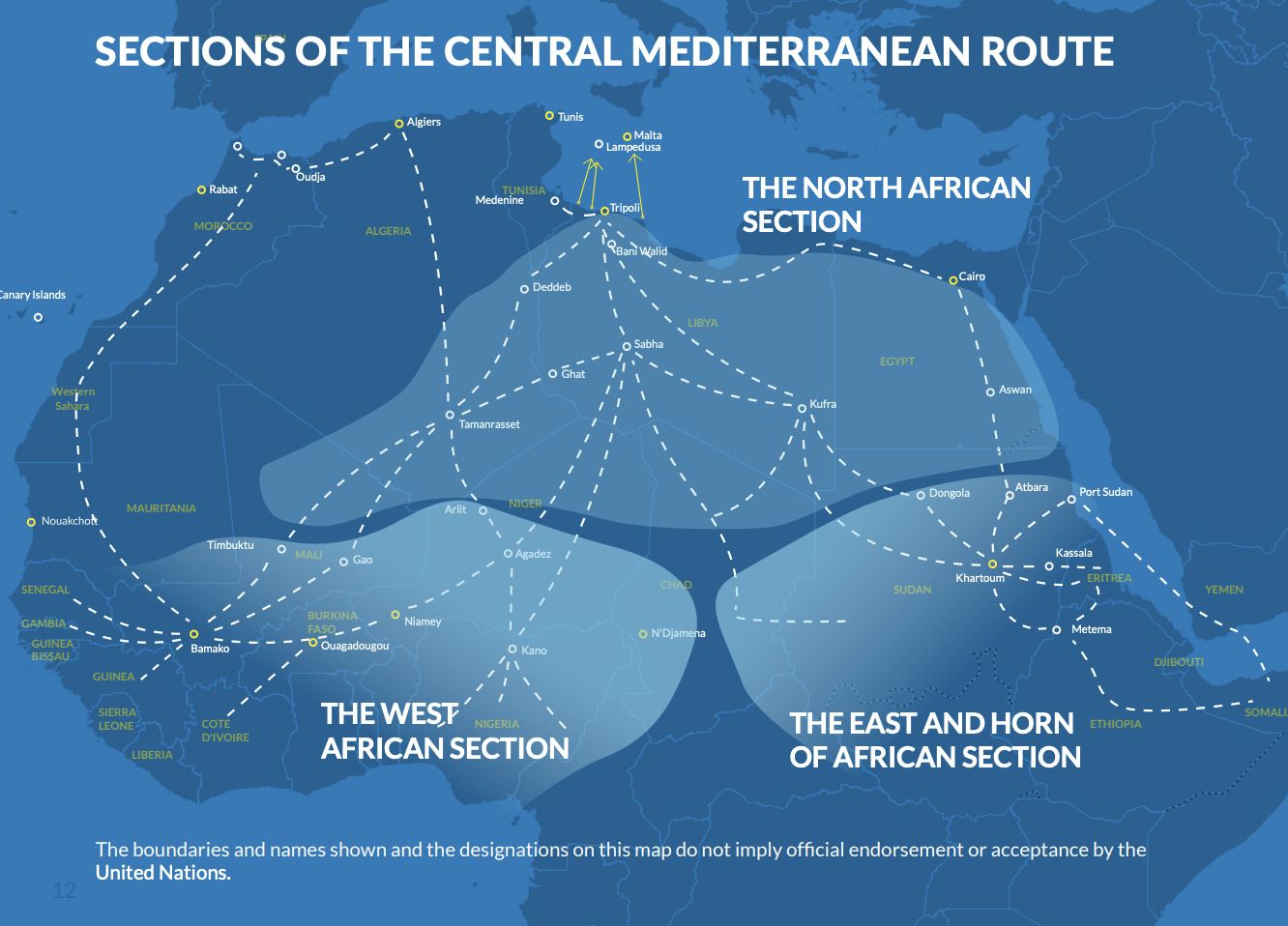 Security forces and smugglers
Smugglers accounted for 29% of the reported physical violence against refugees and migrants overall, according to the organizations' joint report. At least 1,750 people died trying to make it across East and West Africa towards the North Africa migration route to Europe in 2018 and 2019.
By region, however, there were differences. The report said security forces, police and military perpetrated the bulk of the violence, 63%, in West Africa. By contrast, smugglers were responsible for 91% of the violence in East Africa, and 52% in North Africa.
"Despite the reduction in the number of people crossing the sea to Europe from North Africa since mid-2017, refugees and migrants continue to regularly face horrific abuses along the routes to and through North Africa," the report said.
"Some reported spending more than a year detained in warehouses where traffickers subjected people to severe physical abuse in order to extract payments," it said. "Many had attempted the sea journey more than once, and had been held in detention centers following disembarkation in Libya."
For many who leave for Italy, their vessels are intercepted by the Libyan Coast Guard and returned to the oil-rich North African nation, deeply riven by civil war. Since a 2011 NATO-supported uprising led to the ouster and killing of dictator Moammar Gadhafi, Prime Minister Fayez Sarraj has taken control of the capital, Tripoli, and Libyan commander Khalifa Hifter has seized Libya's east and south.
More than 6,200 refugees and migrants who left for Italy have been forcibly returned to Libya this year, already more than two-thirds of the 9,035 intercepted in 2019. The report found they are often held in government-run detention centers, or in "unofficial" facilities and warehouses controlled by smugglers and human traffickers, where they face more daily abuses and inhuman conditions.
"The careless treatment of refugees and migrants we witness along these routes is unacceptable," said Bram Frouws, who heads the Mixed Migration Center. "The data we provide also once again shows that Libya is not a safe place to return people to. Sadly, this may not be the last report documenting these violations, but it adds to the mounting evidence base that can no longer be ignored."
https://m.youtube.com/watch?v=Z5Jeo-XgmE8&feature=youtu.be
Comments